This morning I took my road bike to a local shop to have the derailleur adjusted. (This is the thingie in the back that shifts gears.) There was a young kid working there, clean cut, wearing a uniform, listening to Pearl Jam. He said "nice bike" and after I explained my symptoms, "no problem". Now I know adjusting a Shimano Dura Ace derailleur is not "no problem" (there are nine thin sprockets very close together, and if it isn't totally dialed in at least one of the gears will miss), but I figured he knew what he was doing.
Later on I picked up the bike. The kid had decided to change the shift cable, and said everything was now okay. So be it, the cable was a little worn. Then I went for a ride. Or rather, I tried to go for a ride. The gears were messed up beyond belief. Much worse than they had been. Unrideable without damaging the chain and probably the cassette, too. Sigh.
I took the bike back to the shop. Instead of the kid, there was an old guy there in the back, kind of portly, wearing dirty clothes under a shop apron, listening to Mexican mariachi music. I told my story. He shook his head gently and put my bike in the stand. Instead of looking at the alignment, he bent his head next to the gears and listened, while gently turning the adjustment screws. After five minutes he was done.
I'd brought my shoes and helmet so I could take a test ride at the shop. In the first ten seconds I knew the gears were dialed in perfectly. Every one shifted with a sweet "click" followed by perfect silence. That old guy had nailed it.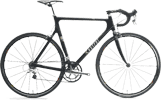 I just love real craftsmanship. It goes beyond mere doing things right, it extends into art. It is a combination of skill and experience, driven by the desire to do a thing as well as it can be done. This guy who could adjust a derailleur just by listening to it was a real craftsman. When I went back to the shop to tell him how delighted I was, we both shared the joy of his work.
I'm really going to enjoy going for a ride tomorrow.