Our wind tunnel test continues... wow. "People should watch for flying debris as well as downed trees and power lines." Not to mention flying dogs.


Blogging.la: Don't read if you're a Dodger fan. Well I shouldn't have, but I did. Beltre to Seattle? Finley to Anaheim? Jeff Kent coming? Jose Lima going? WTF? Coming on the heels of last season's debacles (LoDoca / Mota / Roberts), this just shows that the Dodgers are clueless. There's no there there. Anymore.

So this is finally going to happen: Stock Option Expensing Required Next Year. "The new rule, which takes effect in June, promises to have a big impact on technology companies. Tech firms have used stock options as a means to recruit and retain employees. Recognizing stock options as an expense could take a big bite out of earnings." I don't understand why this is a good idea. Seems like a reaction, not a solution.

Wired: Inside the Mac Revolution. Mac pioneer Andy Hertzfeld has written a memoir of the early days of the Mac, and this is an interview with Andy about his book. It started as the folklore.org website (which makes for great reading), and now it has been "booked"!

Hey, this is interesting: Apple and Motorola announce partnership on cellphone. Could this be the "flash iPod" everyone is speculating will be announced at Macworld in January? I wonder how long before every phone has a hard drive?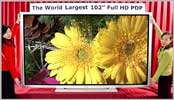 Engadget: Samsung's 102-inch plasma TV. Okay, that's big enough, you can stop making them bigger now. Still, I want one, although right now they're probably about $50,000.

Blinkx unveils video search engine. This is probably going to go on for weeks, with new video search engines every day. There really isn't that much content out there - yet. And no reason business model for the content owners, either.


Scoble thinks Onfolio is a great RSS aggregator, because it runs in a browser. Hmmm... I'm not sure about that. SharpReader has a browser run inside it, and that seems like a good way to do it. This might come down to the "three pane" vs. "one pane" argument. I'll have to check it out, stay tuned...

Robert reports his wife Maryam is now an American citizen! Congratulations!!