Here's some parental chest beating!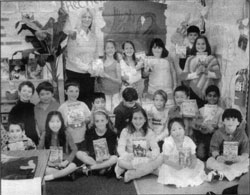 From the Acorn (our local paper in Thousand Oaks, Calif):
"The Assistance League of Conejo Valley, a chapter of National Assistance League, recently received more than 200 new books donated by the students of Miss Rose's second grade class as Westlake Hills Elementary School.

"Megan Eichhorn, a student in the class and daughter of Assistance League member Shirley Eichhorn, wanted to help the League. The students collected new books to put in backpacks that the League distributes to children in need in the Conejo Valley.
This really was Megan's idea! And she convinced her teacher to do it. And they made it happen. That's my girl. She's only seven (well she turns eight tomorrow) and she's already changing the world. Watch out for this kid.
Also - thanks to my friends who generously donated books - especially Nick and Shelley DeNicholas. You guys are awesome. How great would it be if you were a poor kid to get a brand new backpack with some books in it?