| | |
| --- | --- |
| Web 2.0, "Live" and other meaningless jargon | |
Do you hate business jargon as much as I do? Blech. Stephen Baker of Business Week's Blogspotting wants to Rid the World of "Solutions", and I heartily agree. One of the first things I do when I encounter a company is check whether their website has a "products" page or a "solutions" page. Products = good, this is stuff they make and sell. Solutions = bad, it is sometimes impossible to tell what is being made or sold, besides marketing hype. As an example, I received an email from a company called BSIL, and this was on their home page:
"We are a global, end-to-end IT solutions provider with a global delivery footprint. With over 20 years of experience, we understand our customers' needs better and provide a portfolio of services, using robust processes, which enable them to leverage their IT investments."

Do you have any idea what these people do? Nor do I. (Apparently they "provide solutions" :)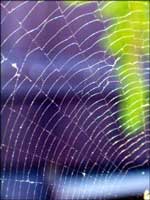 A classic example of meaningless jargon is "Web 2.0". Nobody knows what it means, it doesn't mean anything. It is simply buzzword-compliant crap to put in a marketing plan. Or for naming a conference.
(And don't tell me it means "web applications built with AJAX", because that is not what it means, and anyway "web applications" and "AJAX" are two other examples of bogus jargon. (meta-jargon, anyone?))

I'm not the only one to think so, there seems to be backlash forming:

Xeni Jardin spots trends before most of us: Web 2.0 cracks start to show.

Joel Spolsky's reliable BS meter reports: The Architecture Astronauts are Back!

And not only is "Web 2.0" itself jargon, it has spawned other jargon; check out this page, which allows you to create your own Web 2.0 company. The general schema, "X via Y", is a great clue to the cluelessness of it all. Truly interesting concepts are just "X", the "via Y" part is mere implementation...

Hey, and we even have Web 2.0 Bingo!
For an unbelievable example of jargon run amuck, consider Microsoft's recent "Live" announcement. Talk about meaningless blather.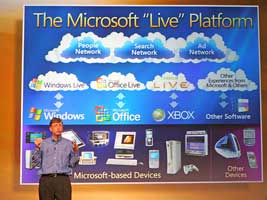 Just look at this diagram, does this make any sense at all?
I happen to think Bill Gates is incredibly overrated as a smart guy. He is a lousy presenter, and really smart guys give good, focused presentations that make you realize they are really smart. Steve Jobs would be an example. Kip Thorne - now he's a smart guy. Or how about Richard Feynman; in addition to being interesting, he exuded intelligence and deep understanding. Bill Gates may be a great businessman, but he is not a great technologist. And he is not a really smart guy. Sorry.

If you disagree, please refer back to the picture. Would a really smart guy stand in front of that diagram? (Click for a bigger picture, or see Niall Kennedy's Flickr photo, which has a great comment thread. Via Tom Coates, who comments: "God, does anyone have the slightest idea what Microsoft are on about?")

We've all become a bit immunized to Microsoft's jargon; the reaction to the "Live" announcement was fortunately muted and mostly negative:

Steve Gillmor: Beep Beep. "Remember Wily Coyote? He's the Roadrunner's nemesis, chasing him out off the cliff's edge. Then there's that exquisite moment where he stands on thin air, about to realize he's got nothing. That's Microsoft, folks." Ouch.

Joel Spolsky's BS meter pegged immediately: Massive Frontal PR is Incompatible with Ship Early and Often; a wonderful roasting even though it lacks Joel's usual pithy title.

Robert X. Cringley had Deja Vu All Over Again, in which he notes Microsoft's "Live" reaction to Google is analogous to Microsoft's "Active" reaction to Netscape. Perfect; neither "Active" nor "Live" have any content at all.

Mary Jo Foley: Hailstorm take 2. (You know you're in trouble when your new jargon is seen as the second version of your old jargon.) "When you get past the marketing fluff of 'sea changes' and '21st century Internet,' Microsoft did not announce a lot of new deliverables." She did go on to write, "We didn't notice a single mention of Web 2.0 during Chairman Bill Gates and Chief Technology Officer Ray Ozzie's remarks. That earns Microsoft some big points in our book." Okay, I'll give 'em that. They piled on their own jargon, but steered clear of everyone else's...

Poor Robert Scoble was left to respond: "I don't think it was clear." (D'ya think?) "This was the beginning of a major rudder turn on Microsoft." Iceberg ahead.

The "Live" demo itself was as lacking in content as the concept; Dave Winer liveblogged: "An hour into it they finally start the demo. The screen is blank, the guy is talking. It's live.com. The demo didn't work. A total demo disaster."

(Gates' performance prompted Dave to link his classic Demoing for Fun and Profit, from 1995; as true and relevant today as it was then. Perhaps Gates should read it.)

Even if the demo had worked, it would have been unimpressive; to my eye live.com is pretty uninteresting. Okay, we have a personalized portal. What is this, 1997? Not to mention, it is not even a good personalized portal; maybe they should have visited My Yahoo! or NetVibes, or even their own Start.com. Cue the clowns.
Perhaps we need some new jargon, a word which means "a word which actually means nothing".