| | |
| --- | --- |
| long day's journey into Lagos | |
So I was in Spain on business, so I decided to visit the Vuelta. Stage 4, one of the nastiest climbs the Pro Tour ever rides, from Cangas des Onis to the Lagos de Covadonga. And yes, I rode it myself. Here's my report...
[ Note: this post was retroactively added on 6/13/08 ]
The day began on Sunday Sept 2 as I participated in the third consecutive day of the C-15 North American Championships in Long Beach (the C-15 is a small racing sailboat). We finished eighth (I was crewing for a friend of mine's son), a respectable performance. From there I drove to LAX and discovered that I'd forgotten my passport. Bad Ole. Shirley rescued me by heroically driving it down to me (yes, she took the Maserati, and no, she didn't get a ticket). Next came a nice little 10½ hour flight on Air France to Paris, which landed nearly an hour late. So I missed my connection to Madrid. So I was rebooked onto another flight an hour later. It arrived on time, but because it was a later flight I nearly missed my connection to Oviedo (in Asturias, along the Northern Coast of Spain; yes of course Spain has a Northern Coast). Picture me running through the airport, chasing a little French Air France representative who is running fast in her high heels. Okay. So I did make the flight to Oviedo, but my luggage did not. It is now late Monday night and I have only the clothes on my back. (There's a lot more to the luggage story, but it isn't directly relevant to the Vuelta stage, so I'll skip most of it. It does have a happy ending.)
I rent a Hertz car, a Peugeot 170 which is the world's smallest four-dour diesel. (Really cute and snappy to drive, but a bit loud and rattley.) Along with the car came a "NeverLost" – a portable Magallen GPS, which I have previously found to be a godsend everywhere but especially in foreign countries with roundabouts instead of intersections. The NeverLost comes in a foam bag filled with crap. I pulled out the NeverLost, plugged it in, and discovered it didn't work. No findie the satellites, no workie. So now I need maps, but I am in the middle of nowhere (Oviedo airport is way outside of Oviedo). I decided to drive into downtown Oviedo to hopefully get a WiFi signal so I could hopefully use Google Maps to find my way. So that worked. (A lot of detail removed here.) And I made it to the small town of Cangas de Onis, in Asturias, the site of my hotel.
Why Cangas de Onis? Well it is just outside a huge Spanish national park called the "Picos de Europa", aka Tips of Europe. This park is appropriately named, there are some big ass mountains there. And in those mountains is an old Catholic monastery called Covadonga. A little winding mountain road takes you from Cangas de Onis up to Covadonga, and if you continue on the winding mountain road it goes up and up and up and eventually takes you to some small lakes near the tallest peak, called the Lagos de Covadonga. And it happens that Stage 4 of the Vuelta finished with the climb to the Lagos de Covadonga (see, the Vuelta was going to come into the story eventually :)
Stage 4 took place on Tuesday Sept 4. I arrived in Cangas de Onis at 3:00 AM on Tuesday Sept 4. I found the hotel (whew!), checked in, took a shower, and took off again. This was going to be a busy day, exacerbated by my lack of luggage and lack of GPS. (BTW in case you're wondering WiFi has not made it to Cangas de Onis yet. If it ever does.) And yes if you're keeping track I have not slept yet. I knew there would be no shops open in Oviedo until 9:00 AM and the drive back to Oviedo was about two hours, so I had some time to kill. Not enough time to sleep, but enough time to drive up the Lagos climb.
I found the road to Covadonga, and along the way I saw piles and piles of barricades, ready to block the road. But not blocking the road yet. So I drove up the climb. HFS what a climb. About 15km at about 10%, but some sections are much steeper. My little Peugeot diesel was tested. And did I mention this is a winding road? It took me an hour, which means I averaged 15km/h up the hill in my car. It was still dark outside but not too dark to notice the lack of fences and the fact that cattle roamed freely. None of the banners for the race were up yet, and I began to doubt I was even on the right road, but then near the top I began passing little clusters of motor homes wedged into the sides of the road. More and more. Until finally at the very top, which was very high, and very exposed, there was a bigger clump next to one of the lakes. The whole experience was very cool but also very intimidating. I have never climbed anything like that before, not even Mount Palomar which is 3,000 ft at 8% (exact same as L'Alpe d'Huez by the way).
Okay, so I found the climb, yay, and now I have to find a bike and some kit. Back down the mountain. Took nearly an hour just to get down! Then on to Oviedo, and I get there just around 9:00 in the morning. I find my WiFi spot again, and begin Googling for bike shops. I find three. Sparing you a long story (and many returns to the WiFi spot), none of the three shops rent bikes. Boo. But one of them mentioned a shop in the town of Treverse which did. Treverse is 40km South of Oviedo. So be it, off I go. And I get totally and completely lost. I am in the middle of Spanish nowhere, with no map and no WiFi. I have a GPS but it doesn't work. It is now 11:00 and I am running out of time if I'm going to see this stage, let alone ride it. Crap.
Wait a minute… why didn't the GPS work? Maybe if I futz with it? OMG there are instructions! 1) Plug in the NeverLost. 2) Plug in the GPS antennae. The GPS antennae? Yes, the GPS antennae! In that foam bag filled with crap I find – ta da – the GPS antennae. You will not be shocked to hear that when I plugged it in, the GPS was able to findie the satellite and began to workie. Yay! Man triumphant against the elements.
Okay, so again making a long story shorter (not to say short), I found Treverse. It is way up in the mountains, at a mountain biking resort. (Who knew?) And they rent mountain bikes. Bike, fat, heavy, mountain bikes. So be it. I eagerly rent a BFH mountain bike, and discover to my amazement that it fits into the back of the Peugeot. Barely. I have a bike, but I don't have clothes. That's the next problem, and in Treverse there is nothing; they do not sell clothes. Back to Oviedo I go.
I return to the bike shop where they recommended Treverse, and buy a new kit. Nice shorts, jersey, mountain biking shoes, socks, water bottle, the works. I even bought some gel packs. (Please do not ask about underwear. Just don't.) So, yay. I am ready, with a bike and full kit, but it is 12:30 and I am in Oviedo. This is going to be tight. And on the road to Cangas de Onis – which is a little two-lane that so far as had zero traffic – I encounter a massive blockage. Traffic is backed up forever. Remember all those barricades? They have now been deployed.
What to do? Well, I make a U turn, and use my mad navigation skillz (the NeverLost) to plot a return to Cangas de Onis from the other side, where there is nothing. This requires a massive detour all the way to the ocean, East along the coast, and then down some back roads. Time is passing, and I am racing down the highways in my little Peugeot as fast as it will go (for the record, about 150km/h). And it works! I make it back to Cangas de Onis on a back road, and park near my hotel. It is now 3:00. I'm pretty sure the peloton has not made it through town yet and onto the climb, but I don't know if I'll be in time to ride up all the way before they do.
So I change into my new kit, assemble the BFH bike, fill my bottle, and I'm off! Did I mention this bike was big, fat, and heavy? Well, it was. I probably didn't mention that the gears didn't work, because I didn't discover that until this moment. Oh no, Mr. Bill, no gears! Well kind of gears, because although the front derailleur is hopelessly wedged, at least it is wedged on the small ring, and the back derailleur does sort of work. At least I can get into the granny, and stay there. Whew.
So I'll make a long story shorter (not to say short) by saying, I made it. It was a bitch, but I made it. It would have been a bitch on my 16 lb. Kestrel after a good night's sleep; on the BFH bike going into my third day with no sleep it was harder. But it was kind of fun, because I MADE IT. The crowds were great, too, they cheered me all the way up.
All the way up the hill had been "dressed" for the stage while I was driving around Spain shopping. There were barricades, there were banners, there were sponsors, there were sponsor's representatives (very attractive ones, too :), and there were people everywhere lining the road. Some rode in cars and vans, but there wasn't much room. Many rode up until they bonked, and watched from there. Others walked. And at the top was all the stuff you'd expect, which appeared as if by magic; the finish line, the TV booths, the jumbotron screen, and so on.
So it took me nearly two hours to climb the hill (ave 7.5 km/h, not fast :), it was 5:00 when I got there. And just then the peleton passed through the town, you could see and hear the crowds cheering on the jumbotron. The Spanish announcers were going crazy. (I missed Phil and Paul, but only a little.) There was a break of about 35 riders, which splintered immediately. All the way up the hill there were attacks, with Vladimir Efikin, Carlos Sastre, Denis Menchov, and Stijn Devolder trading places. (I was rooting for Menchov, of course; go Rabobank!) Every time Sastre came to the front the crowds roared. You could not believe their speed up that hill. I honestly think it took them about forty minutes, which means they averaged 20km/h. I know they did it faster than I did in the Peugeot, let alone on my BFH bike. With about 3k to go Efimkin got a gap and pressed it hard, and poof he was gone, leaving the other three to battle for second. Scant minutes later the convoy of helicopters and cars and motorcycles blew through, followed by Efimkin. Yay!
It took the rest of the peloton another forty minutes or so to dribble through, progressively slower and with less intensity, until finally the massive autobus with like 100 rides slowly ground through the finish. Whew.
Anyway that's what happened, please enjoy the pics I took below...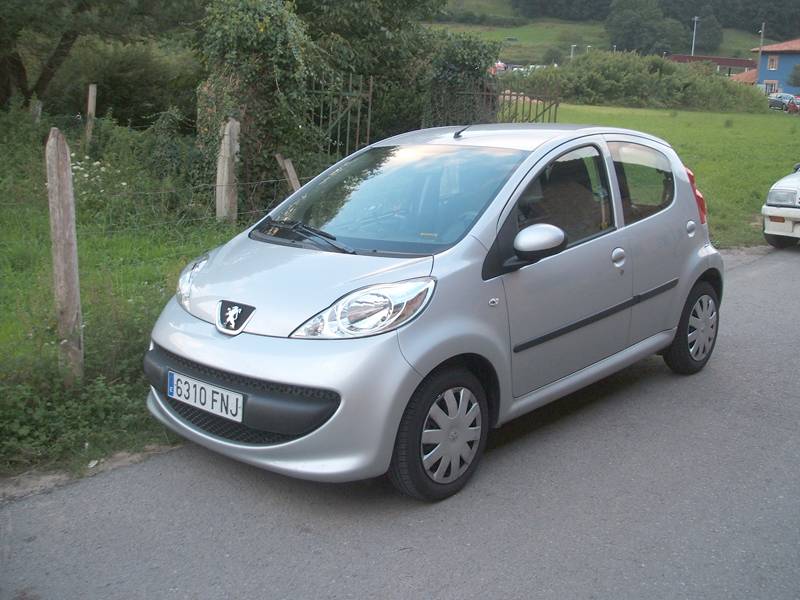 My mighty steed. The worlds smallest four-dour diesel. Cute? Yes. Peppy? Yes. Smooth? Well…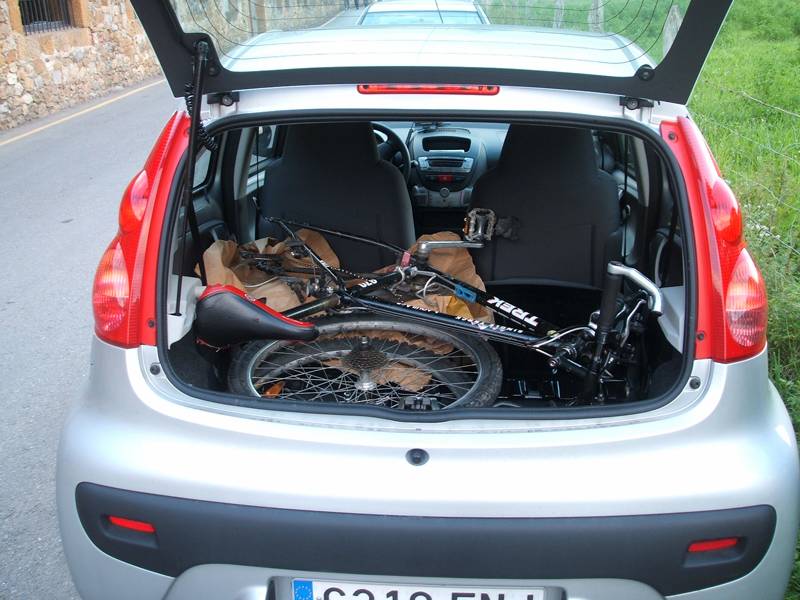 This is what a Big, Fat, Heavy mountain bike looks like in the back of a Peugeot 107. Yes it fits. Barely.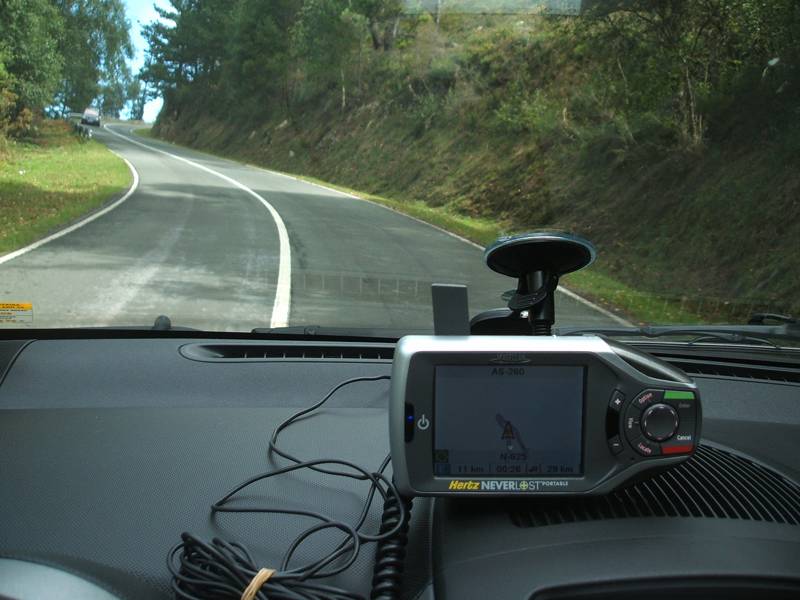 My trusty NeverLost, guiding me on the back route to Cangas de Onis. Note the bundle of wire which connects the GPS antennae. This turns out to be important :)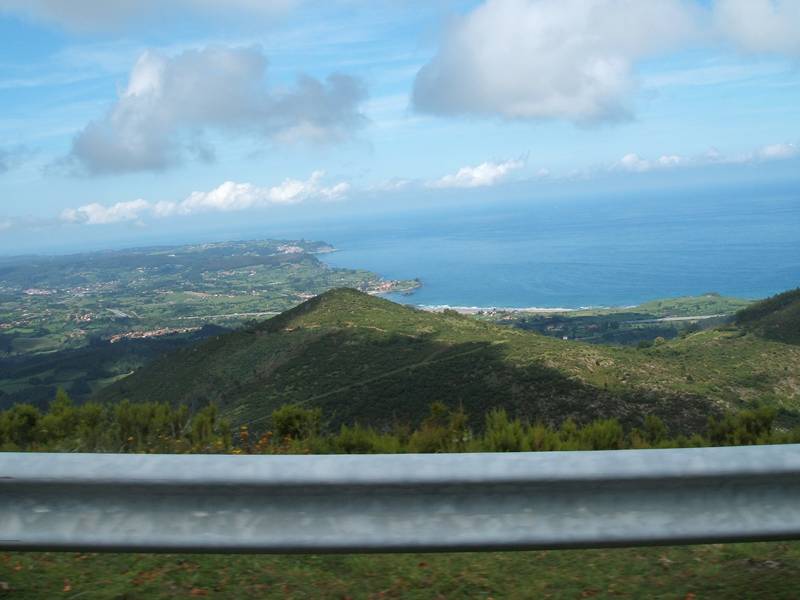 The view out the window, driving from Oviedo to Santander along the Northern Shore of Asturias. Truly some of the most beautiful seacoast I've ever seen. I didn't enjoy it as much as I might have, since I was in a hurry…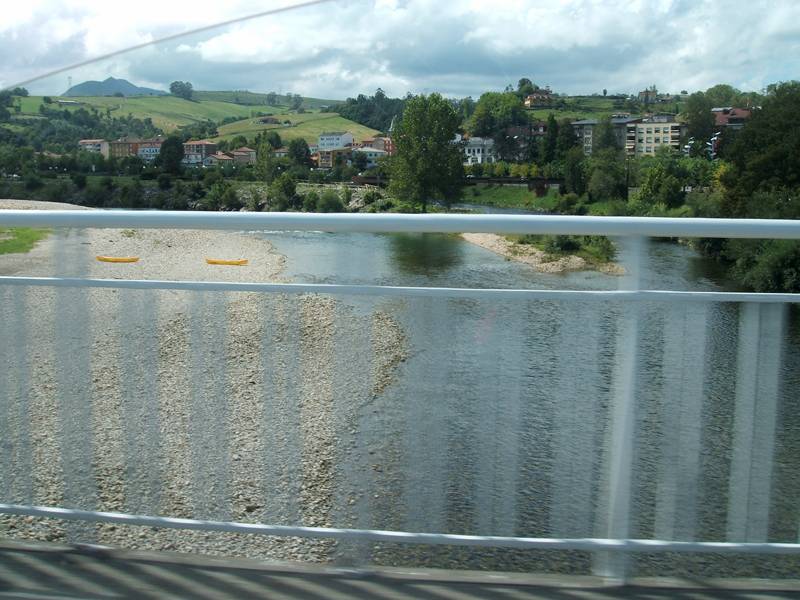 The Covadonga River, with Cangas de Onis in the background. My hotel was the tall white building in the middle. The mountains are to your right.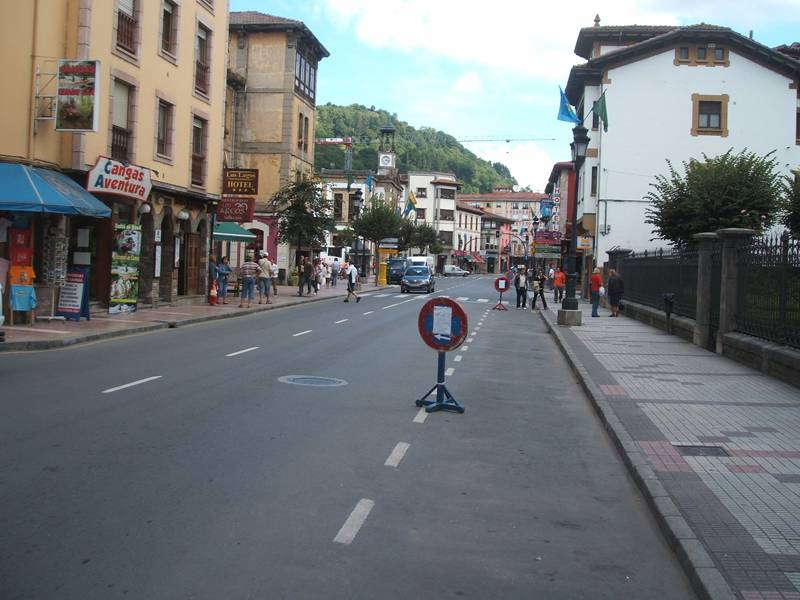 The main street of Cangas de Onis. This was at about 3:00, about 1½ hours before the peloton arrived.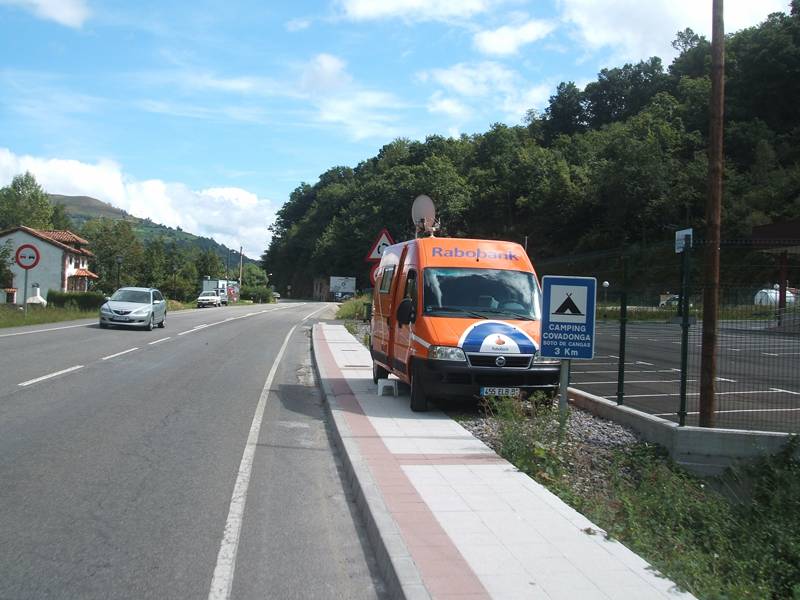 Exiting the town - a sign that I am on the right track!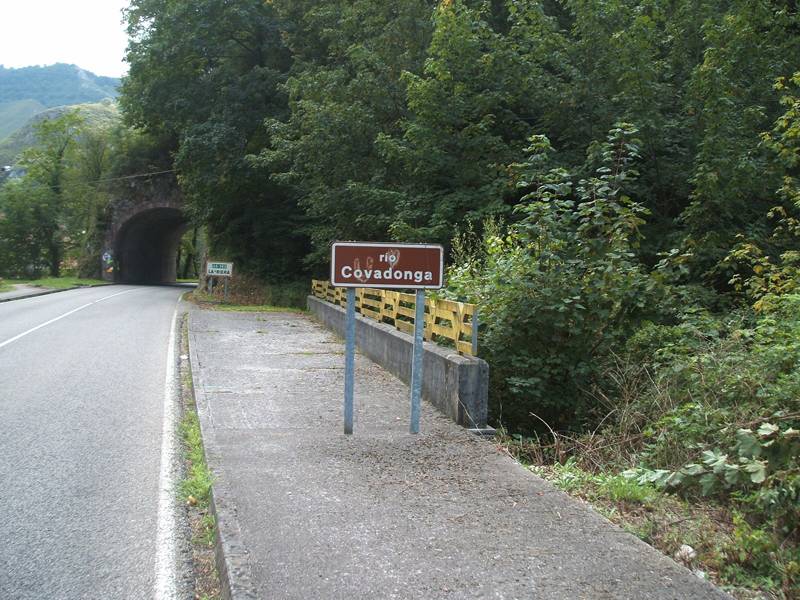 The start of the climb. Looks innocent, doesn't it?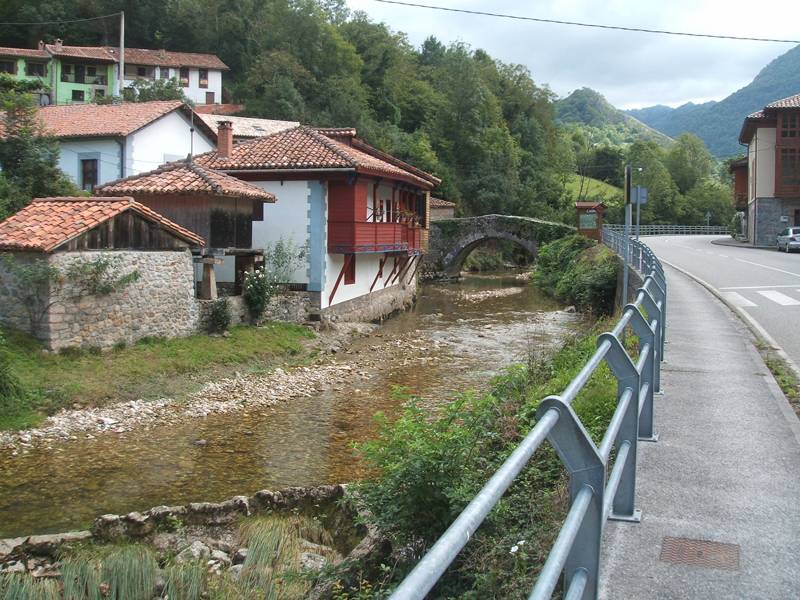 Some beauty – the Rio Covadonga – while I can still enjoy it.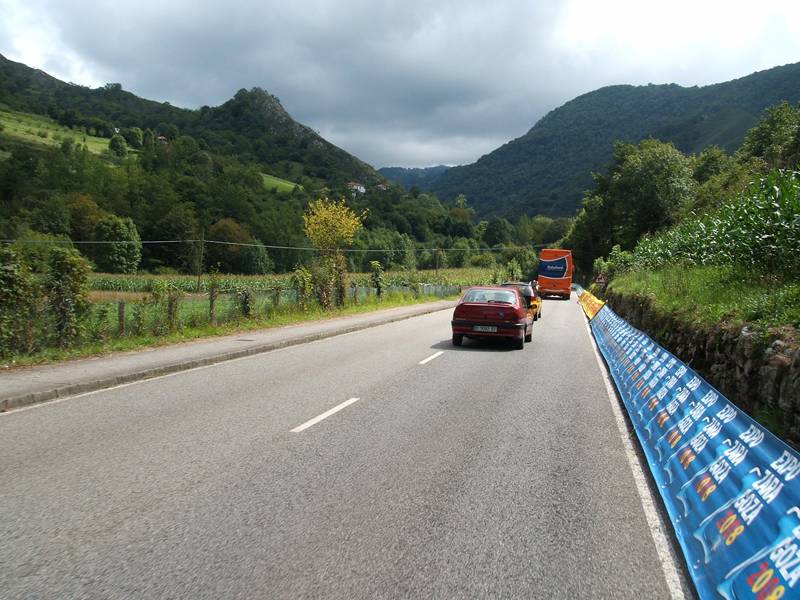 The barricades have begun. And off in the distance, another sign! Further off in the distance, mountains. Way off right now :P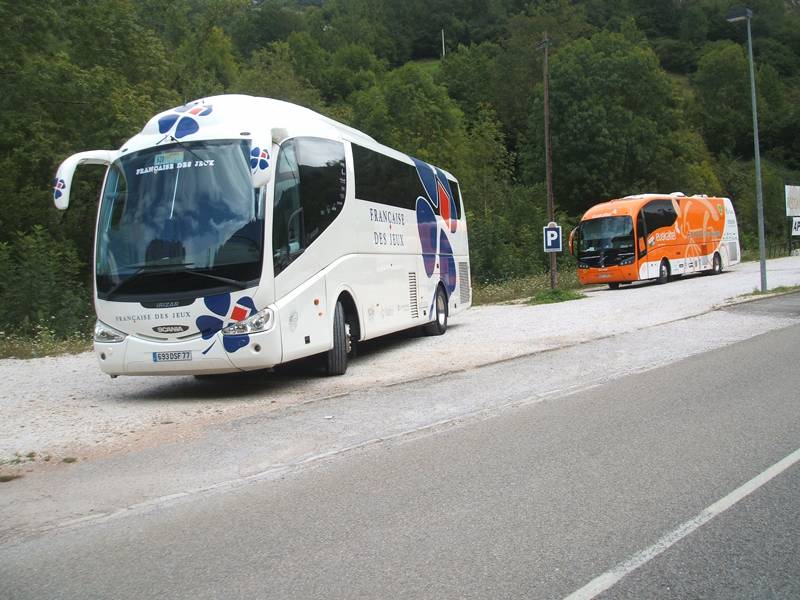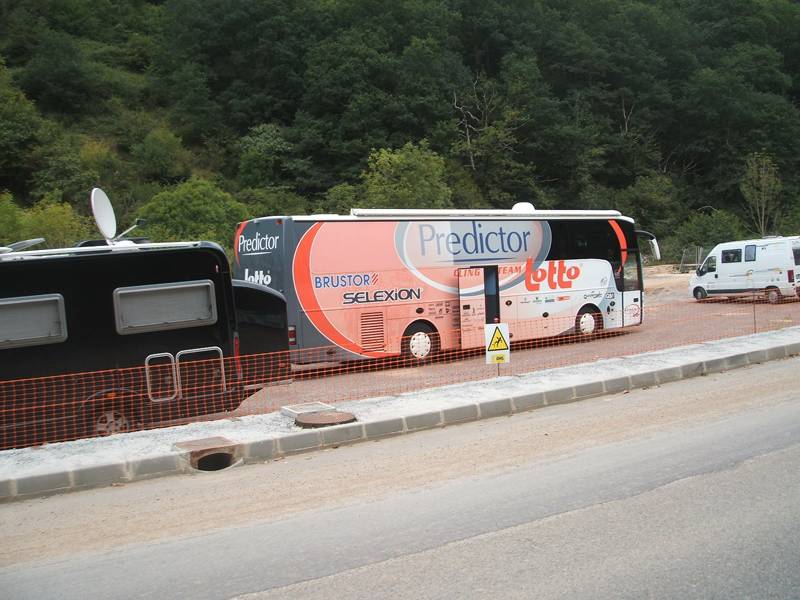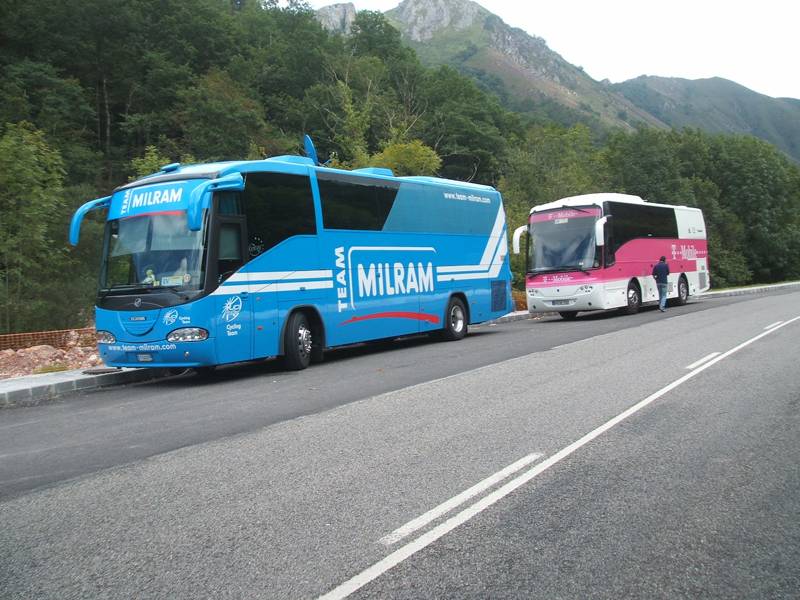 More signs! All the team buses had to park at the bottom of the hill – no room on the hill itself for them. After the race each of the riders had to coast back down the hill to get to their team cars, which then took them back to their buses.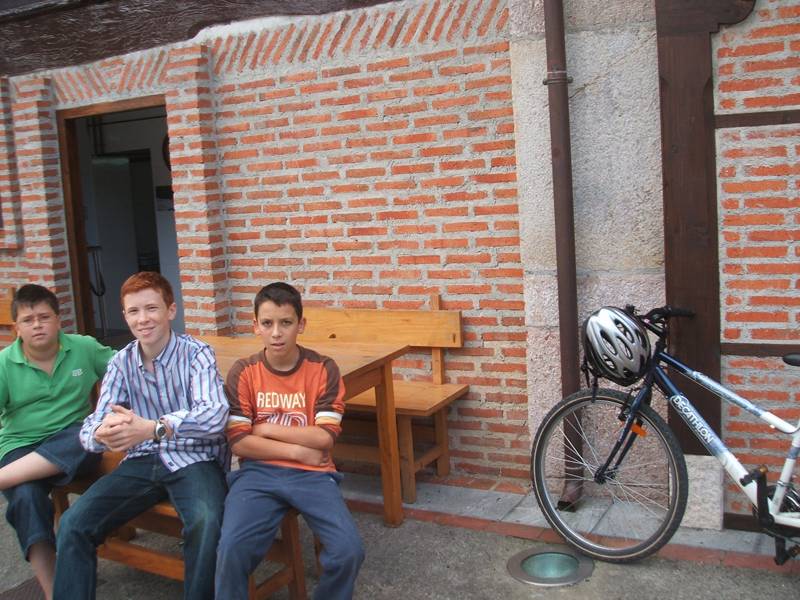 Young cycling fans, clapping for me :)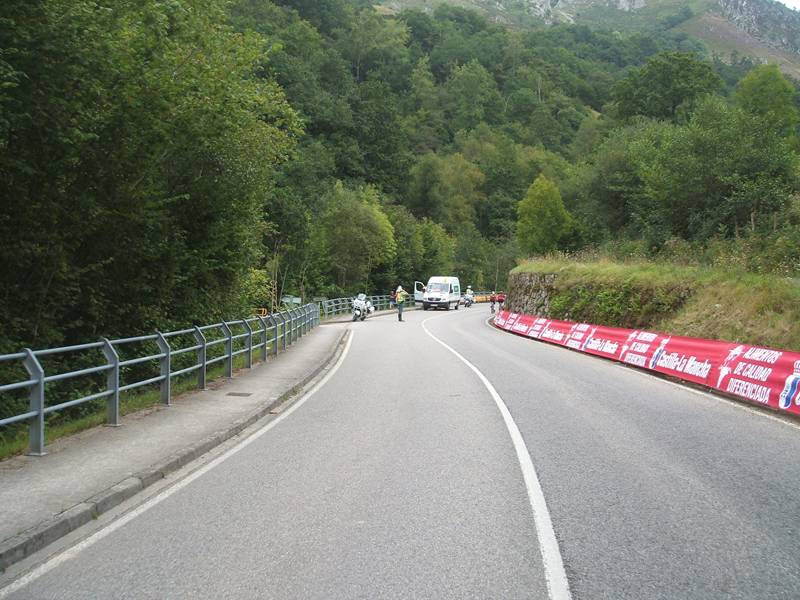 Getting more and more serious – barricades and policemen. The road here is a mere 4%, hardly even a climb. Except on a BFH bike.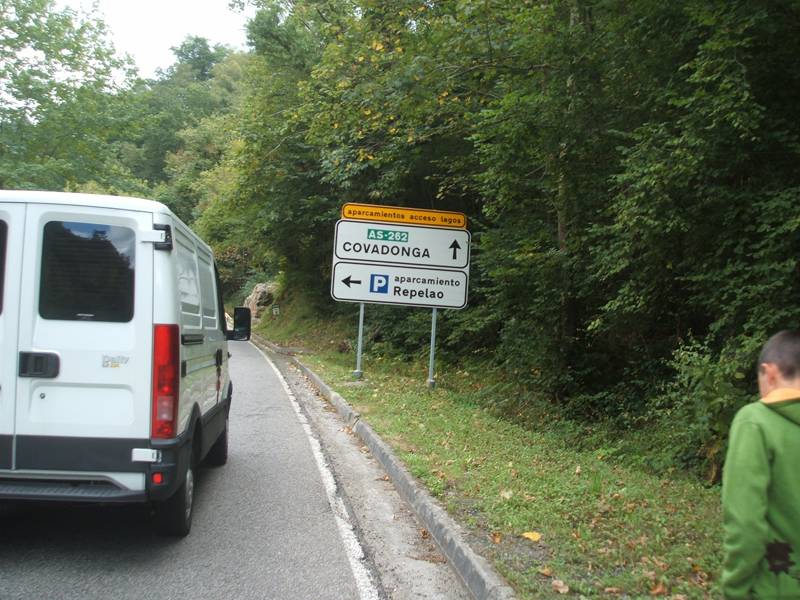 Getting close to the monastery!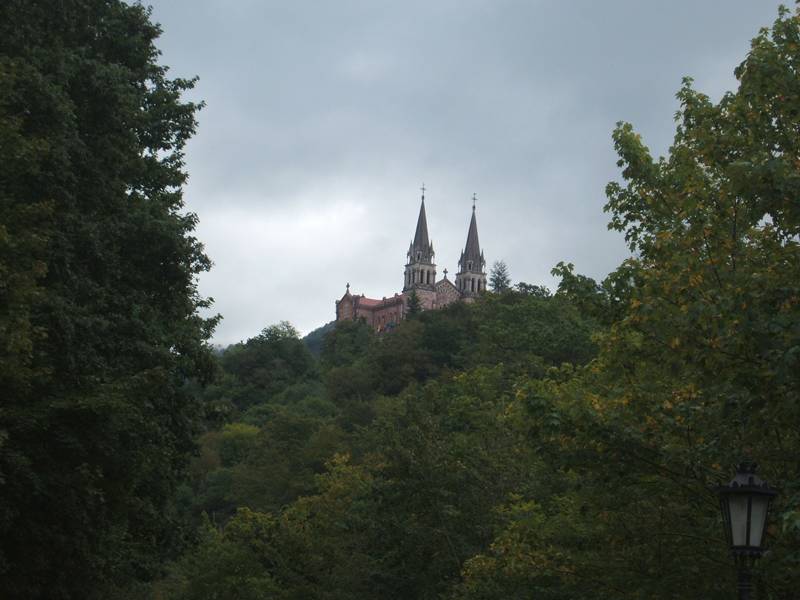 First sighting of Covadona! And it is here that the road becomes a climb, suddenly. 6-7%, yuk. With 12km to go.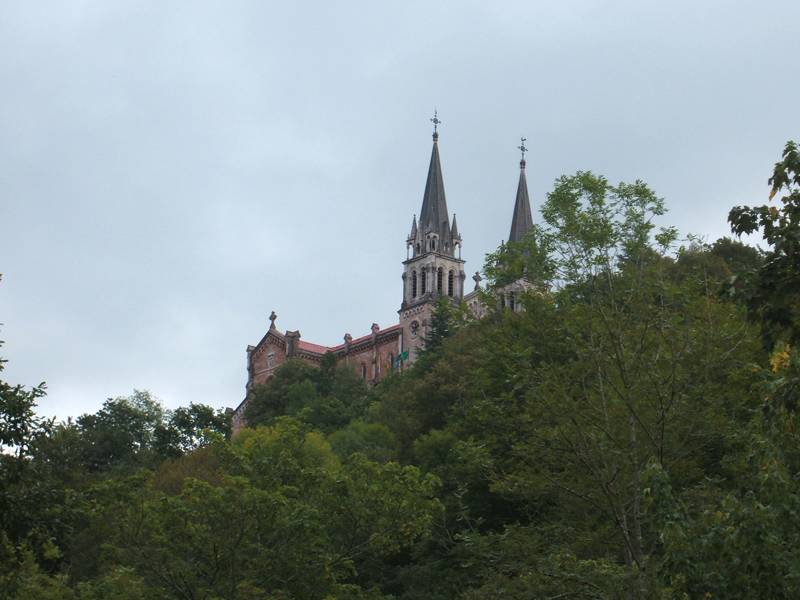 Getting closer! The church is massive and beautiful. And right about here the road flattens a bit and there's some parking lots…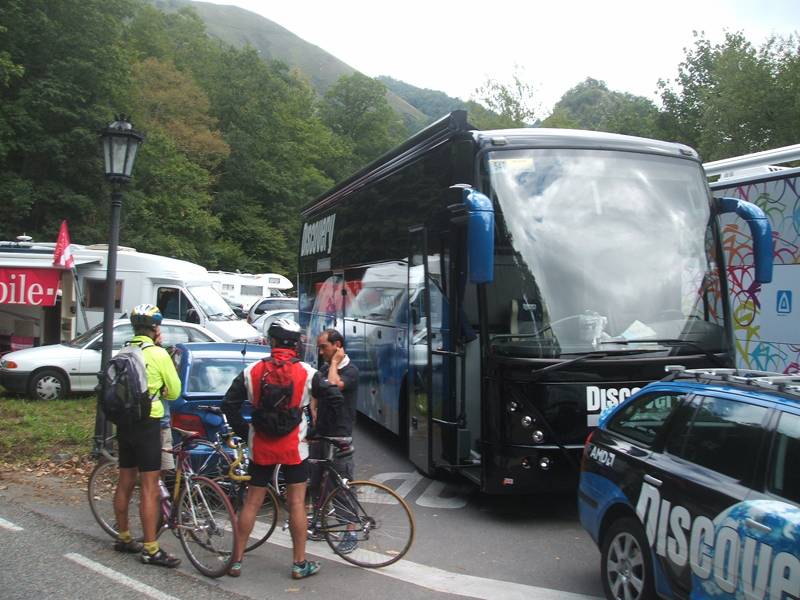 Yeah, baby! Disco. I hated these guys for their not big not fat not heavy bikes. Okay, back to riding.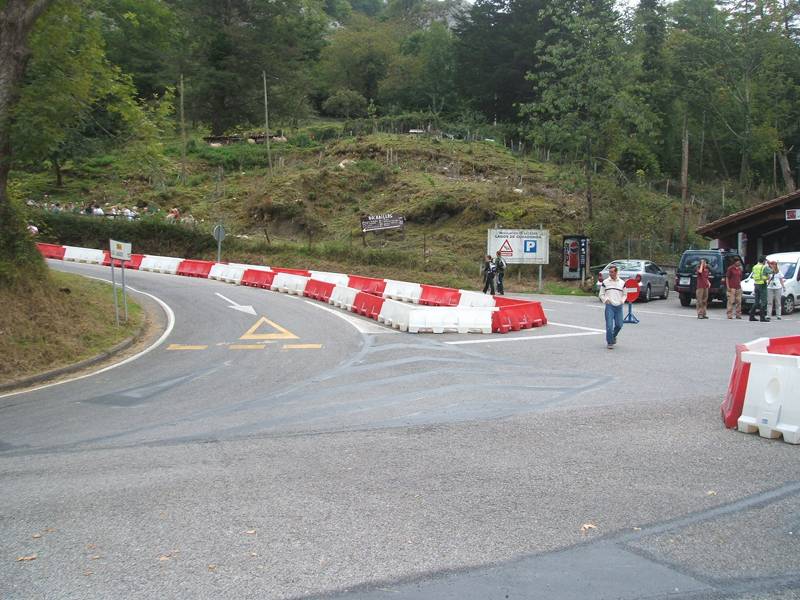 The climb really starts with those barricades. Behind me is the church, ahead of me is… pain…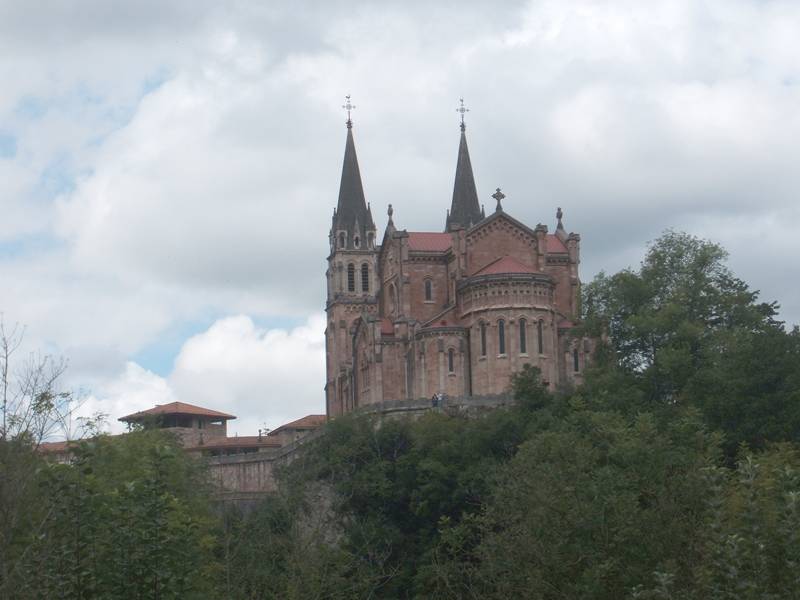 Looking across at Covadonga. How did they get all that stone up here? Whew. Onward…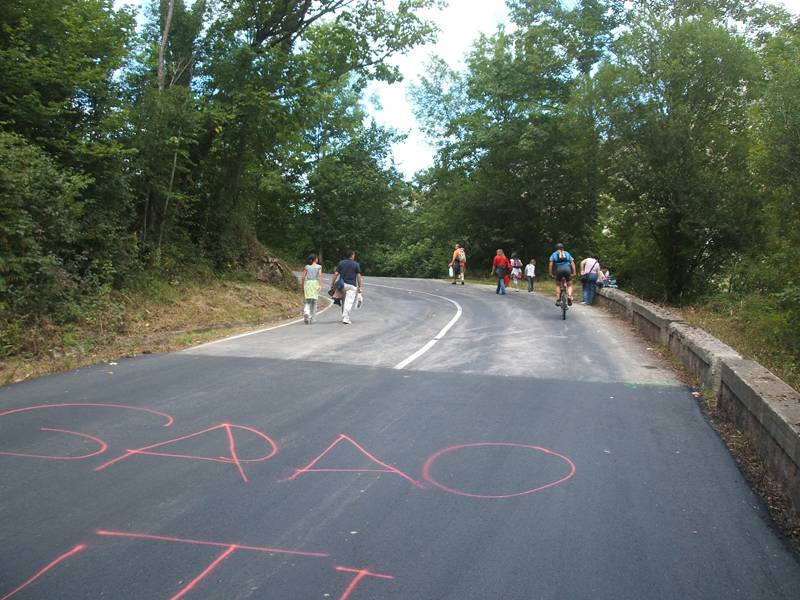 About 8% right here. See that guy on the mountain bike? I caught him. On my BFH bike. He was not pleased :)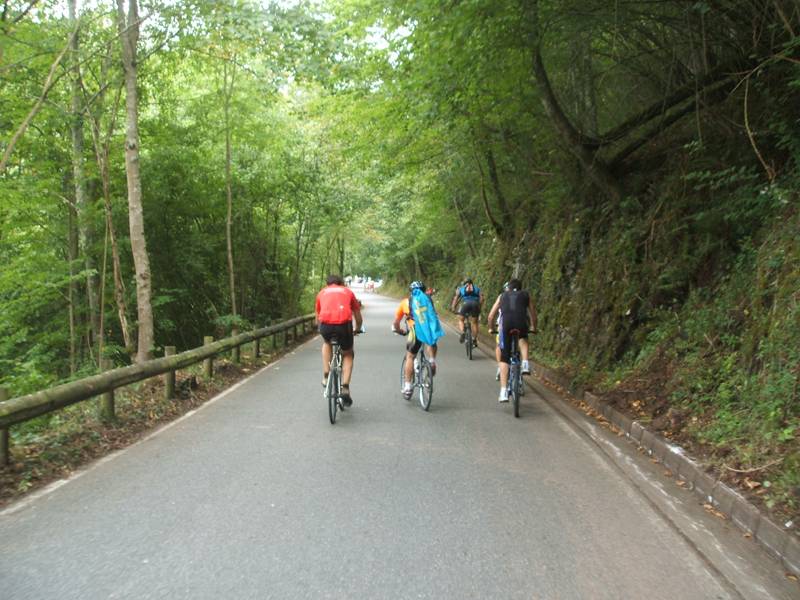 More riders, this guy has an Astana cape. He must be sad because Astana aren't even racing this year, after Vino won the whole thing last year. The foliage here is beautiful.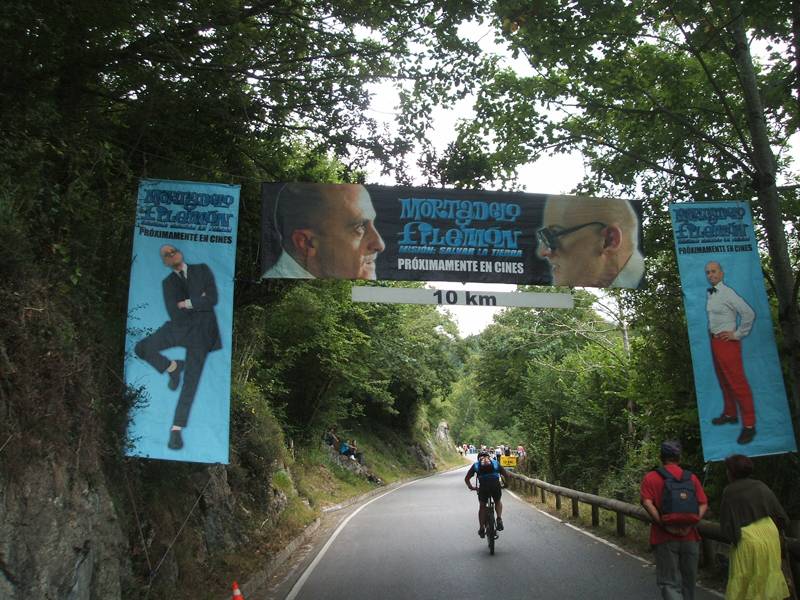 Only 10km to go! Easy. Except for the 10% part. Note the angle of the banners. They're hanging straight down.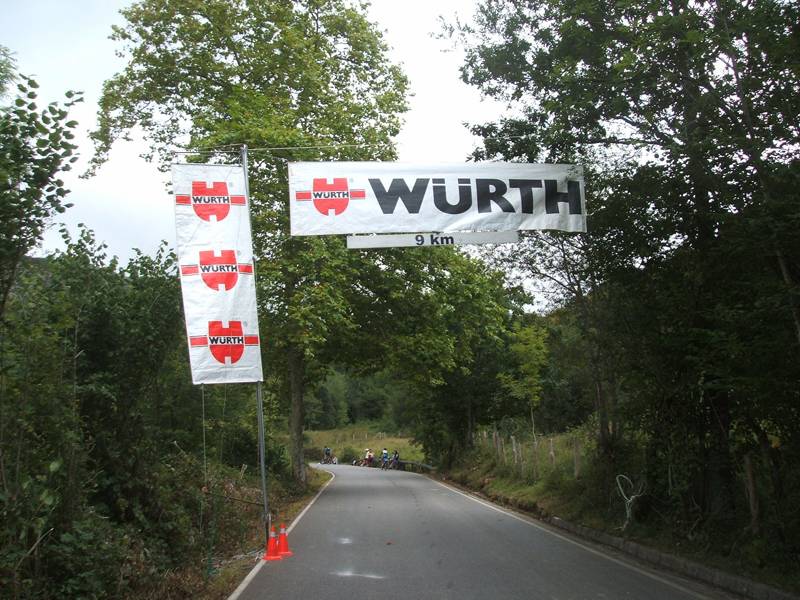 Yay, only 9km left. I am really flagging by this time, wondering if I can make it. The climb seems endless.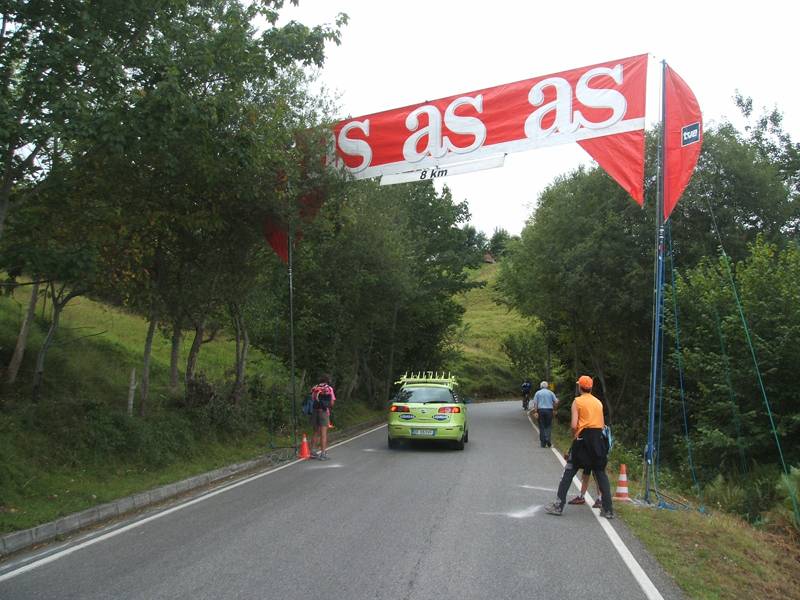 First sighting of a team car! And I made it to 8km. It is still 8-9% here, not easy at all.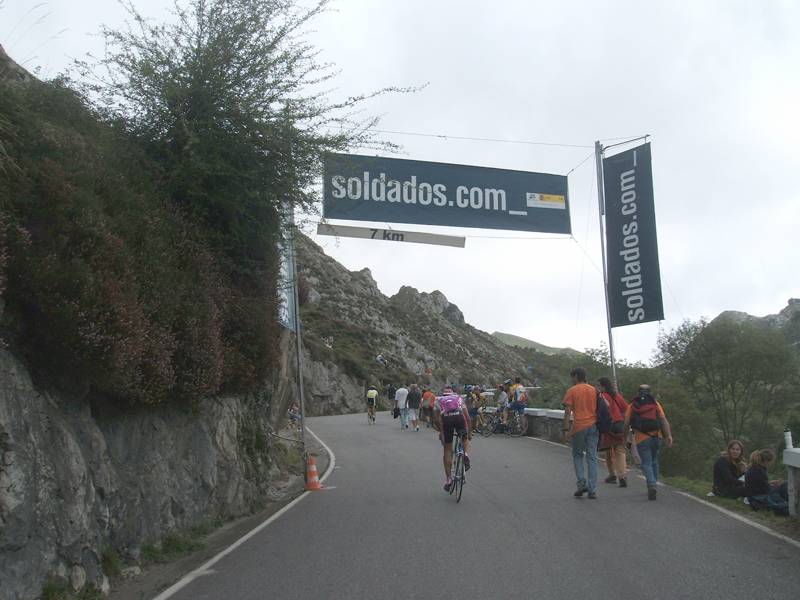 The road emerges from the forest, and the terrain becomes rocky. And the road continues upward… I caught this guy on a road bike. I really think the other riders inspired me to keep going, I kept hoping they would notice how crappy my bike was as I passed them :) However I got passed a lot, too, sometimes by guys who were really strong. But there's still 7km to go…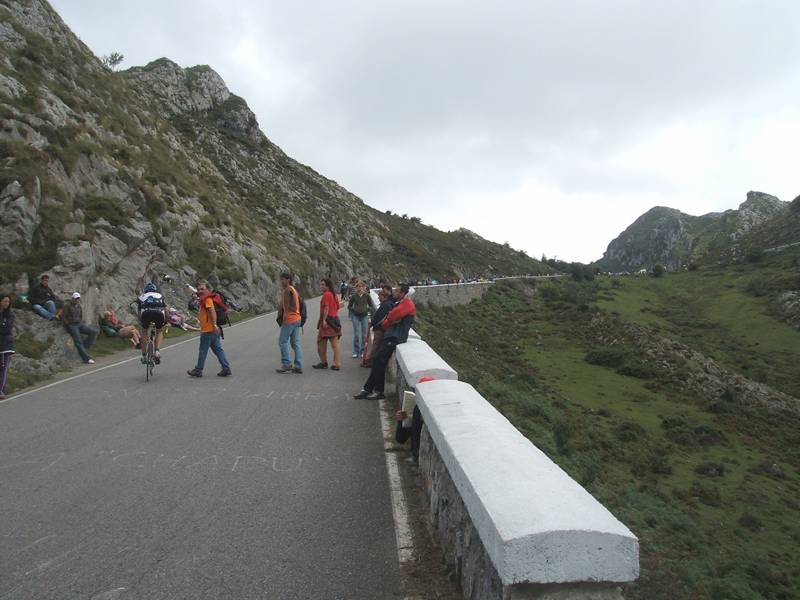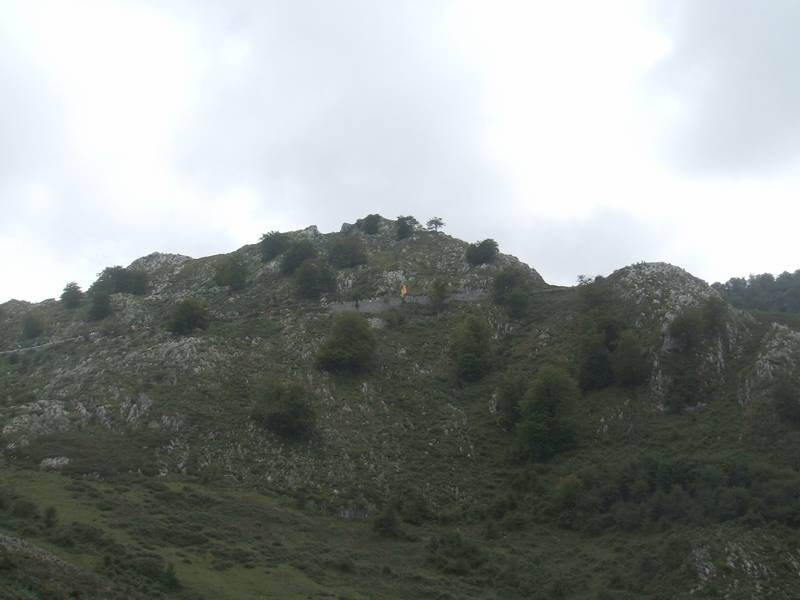 The road ahead. If you look closely you can see it sloping up from left to right. A disheartening sight.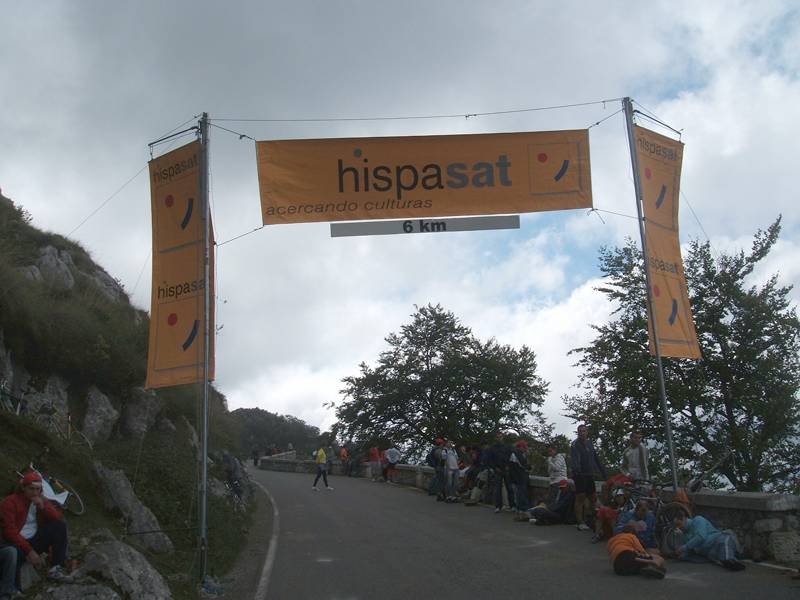 Yay, 6km. Whew. This is ONLY THE HALFWAY POINT up the serious part of the climb. Once you realize that, you realize you're getting your butt kicked by the mountain today. But then you realize if you actually do make it all the way, it will be cool. So you continue…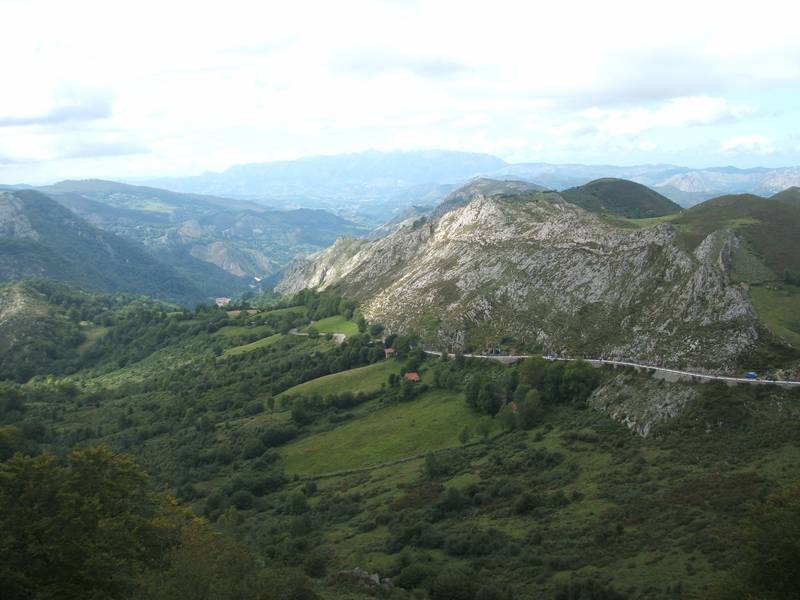 I took my first break here, and turned around to take some pictures. WOW! That valley way down there is where Cangas de Onis is located. Amazing what you can do on a bike. This energized me.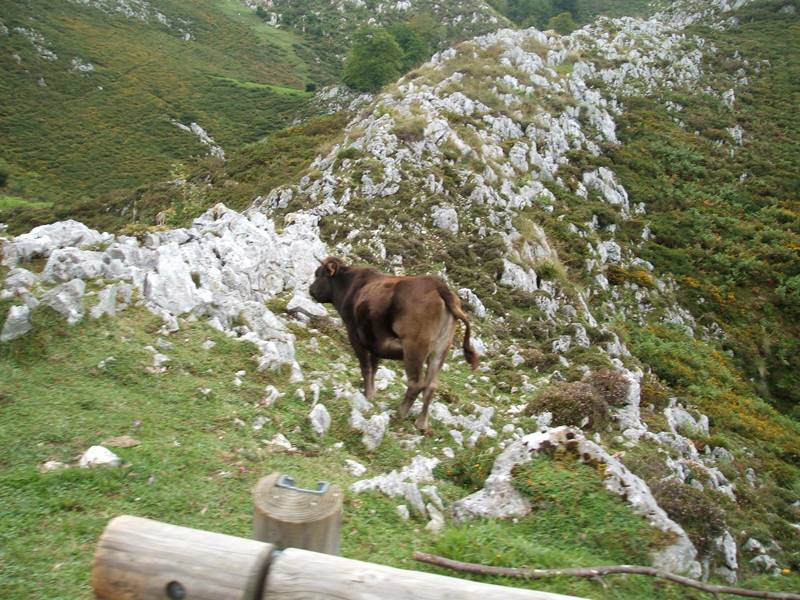 Not all the spectators are human. Lots of bulls roaming them thar hills. I must say they seem pretty unconcerned with the invasion.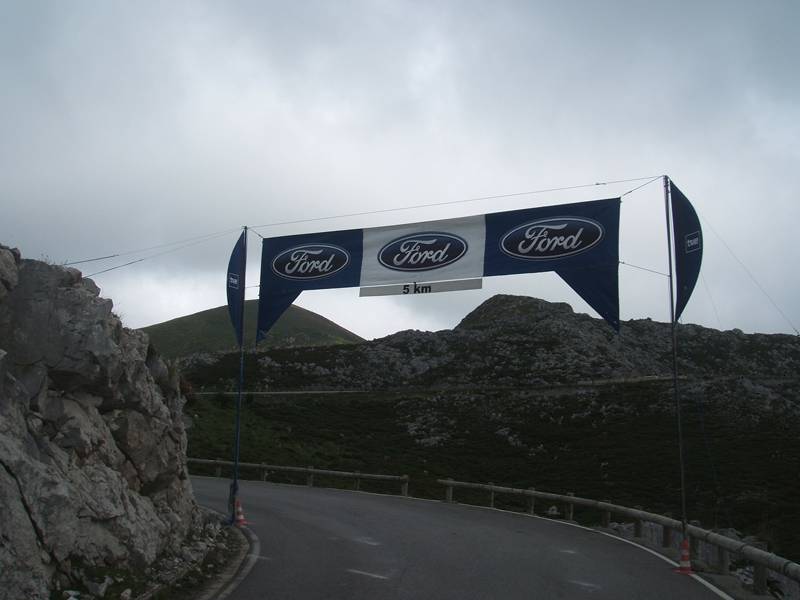 Wow, only 5km to go! This seems like progress, until I remember that most of the toughest climbs I've done were only about 5km. You can see the road continues on upward, there off in the distance. Although the pitch here is a mere 6-7%.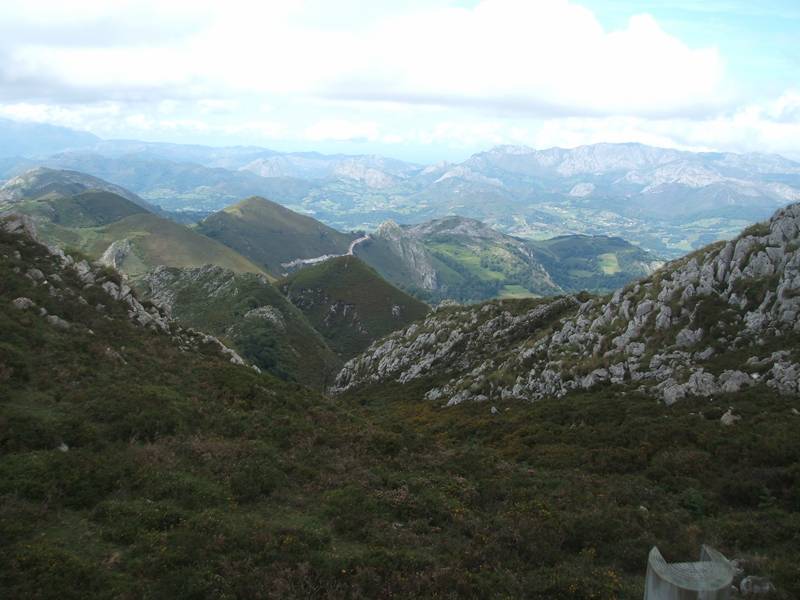 Okay, now we're really getting high. And we have 5km to go. Whew.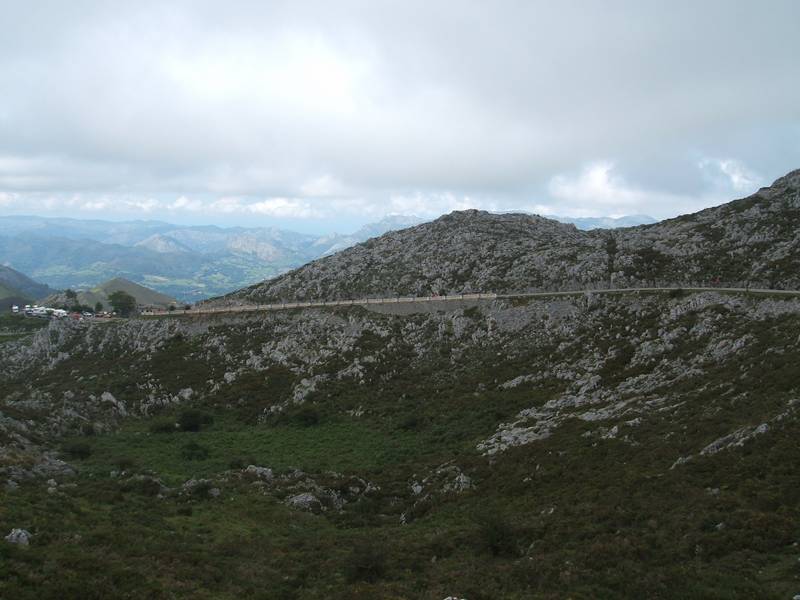 A quick look back. That's the 5km banner off in the distance. You can get some idea of the steepness from this.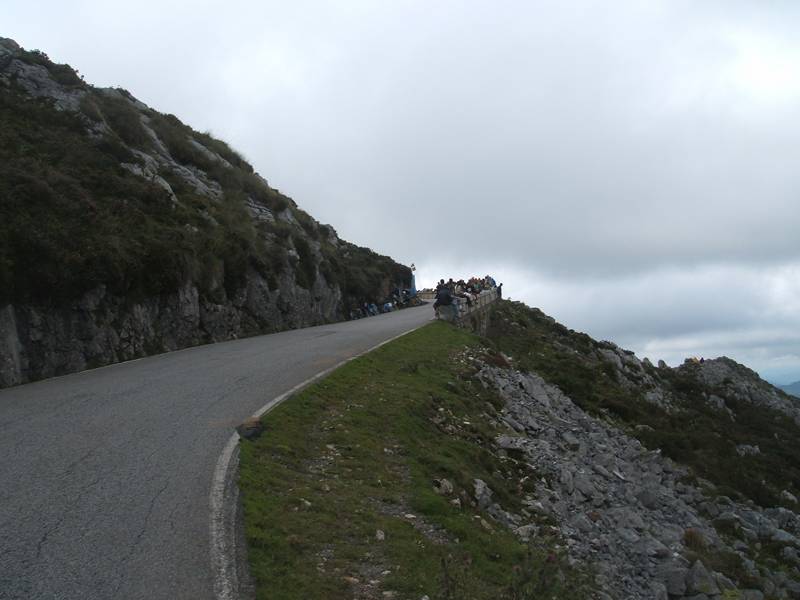 Yikes! That 6-7% suddenly became about 15%. Now this is NOT FAIR. Ouch.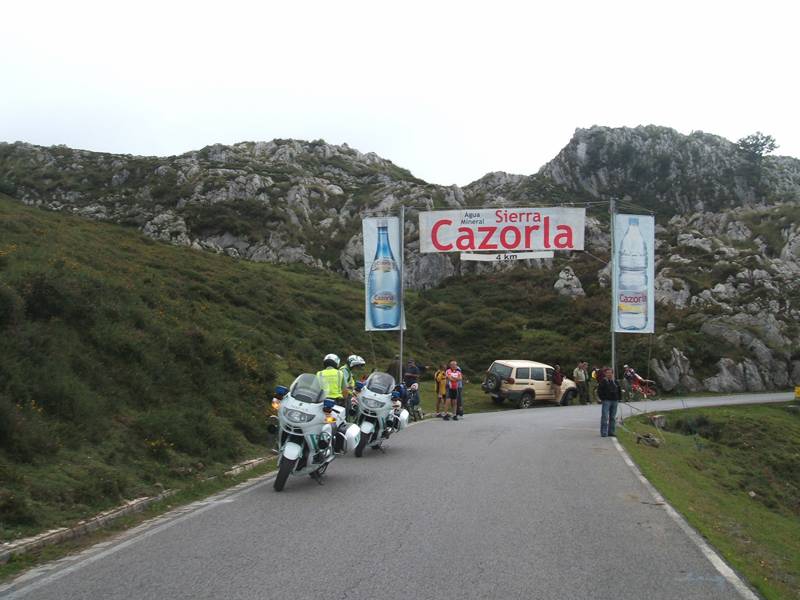 The 4km banner. The section between 5km and 4km was the worst. Fortunately as I recall from my reconnaissance this morning, there is an actual downhill section coming up. I can't wait.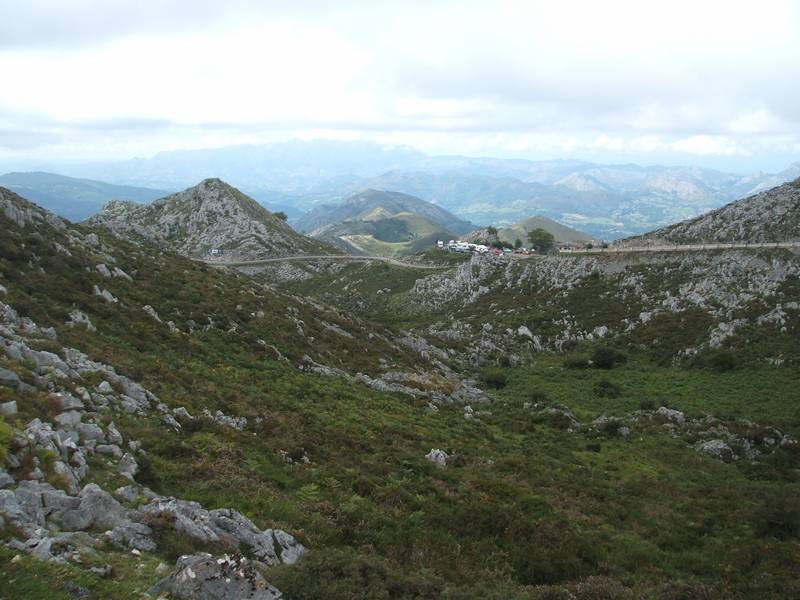 Looking back from the 4km banner. Check out that valley off in the distance! And the climb!!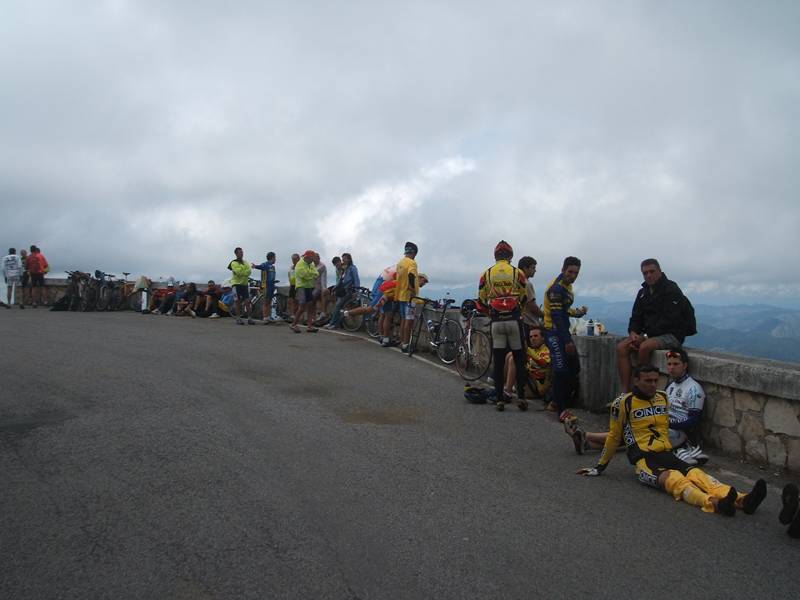 Here's the crest of the climb, just before the downhill respite. A crowd has gathered. These guys ALL have better bikes than I do :)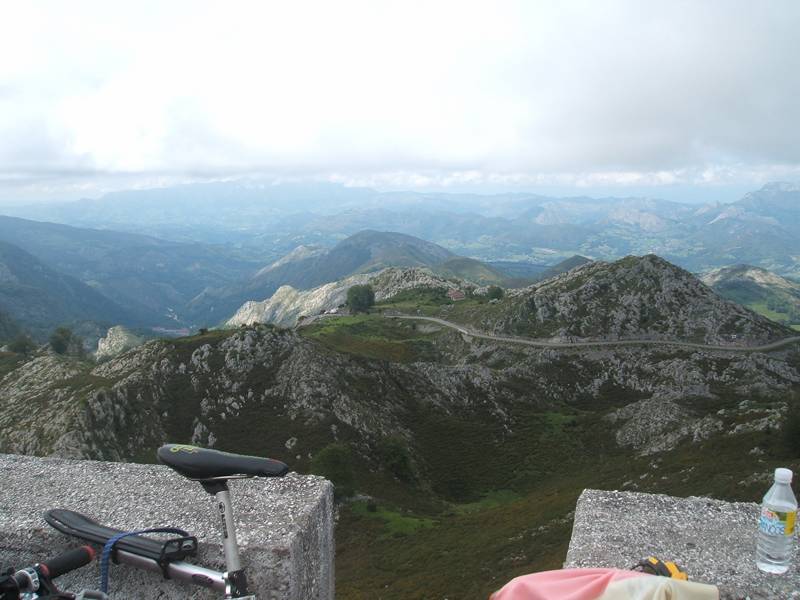 The view over the lip. Wow. That's just about all I can say.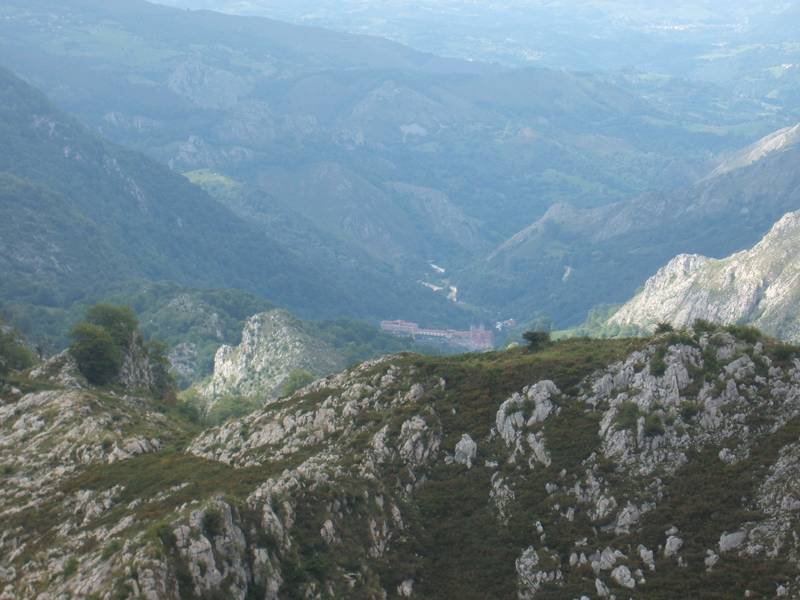 There's Covadonga! It was about 8km ago. And about 3,000 ft, too. Wow. (I'm saying that a lot, huh?)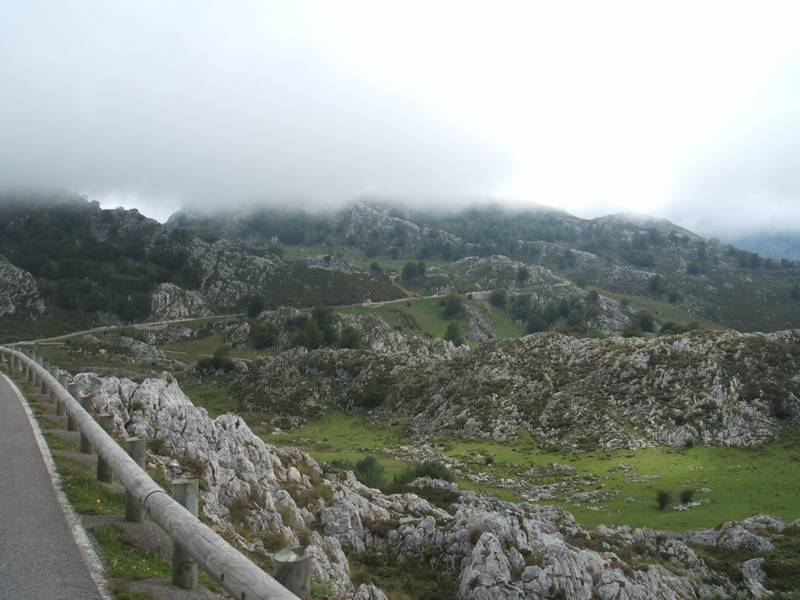 No pictures of the little descent, sorry. But it ends all too soon, and the climb resumes. And now we have FOG. Wow, isn't that special. It is actually getting a bit nippy.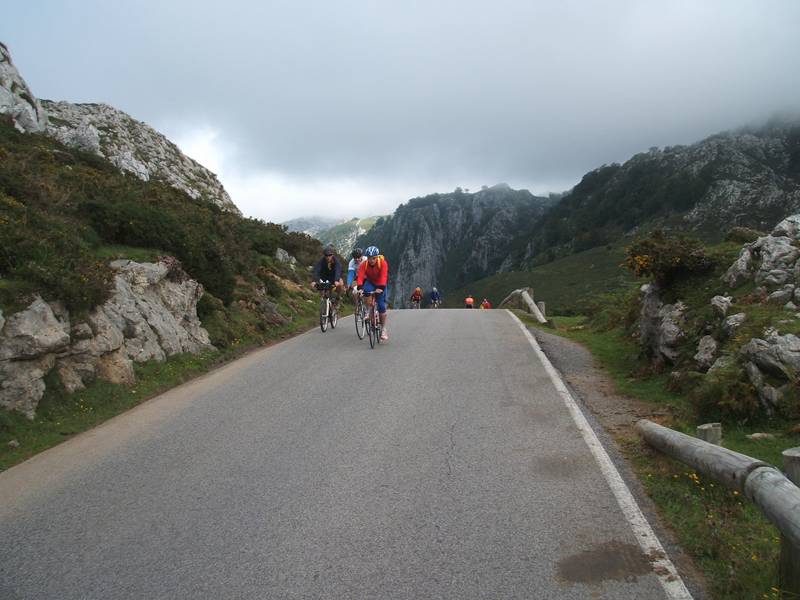 There was a particularly nasty little section, after climbing it I had to stop and recover. Which gave these guys a chance to catch up :) Seriously they were moving slow. But I know the feeling, I was moving slower. Actually zig-zagging to make it up, that section must have been 15%+.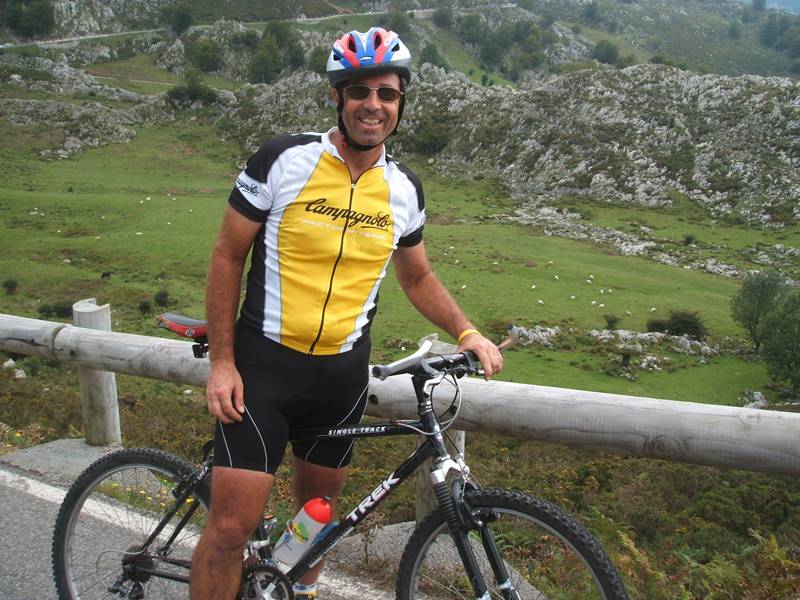 When those guys caught me, I asked them to take my picture, and they did. Here you can see my BFH mountain bike in all its glory, along with my brand new kit (and brand new water bottle).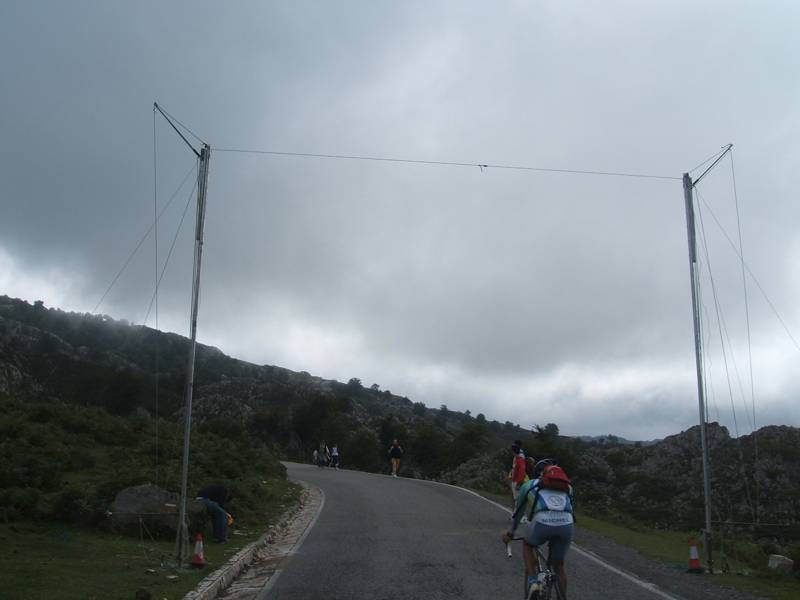 A new feature – WIND. Yes it is blowing and yes this was the 3km banner, seems to have blown away. Note the pitch here. Ouch.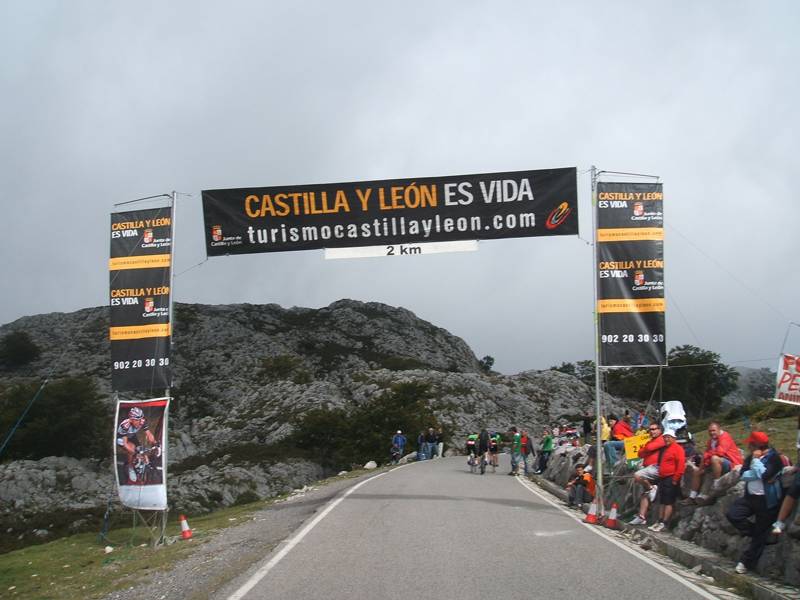 I can't even describe the section between 3km and 2km. It was agony, I was barely ticking over the pedals. I am now fully bonked and cracked, and desperate to make it all the way up.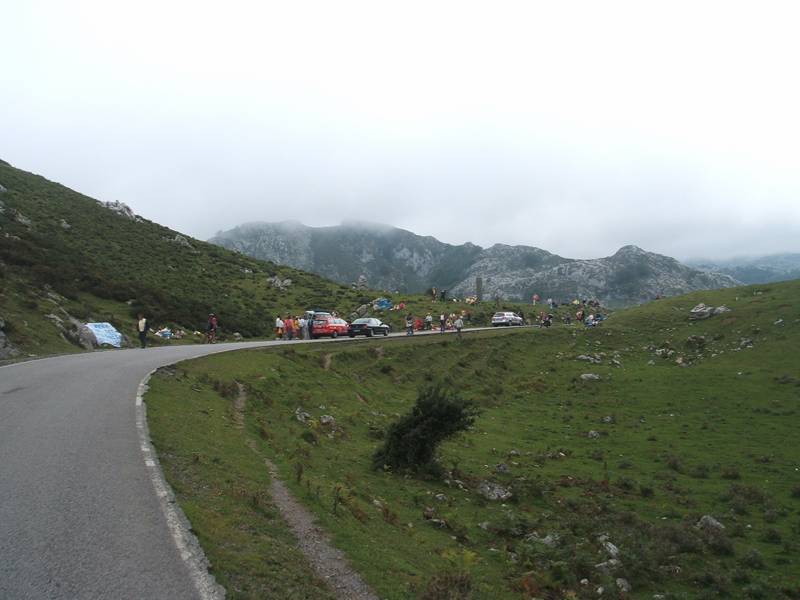 Gasp. More climbing. Gasp.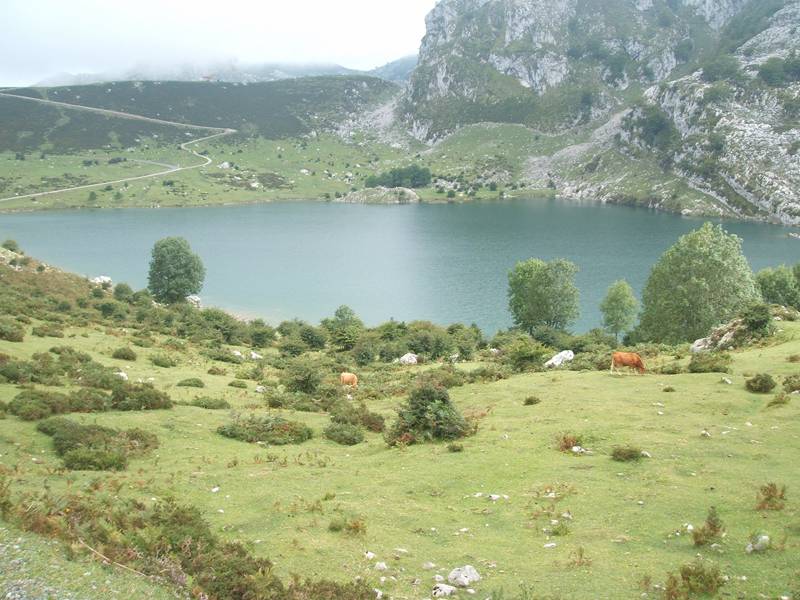 Whew! I crested a climb and there was a plateau, along this little lake. Los Lagos de Covadonga. The end is near! Well, kind of near. I'm pretty sure I didn't miss the 1km banner :)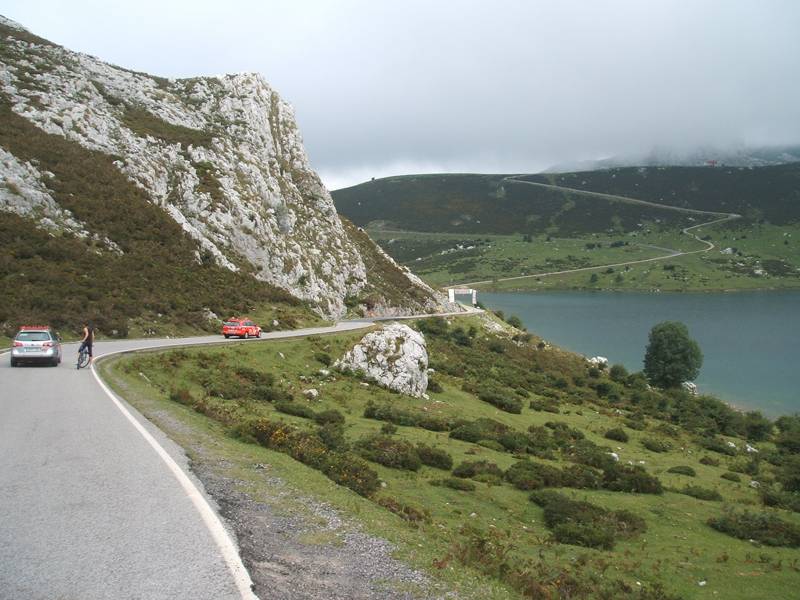 Yay, here's the view forward, you can see the 1km banner in the distance. And a couple of team cars just passed me, the peloton must be getting close (how close?) And note the climb after that. Serious stuff. Wow.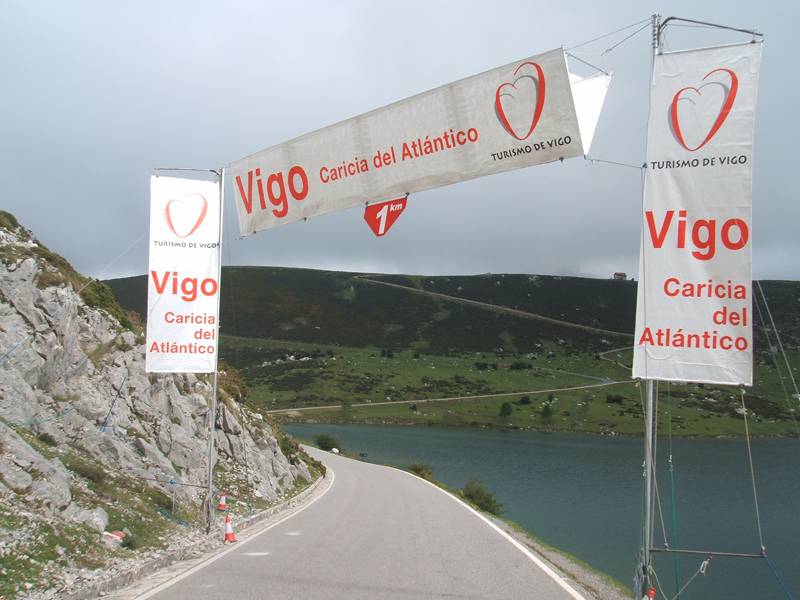 Yay. In fact, YAY! 1km to go. Now I know I am going to make it. Yes I will suffer, but yes, I will make it.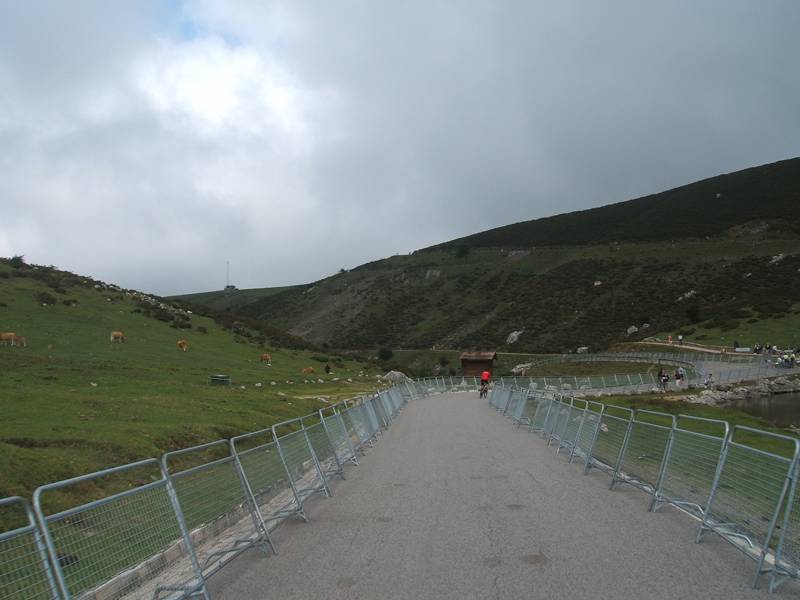 Inside of 1km there are barriers all the way. Not too much of a crowd though – at least not here…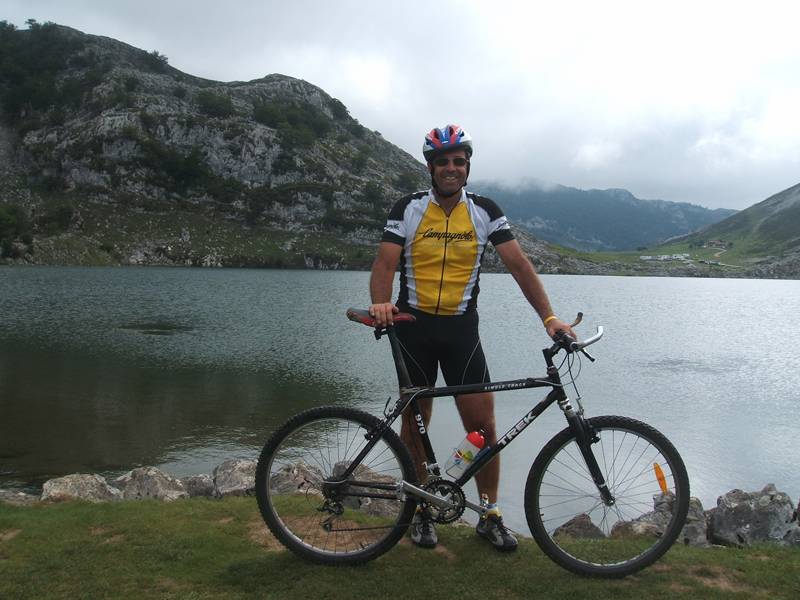 By the shore of the lake. I'm secretly hoping to gain enough strength to make it up the last section, which is nasty.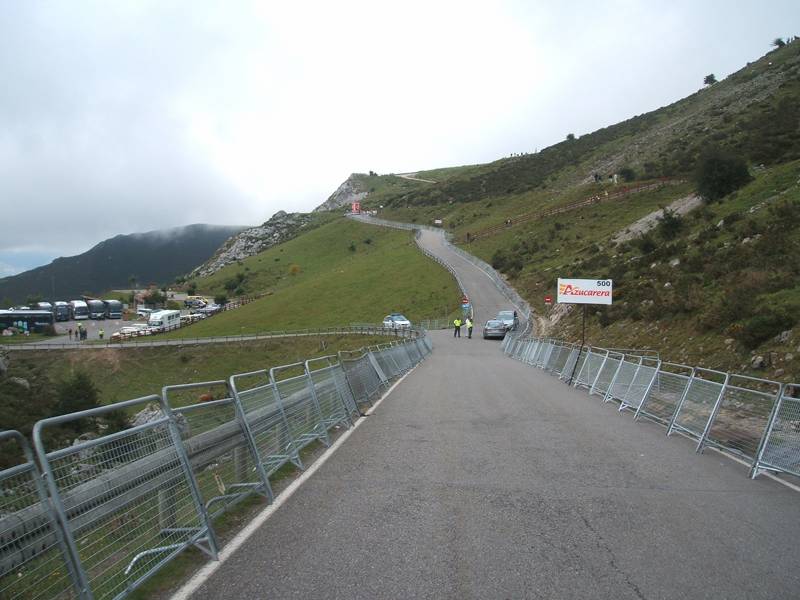 This is it – the finish. Just 500m to go. Onward!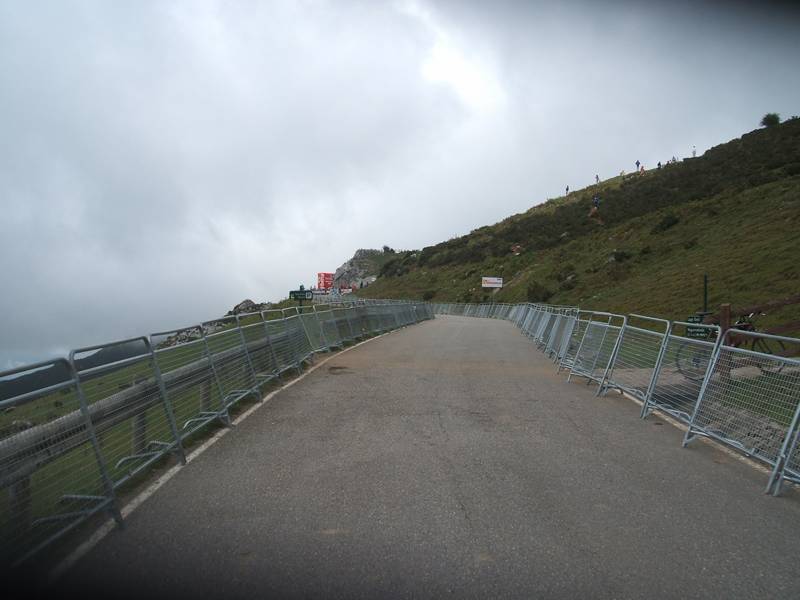 No comment.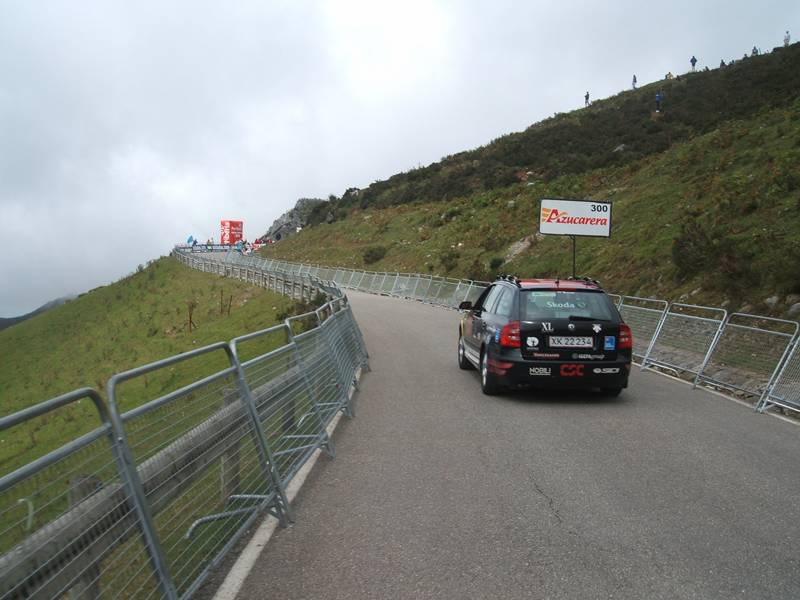 300m to go. The CSC team car nearly ran me over. I am now going so slowly, I may fall over. I am tired.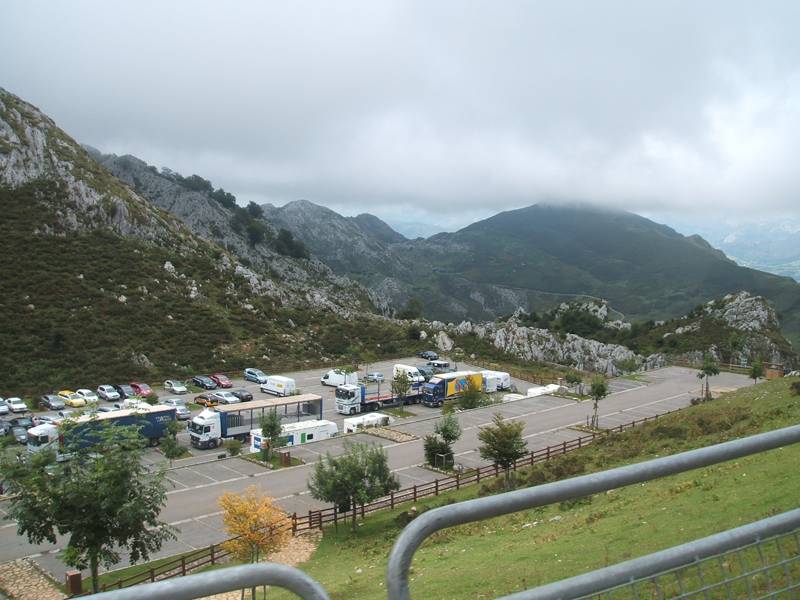 Looking down into the parking lot, those are all the TV trailers. This picture was really an excuse to stop and rest :)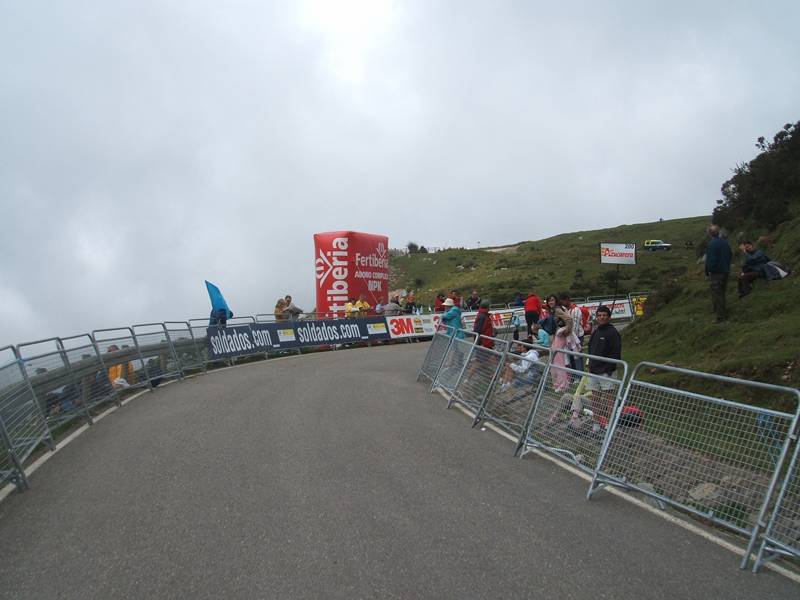 The final turn! There's the 200m sign.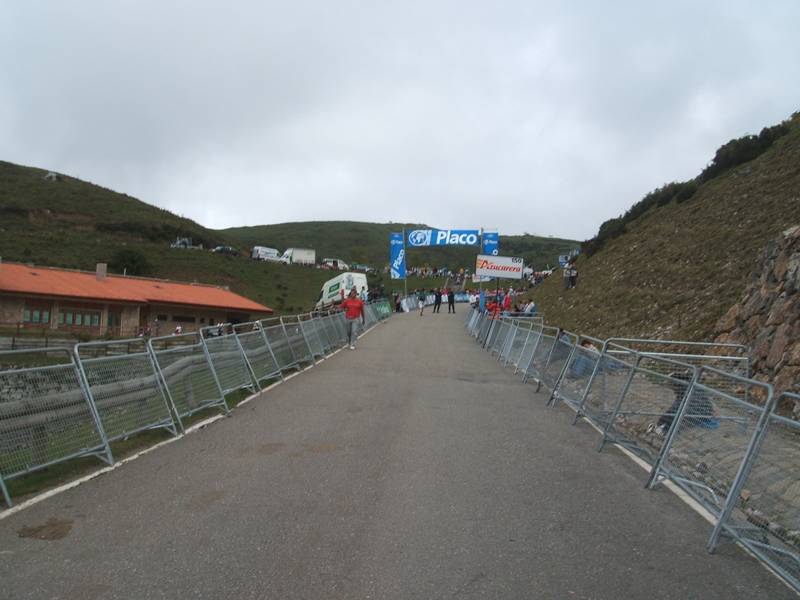 Around the turn and … on the final straight! 100m to go, coming up. Yes it is steep here. Really steep.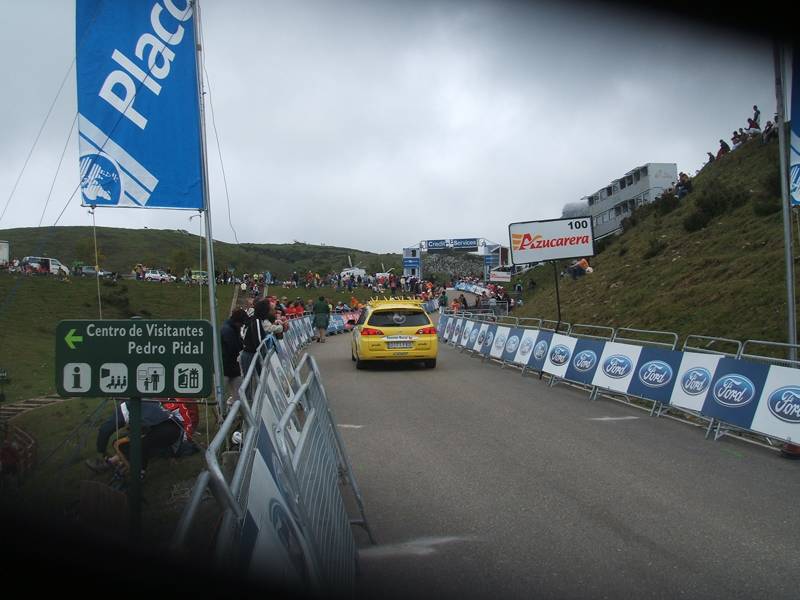 Under the 100m banner, and THERE IT IS, the finish! Woo hoo.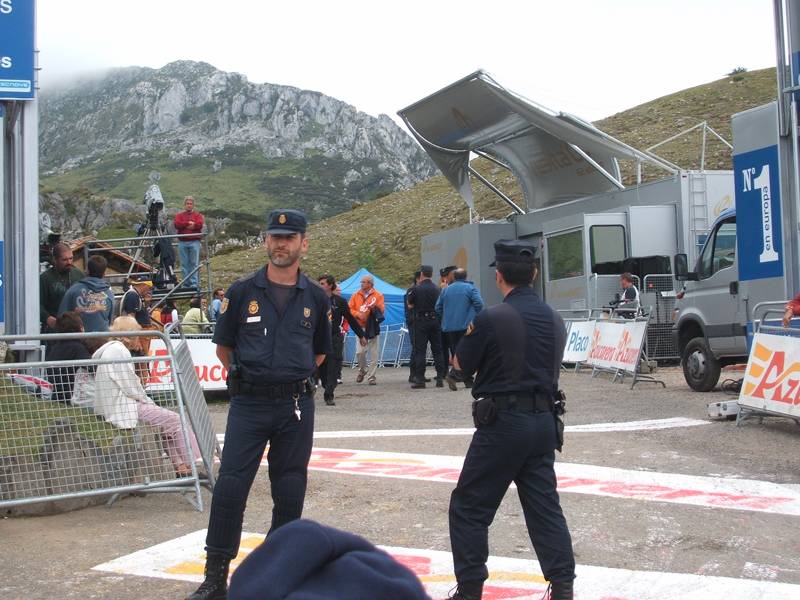 This is as far as I got. These guys would NOT let me go through the finish. Fooey. Oh well I made it! I made it! Yay.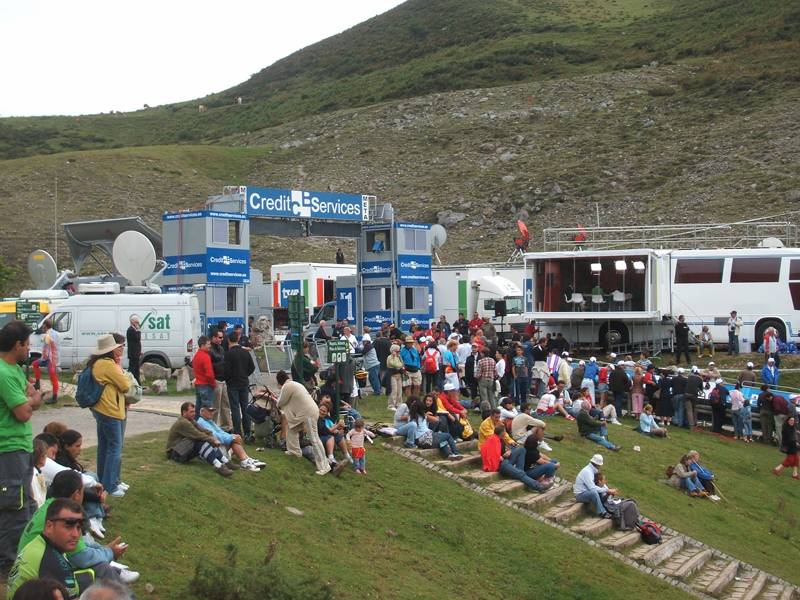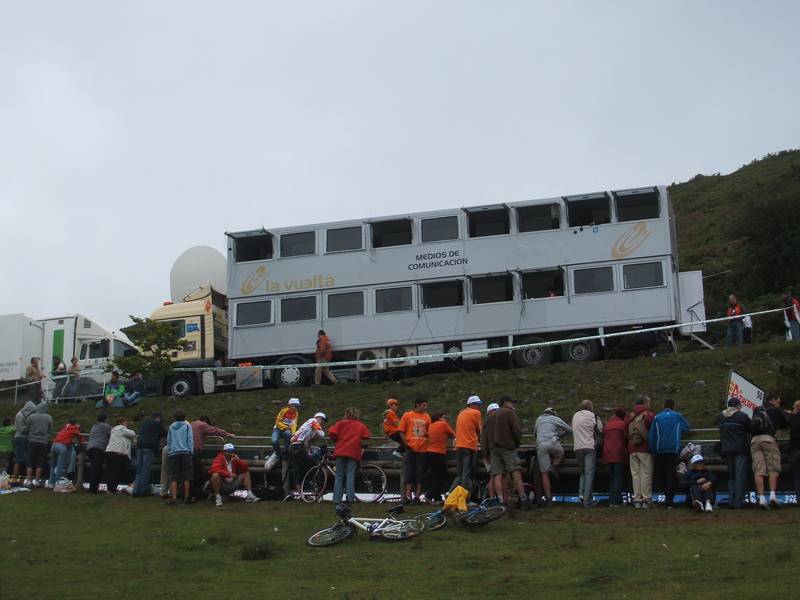 Here's what the finish line looks like with a wider view. Note the mobile TV studio! A bit further over we have the broadcast booths. Phil and Paul are in there somewhere, but I can't hear them; the Spanish announcers' call is being broadcast for the crowd.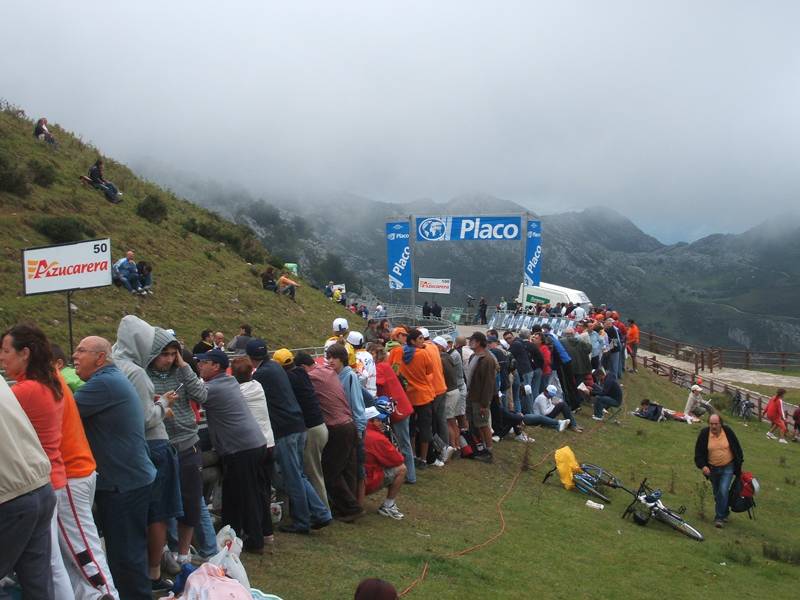 This is my spot, carefully selected. I will have this view of the riders as they come up the hill. Now that I've made it, it is time to get excited about the race. Just about now the peloton is passing through Cangas de Onis. They are about to do the same ride I did, about four times as fast. Wow.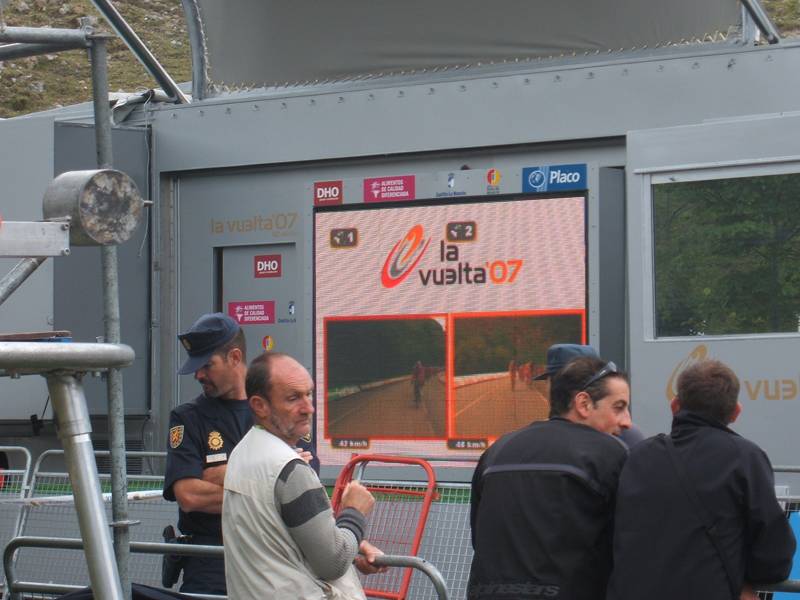 From my spot I can see the jumbotron. There is a massive break of 35 riders, but as they hit the climb that will splinter for sure. Excellent!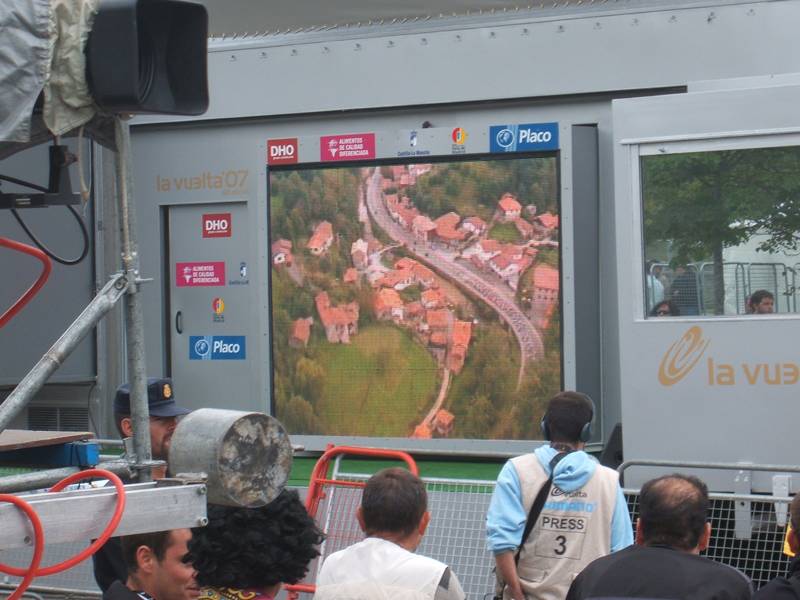 The helicopter view of the peloton starting the climb. They're in that little village next to the Rio Covadonga. Seems like about three days ago that I was riding there myself.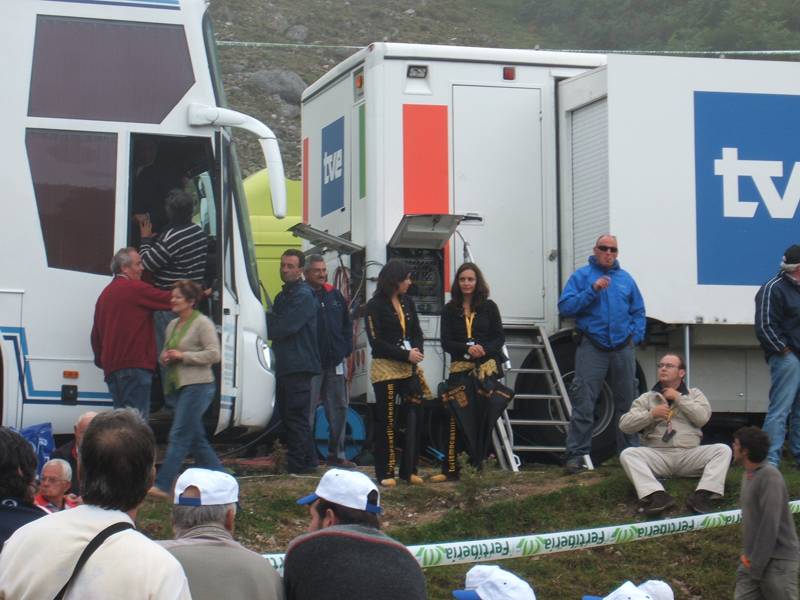 The podium girls are ready. Is it worth climbing this hill to get a kiss from them? Who can say.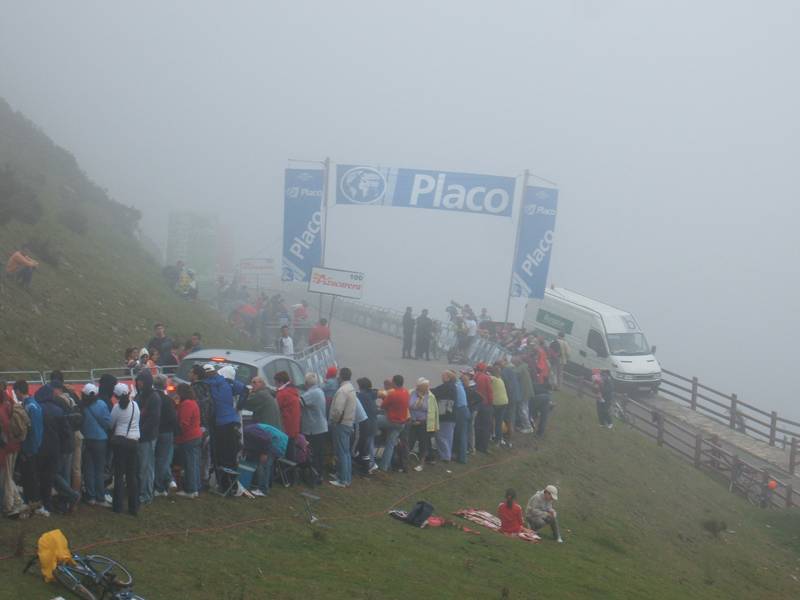 Um, it is getting REALLY FOGGY. And cold. Now that I'm not riding anymore, I'm freezing.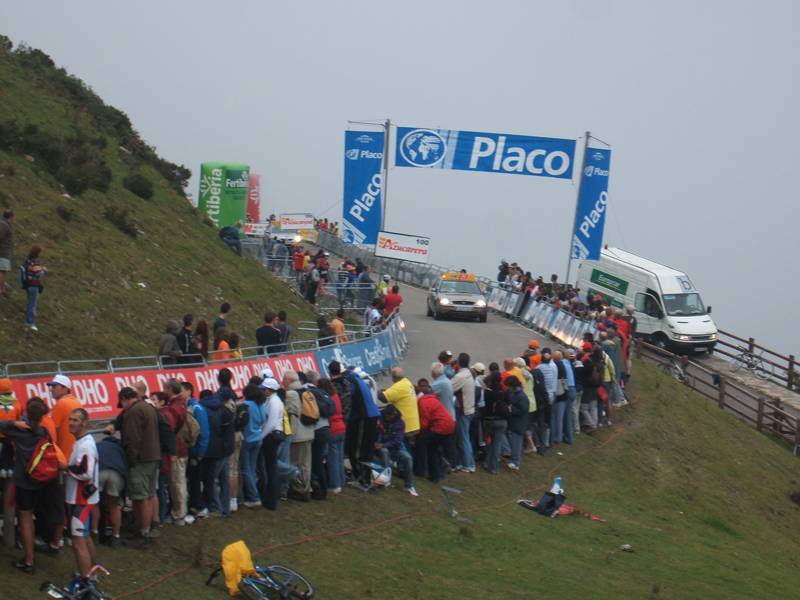 So – forty minutes later… and a lot of exciting racing up the climb, described in glorious detail by two very excited Spanish announcers… we have an official's car!
Vladimir Efikim has attacked and pulled a gap, closely followed by Carlos Sastre (the crowd favorite), Denis Menchov (my favorite), and Stijn Devolder (of Discovery channel, who is really good and man is it a pity that Disco are folding their tent with so many great young riders but I digress).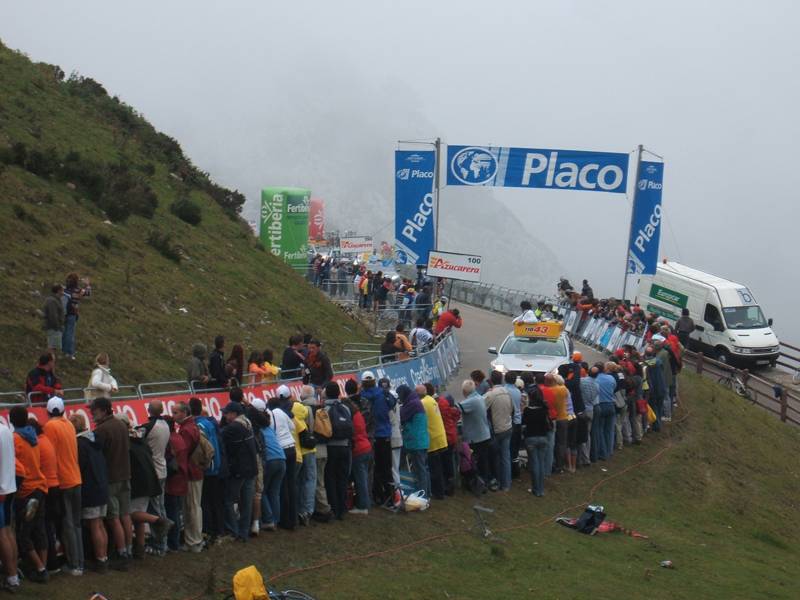 Here comes Efikim!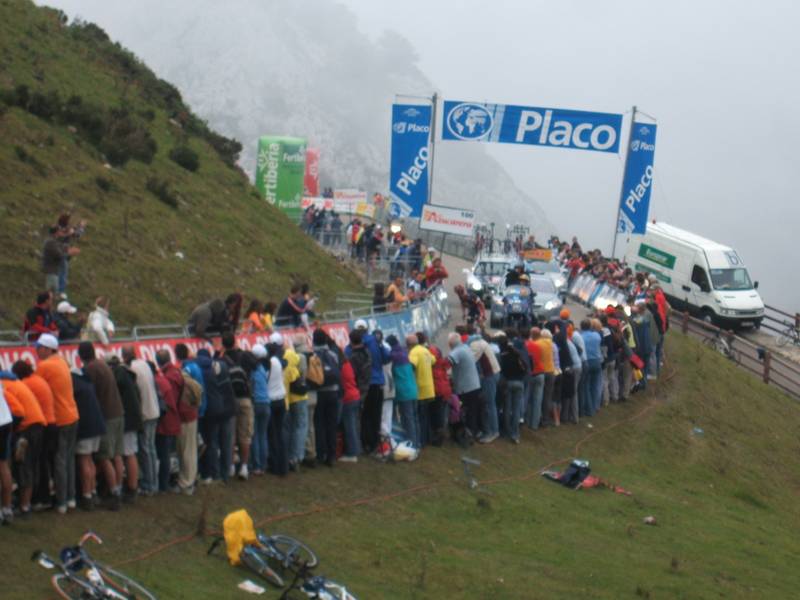 He takes one last look back to make sure nobody is catching him. Nobody is. You can't believe how fast he was climbing this section.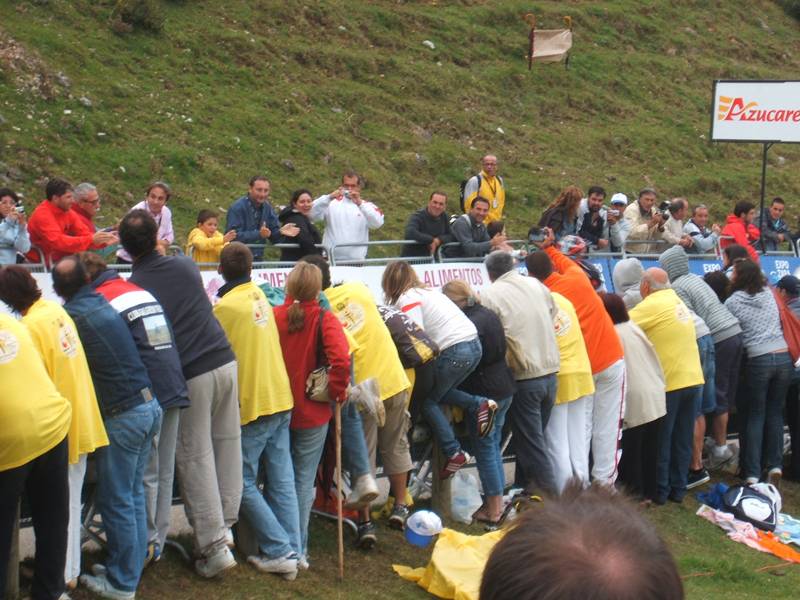 Not my best picture, I'm afraid; if you look closely you can see Efikim's helmet as he approached the line. He was jammin'!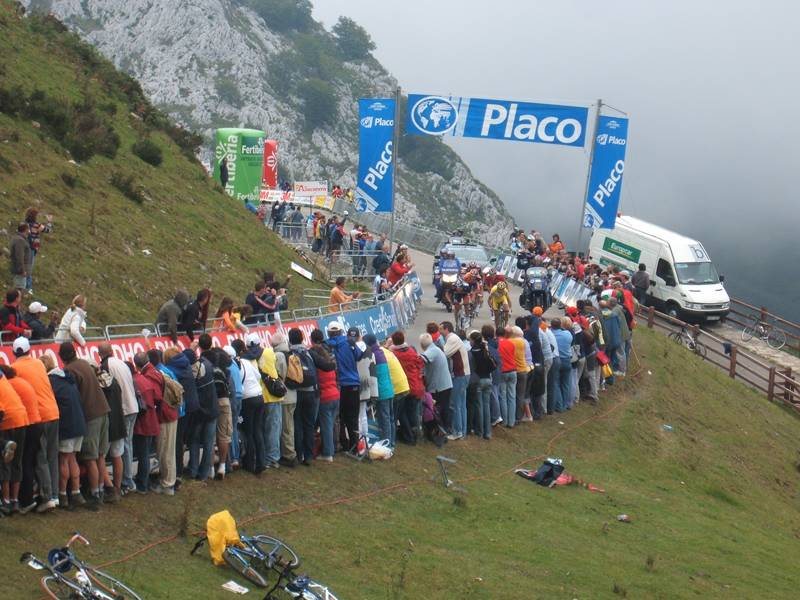 Here's the next three, about 40 seconds behind… fighting it out for second. Menchov ended up nipping Sastre.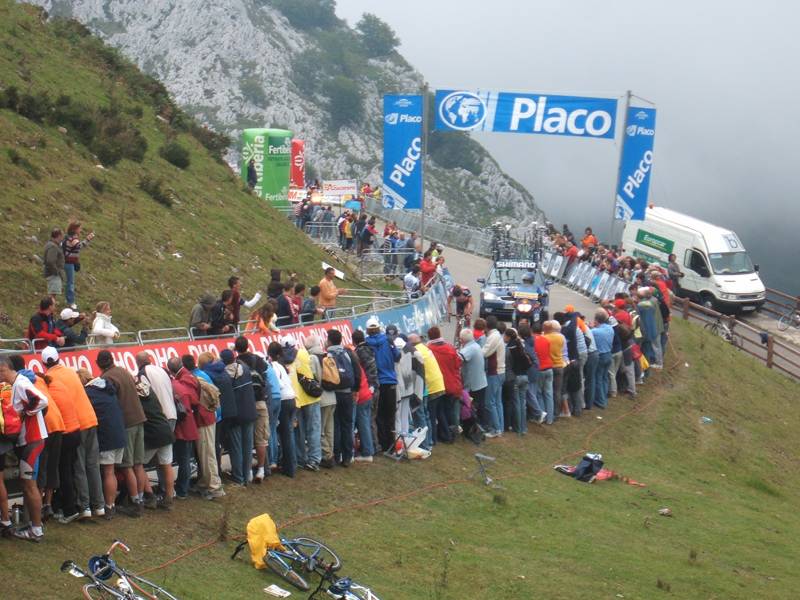 Next came Cadel Evans… a solid effort, keeping him in the hunt. He's a good TT guy and may be able to gain back the time there.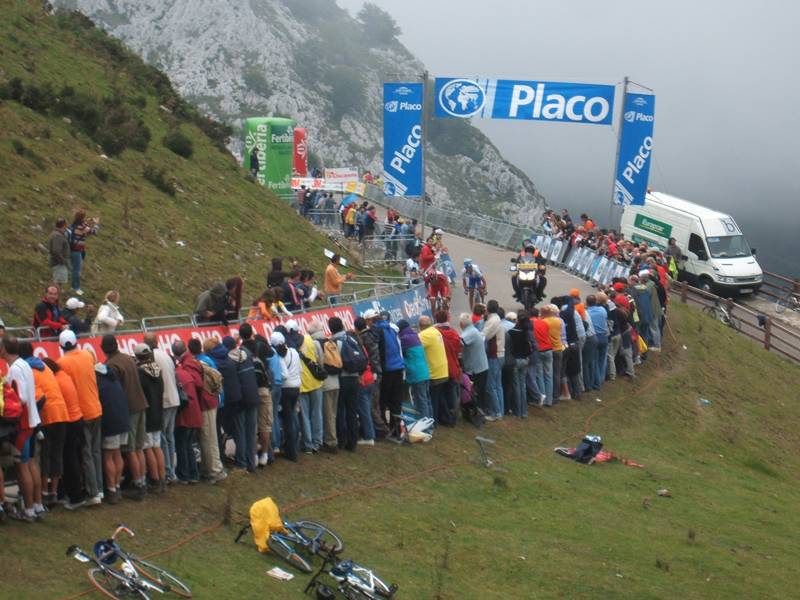 Here comes one of my new favorite riders, "the Spider", Juan Maricio Solar, who won the king of the mountain in this year's tour. He's in the red Barloworld kit. I don't know the AG2R rider with him.
From this point the field really dribbled across the line in small groups. Everyone looked beat. I know how they feel. Well I know I feel beat, so I think I know how they feel, but maybe they are more beat. After all they were riding back when I was blundering around Northern Spain trying to rent a bike. That already seems like a million years ago…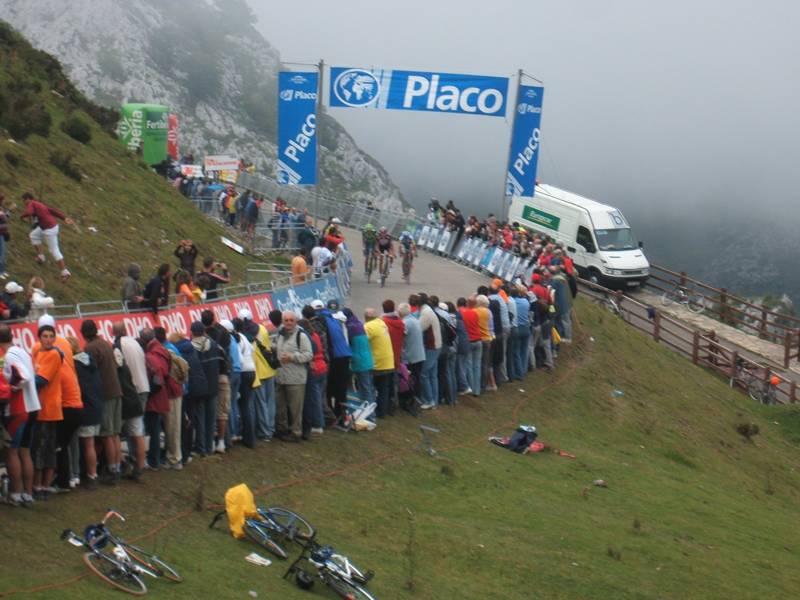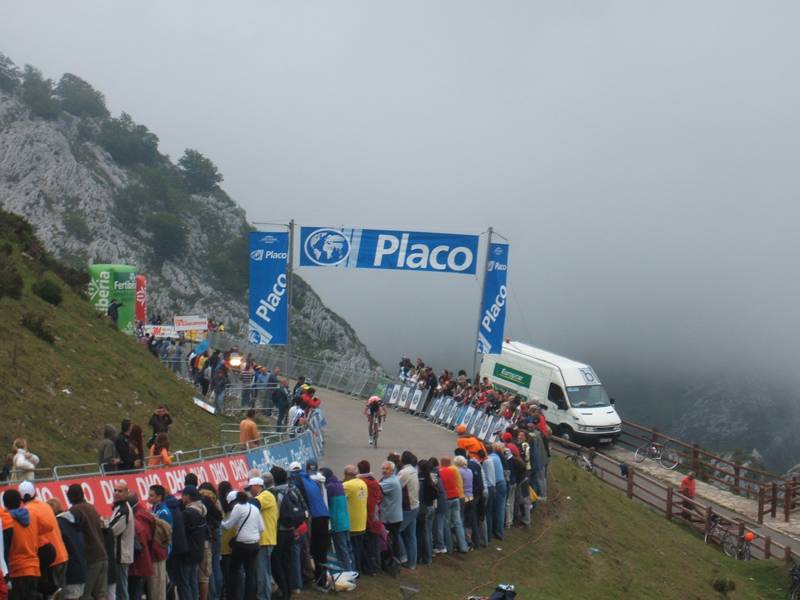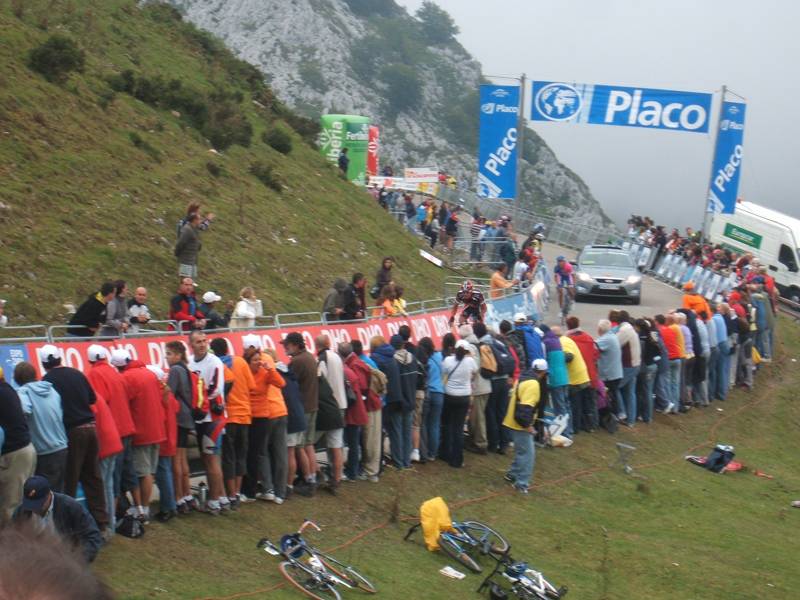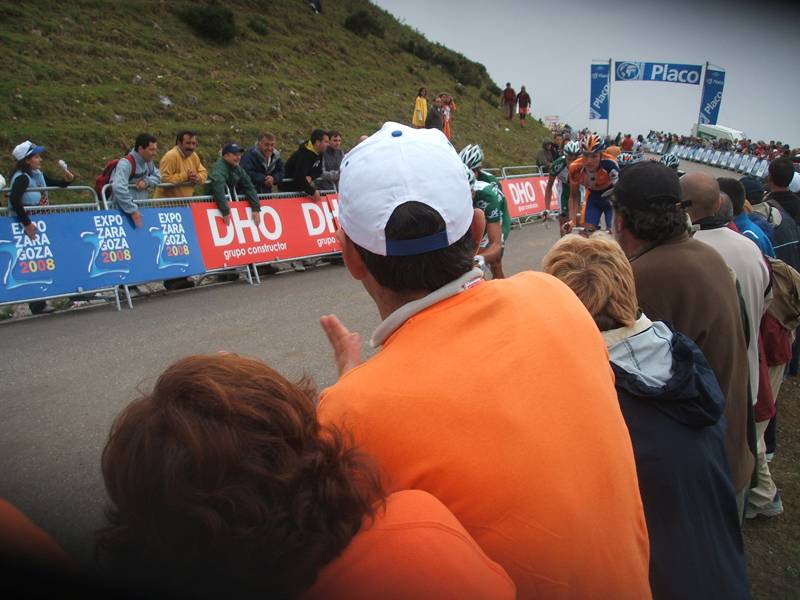 An interesting aspect of this race was that there was basically no room at the top of the climb for anything except the finish line. So riders had to ride DOWN the hill to their team cars after they finished, passing riders still going UP the hill to the finish in the process. Here's some shots…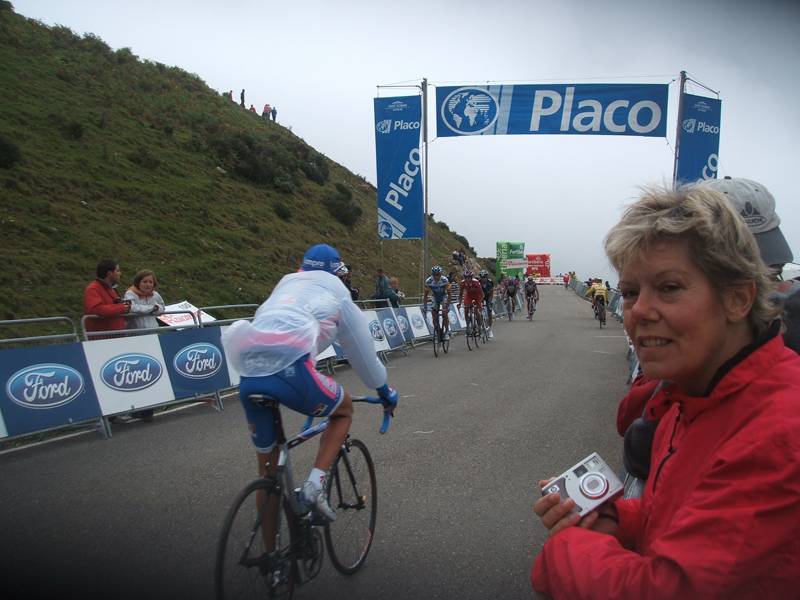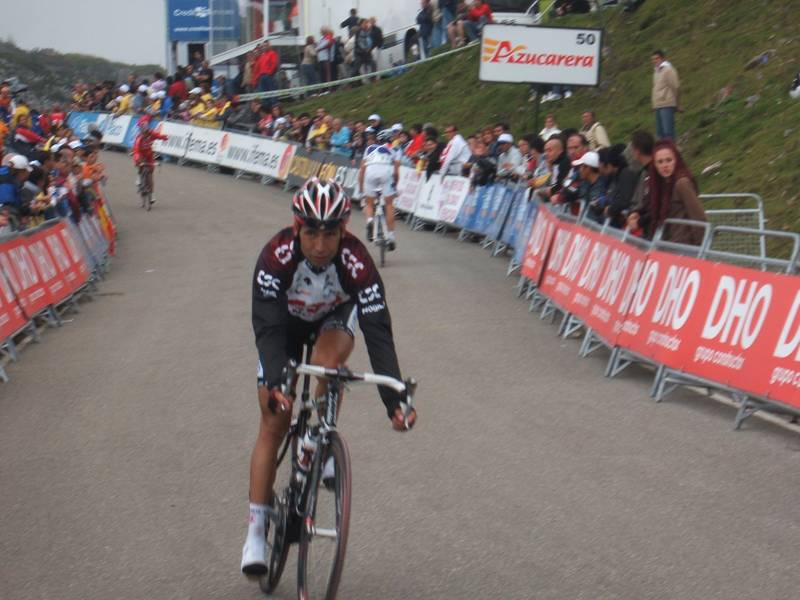 And after a l o n g time, here comes the pelton!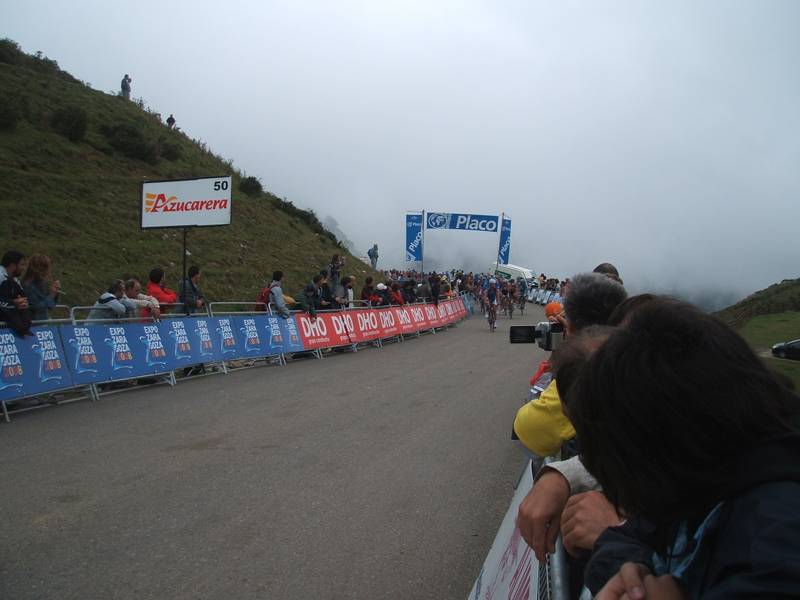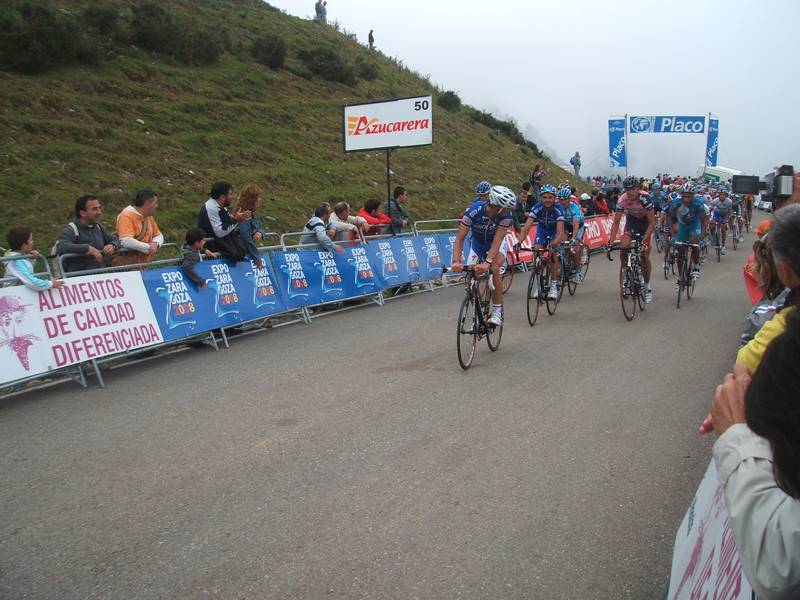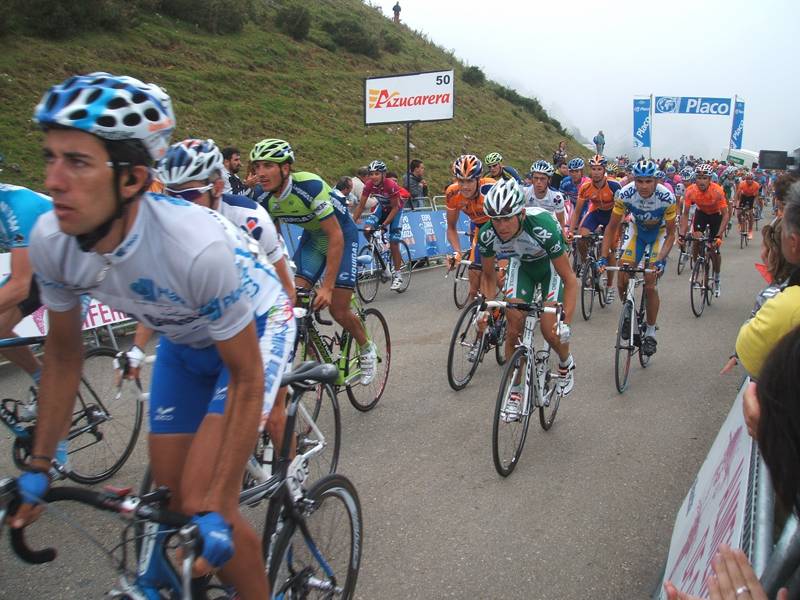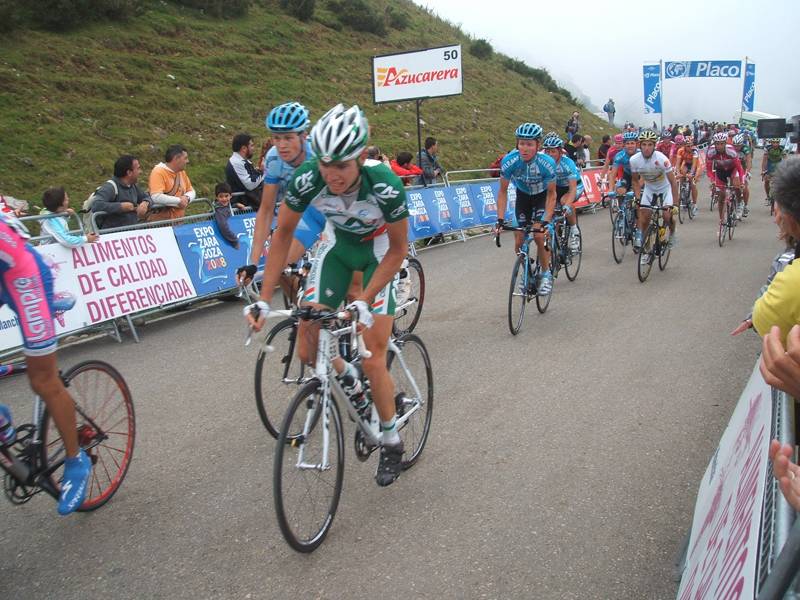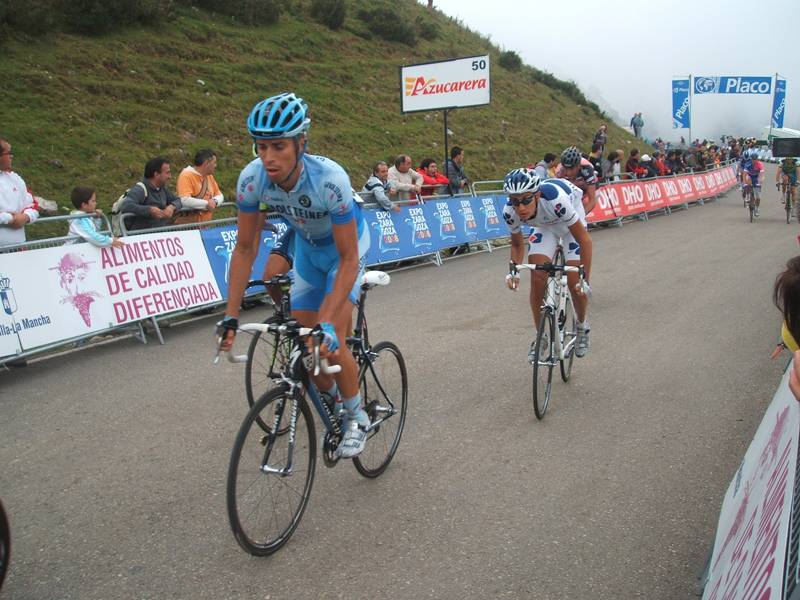 I don't know who this Gerolsteiner rider is, but I know exactly how he feels :) Whew.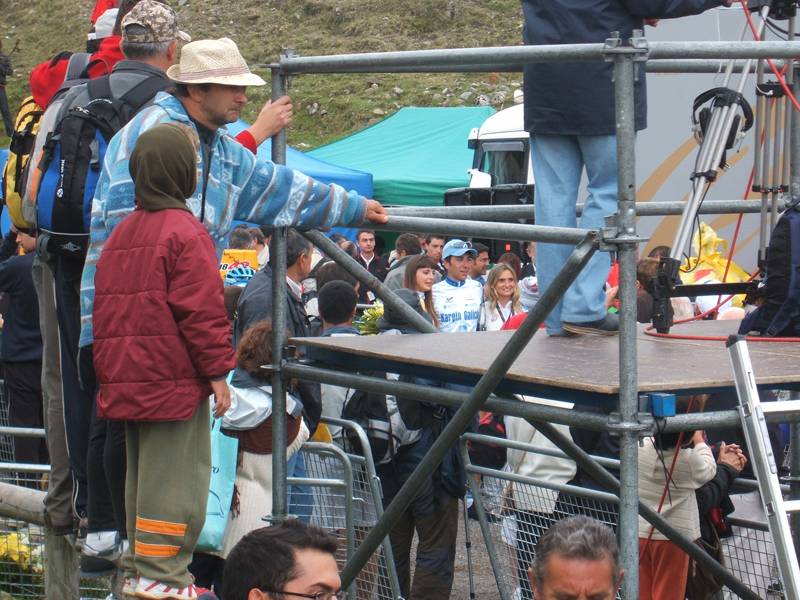 To the victors go the spoils. If you were a victor on this day, you had to wait nearly an hour for the peloton to finish, whereas the others got to ride down to the nice warm team cars. Still, the podium girls are a good compensation.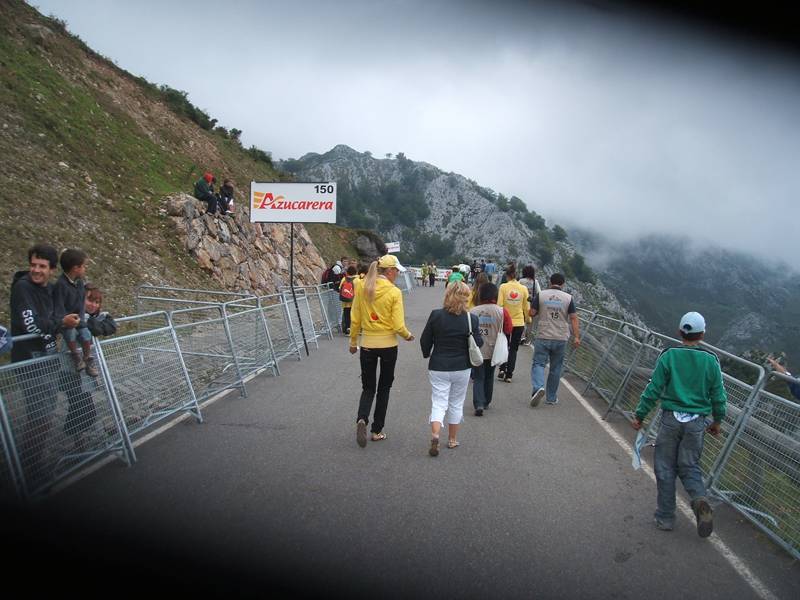 All that remains is a steep 15km decent – a 5km ride into town – and then, SLEEP!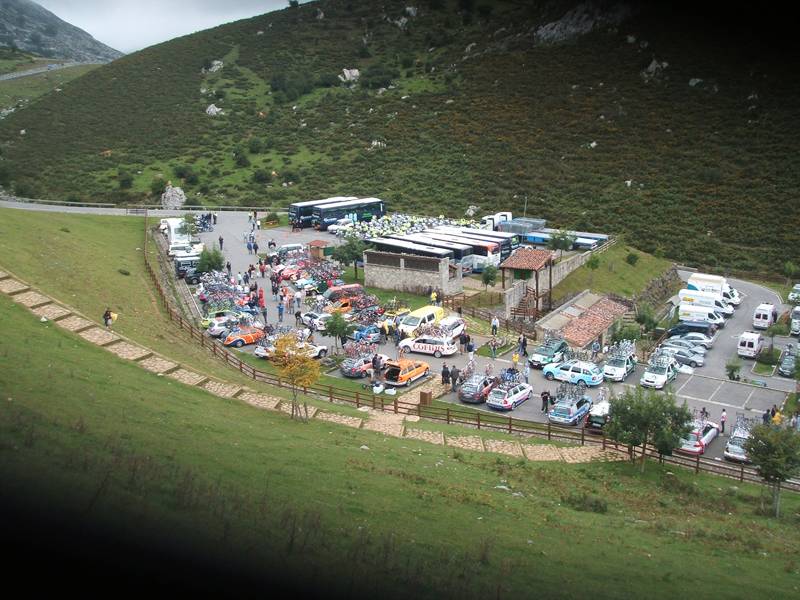 Here are the riders getting into their team cars…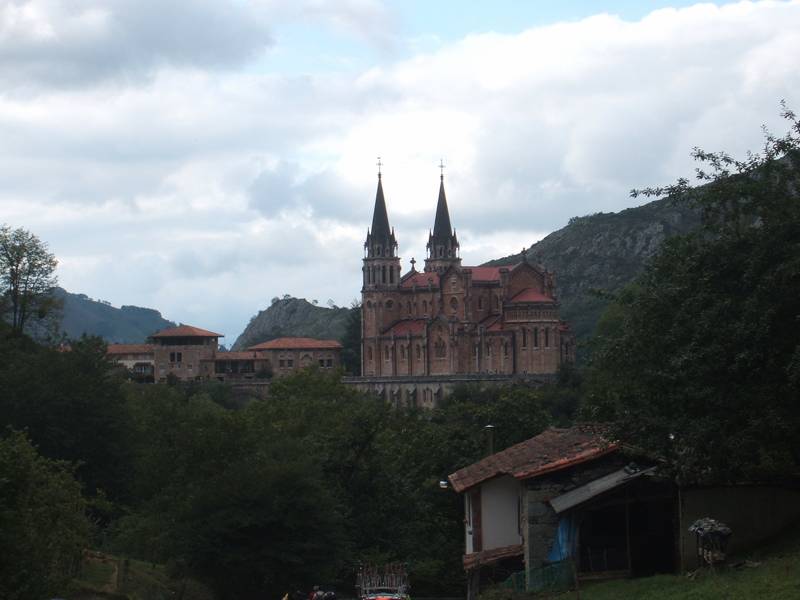 One last view of Covadonga on the way down…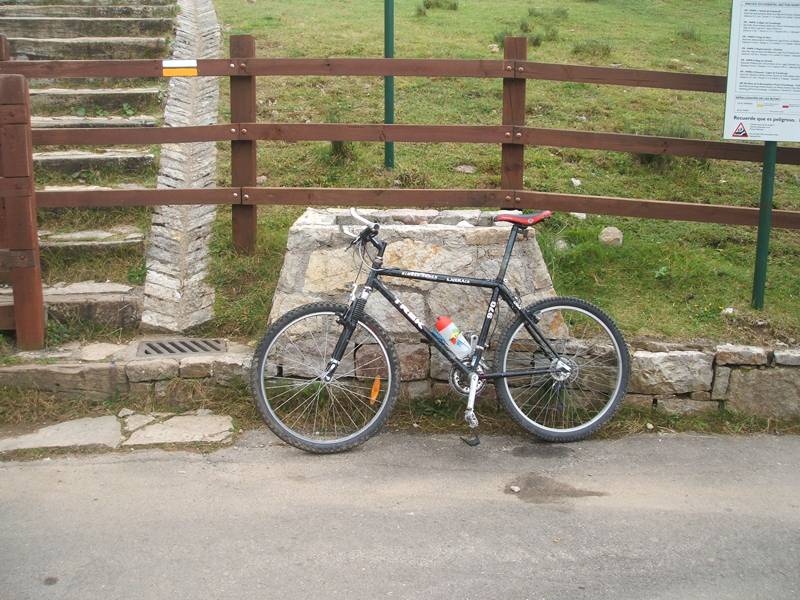 And finally, last but not least, my trusty big fat heavy mountain bike.
Adios!