Isn't Vin Scully just the best? Watched a Dodger game tonight - slowly getting back into being a baseball fan :) - and man, it was great. Isn't is amazing how much a good commentator adds to a sport, Chick Hearn for basketball and Phil Liggett for cycling come to mind...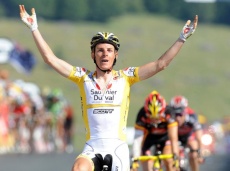 Congratulations to Riccardo Riccol, who won today's Tour de France stage; the first real climb. It was a great uphill sprint to edge Alejandro Valverde and Cadel Evans. Kim Kirchen and Denis Menchov were also in the hunt; basically the who's who of this year's tour.

Tomorrow is iPhone 3G day, and today the Apple iPhone App store opened. Jason Kottke notes the most popular so far: Twitterific (insider echo chamber), Remote (use your iPhone as a remote control for your Mac or AppleTV), and various eBooks.

Wow, now we have 1.5TB disk drives. Just a year ago 500GB was "big". Does that mean we'll have 5TB drives in another year? Probably!

Here's a list of 20 things gadget zone thinks should be in Windows 7. So they're completely wrong; Windows 7 doesn't need any new features, it needs to be fast. If it was just faster than Windows XP, it would be a huge success. Maybe they could fix paging, or improve filesystem access, or networking. Anyway that's what I think; the reason Vista is a flop is because it is so slow, not because of features it has or doesn't have.