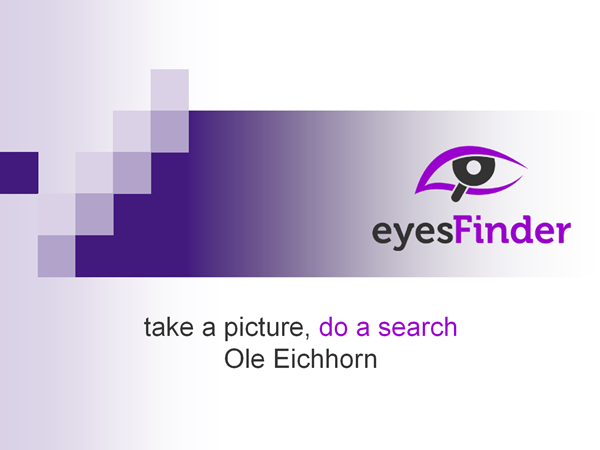 Hi I'm Ole Eichhorn, here to tell you about eyesFinder
Our idea is simple: take a picture, do a search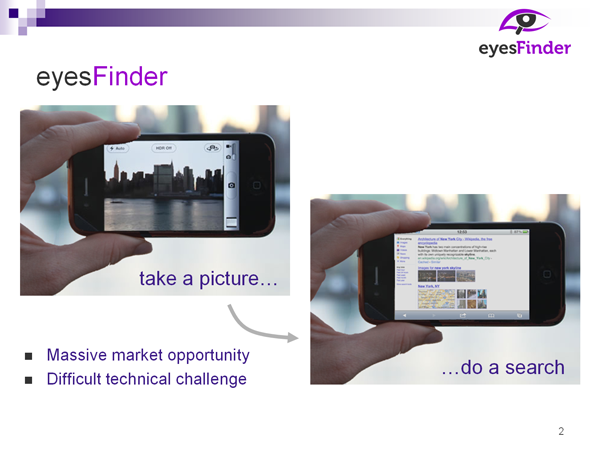 Visual search is a massive market opportunity, and a difficult technical challenge
I'd like to tell you more about both
So, who is the customer?
You and me!

We are all carrying around Internet-connected cameras in our pocket, but to search,
we have to type on a tiny keyboard
How great will it be when we can just take a picture to do a search?
eyesFinder makes this possible!
But there are many other applications too...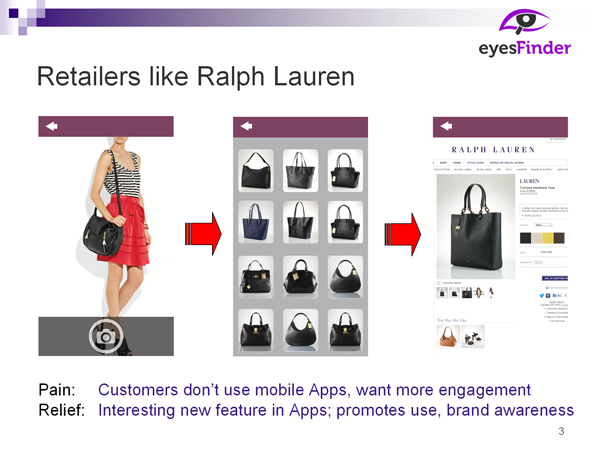 For retailers like Ralph Lauren, visual search will let their customers take a picture of a handbag or a pair of shoes, and match it against their fall collection
eyesFinder will power many mobile Apps to make this possible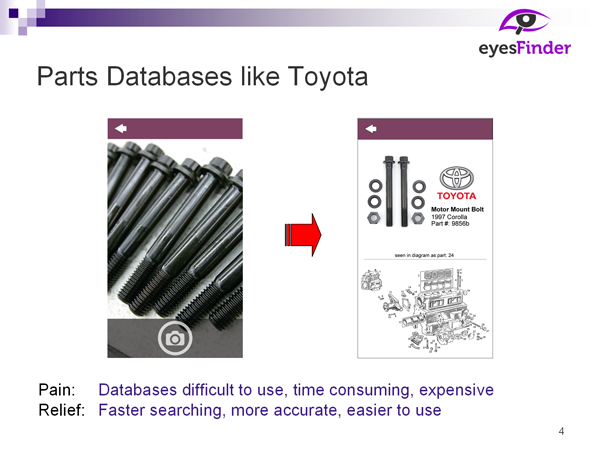 For manufacturers like Toyota, visual search enables their customers and employees to search their huge parts database, just by taking a picture
eyesFinder will be integrated into many databases to make this possible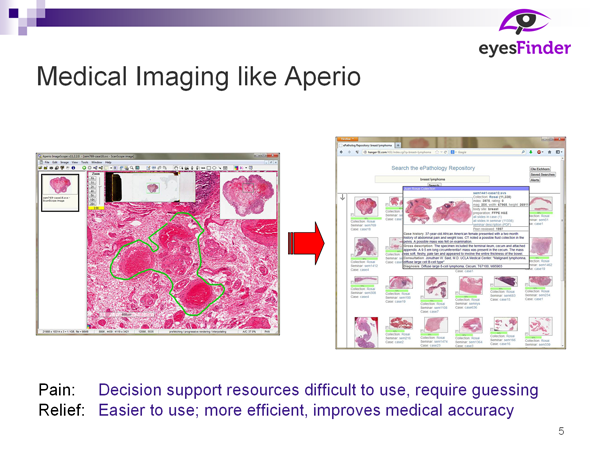 For medical imaging companies like Aperio, visual search enables their pathologists to search a library of unusual cancer cases with pictures, to make accurate diagnoses
eyesFinder will drive amazing new decision support applications to make this possible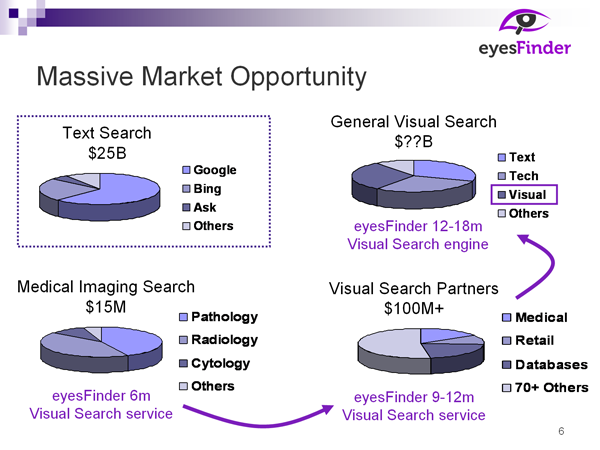 So how big is this market? It's hard to say exactly, but the text search market is over $25B a year, led by Google, Bing, Ask, and many others
eyesFinder plans to start in Medical Imaging, a $15M/year market in which we already have customers in Pathology, Radiology, and Cytology
From there we'll move into other market segments, such as retail and databases.
We've identified over 70 different segments in which visual search has value,
and estimate this opportunity to be over $100M/year
And then we'll tackle creating a visual search engine ... for everyone!
The size of this market could exceed the size of text search,
as the majority of Internet access already comes from mobile devices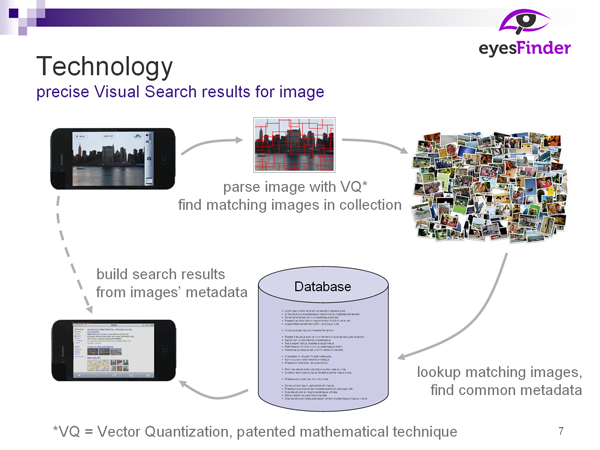 eyesFinder's precise Visual Search is based on a patented technique called Vector Quantization, which enables images to be broken into regions using statistical methods
Ou technology delivers uniquely precise visual search results. Please see the VQ white paper posted on our website for more information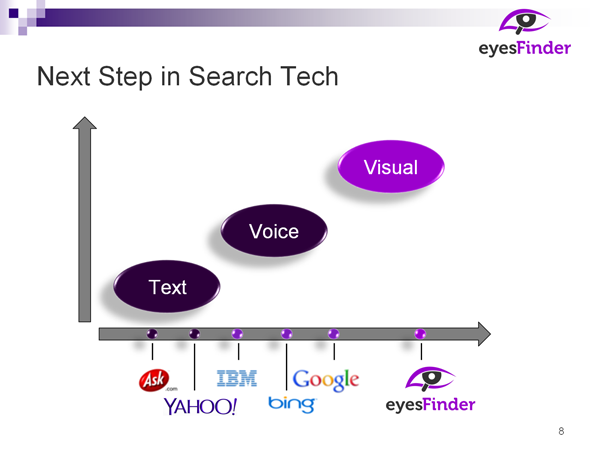 eyesFinder's visual search is the next step in search technology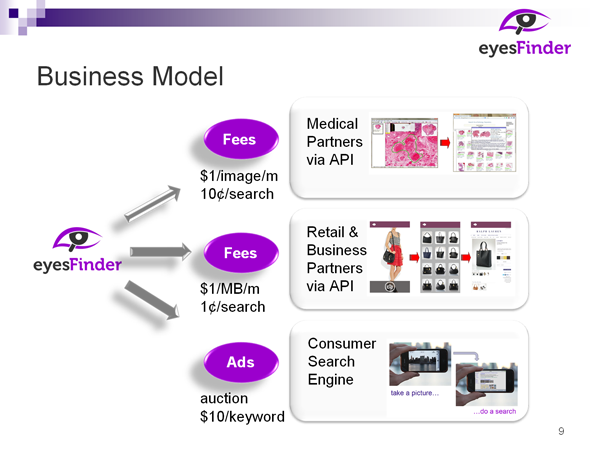 Our business model is simple
For medical imaging and other partners we'll deliver Visual Search via a web-based API, charging on a per image, per-search basis. Customers pay as they go, and as their usage of Visual Search increases, so does the revenue we earn from them
Our general Visual Search engine will be free to end users, and will earn revenue from advertising via keyword auctions, the same way as text search engines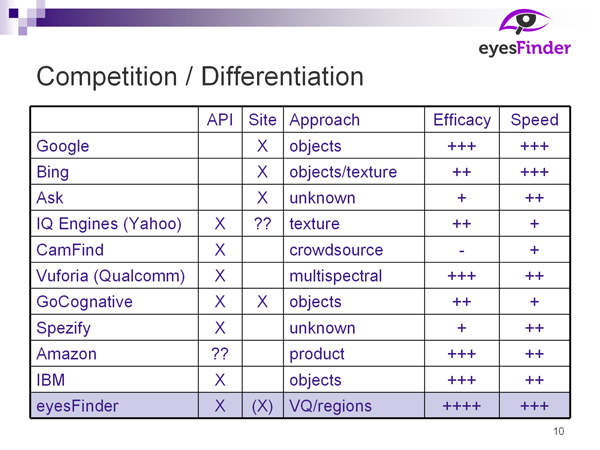 We have a lot of competitors; this chart shows some of the main ones and how we stack up
Text search engines like Google and Bing are each working on visual search. They don't support online APIs and are object-based, limiting their search precision
There are companies focused purely on Visual Search applications, such as IQ Engines which was recently acquired by Yahoo, and Camfind, which uses crowdsourcing algorithms
And there are technology companies like Qualcomm, Amazon, and IBM
In our testing eyesFinder's VQ-based visual search delivers uniquely precise results, and we'd be delighted to share these in detail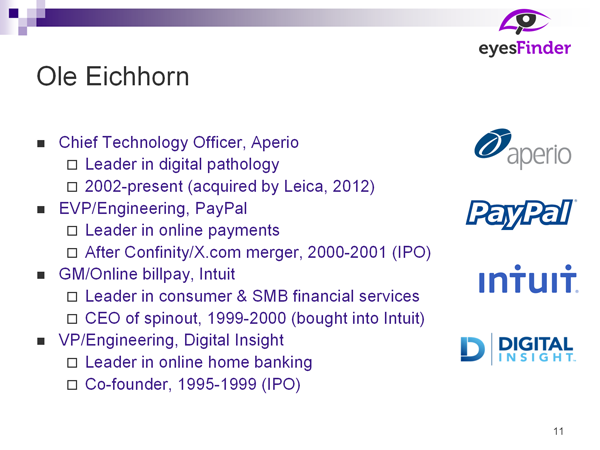 Here's a bit about me; I've been the technical leader at several startups in emerging markets
I was a co-founder of Digital Insight, the leader in online home banking. That was an interesting time, we used to start every presentation with "this is the Internet".
DI had a successful IPO in 1999
After that I joined Intuit, the leader in consumer and SMB financial services, at a time when each desktop software company was trying to develop an Internet strategy. I led their online billpay team, which became part of quicken.com. This business was structured as a separate company, and was bought into Intuit in 2000
I then joined PayPal, the leader in online payments, at a time of wild growth shortly after the merger between X.com and PayPal. PayPal went public in 2001 - the first company after 9-11 to do so - and was subsequently acquired by eBay
After taking some time off,
for the last eleven years I've been the Chief Technology Officer of Aperio, the leader in digital pathology. Aperio was acquired a year ago by Leica, and eyesFinder is a spinout of the visual search technology we developed at Aperio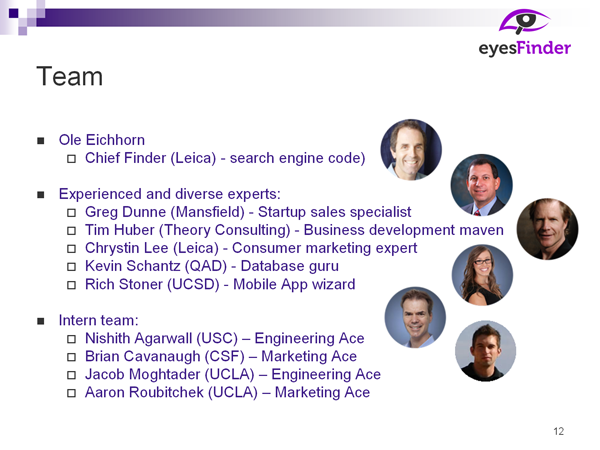 The eyesFinder team are experienced and diverse experts;
all friends and colleagues with whom I've worked before
Our crack intern team has built a working prototype, created our website with an online demo,
and is helping to gather market research and find potential customers and partners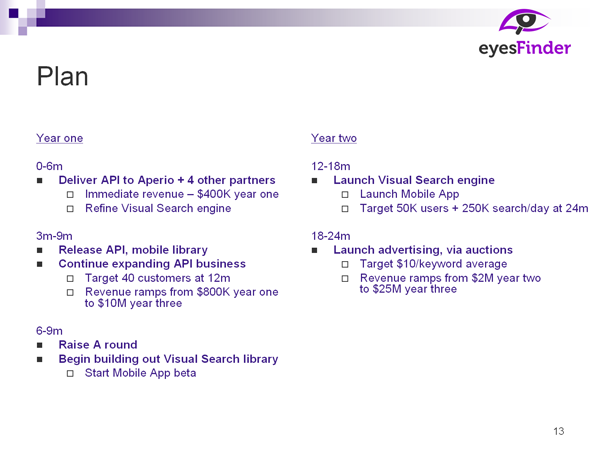 Our plan for the next six months is to deliver Visual Search via an online API to Aperio and four other partners in medical imaging, which will deliver immediate revenue of $400K. We'll also release the API to others and expand our API business, as we refine our Visual Search technology
After 6-9m we'll look to raise an A round and begin building out our visual search library, and start beta-testing a general Visual Search mobile app
In 12-18m we'll launch the Visual Search engine and mobile app, and about six months later we'll start hosting advertising via keyword auctions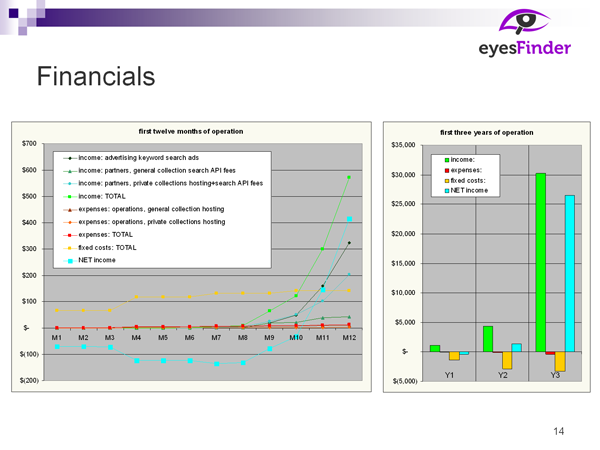 There are three key drivers to the financials of eyesFinder. Our main expense is our staff, which we project to grow from 11 people in year one, $1.2M, to 21 people in year two, $2.4M.
The per-image, per-search fees from the API will be the primary source of income in the first two years, overtaken by keyword auctions for advertising which will drive stronger growth.
We'd be happy to share more detailed financial projections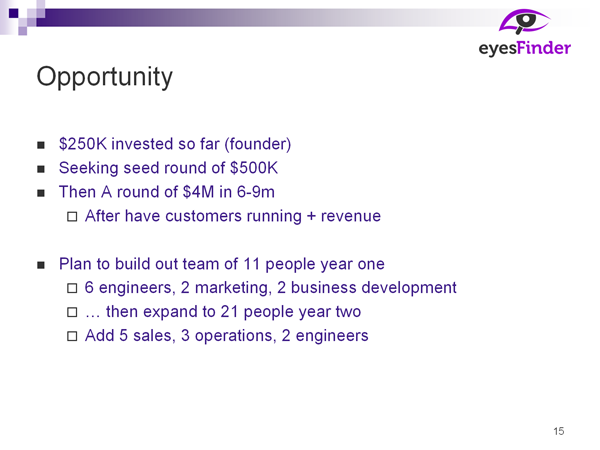 We're a bit ambivalent about our fund raising strategy; we might raise a seed round of $500K now, or maybe power this phase from revenue earned from our initial customers
After that we plan to raise an A round of $4M which will drive us to profitability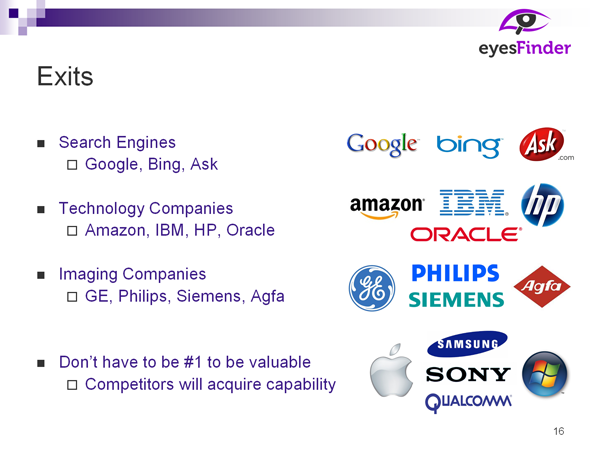 eyesFinder offers a lot of potential exits to investors
In addition to search engines, eyesFinder will be interesting to technology leaders, major imaging companies, and businesses which create mobile solutions. Many potential acquirers already have visual search projects, but will be attracted by better technology and a clean business model
While eyesFinder intends to be the best at Visual Search, it won't have to be #1 to be valuable; competitors of #1 may acquire the capability they need to be competive