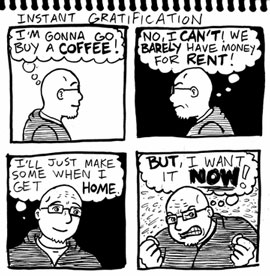 I'm just thinking about the importance of immediate gratification in meeting customer needs. This is unquestionable the key driver behind the recent disruptive technologies which upended media businesses such as music (iTunes/iPod), video (Netflix/settop boxes), and books (Kindle).
This is most definitely a key value for visual search: take a picture, do a search! What could be faster?
Any business contemplating an emerging market has to figure out how to drive adoption, and immediate gratification is a key aspect of this. Imagine you're selling washing machines to people doing their laundry by beating clothes in the river. The key value isn't that they no longer have to visit the river, it's that their clothes can be clean sooner.
I think immediate gratification is part of why 3D printers have become so popular. But it takes the whole ecosystem; without Thingiverse's 1,000s of readily downloadable and printable designs, it wouldn't have that aspect. Based on this I predict the 3Doodler will not be as successful (it takes practice and work to make something interesting).
Who knows ... perhaps immediate gratification even lies behind many social changes.