| | |
| --- | --- |
| passwords considered harmful | |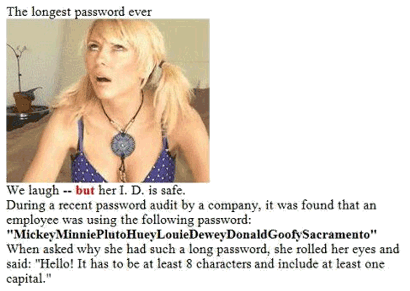 Here's a free killer business opportunity: eliminate passwords. If anyone can do this, they will print money.
How much do you hate trying to remember what password you used for each website and app, and going through password recovery just to use it? I try to use the same passwords for just about everything (I know, I know), but I can't, because every site's rules are different. Feels like half the time I end up going through password recovery, and half the time that doesn't work. Blech.
Maybe someday my computer and phone will know I'm "me" (biometrics?) and be able to identify "me" to every website I visit (and every phone app I launch), and I won't have to do this anymore. I can't wait.