Hi all – it's your friendly neighborhood SpaceX reporter checking in …
I have sadly neglected my reporting duties; my last update was Jan 7 for a Starlink mission, and SpaceX have had four more successful missions in the meantime, having now placed 420 satellites into low-Earth orbit. Yes, wow.
But the bigger news is that SpaceX are scheduled to send two human astronauts to the International Space Station next Wed May 27, at 1:33PM PT, in the so-called Demo-2 Mission. Mark your calendars!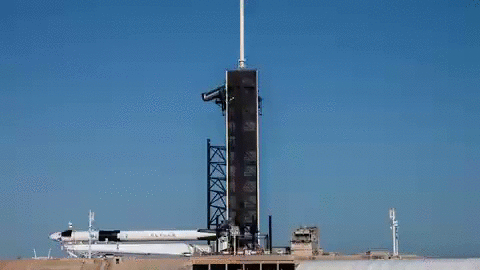 Elon Musk just tweeted the animation at right, showing the rocket and capsule vertical on the launch pad in Cape Canaveral, ready for action.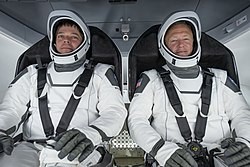 Captain Doug Hurley (R) and Commander Robert Behnken (L) will take about 24 hours to reach the ISS at 17,000mph, after which they will join Expedition 63. Meanwhile the capsule will return to Earth empty, fourteen days after launch.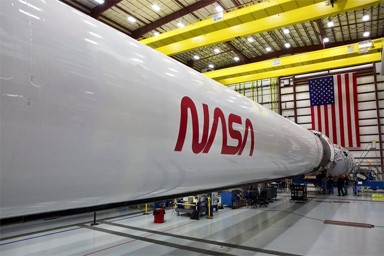 The significance of this mission cannot be overstated. It will be the first US manned launch in nine years, since the last Space Shuttle mission in 2011 which was fittingly captained by Hurley. And it will be the first private manned spacecraft to "reach space". (Okay, okay, SpaceShipOne reached space defined as 100km back in 2004, but this will be real space, the ISS orbits at 408km.) Underscoring the importance, this will be the first spacecraft to sport the famous NASA worm logo since 1992.
Cheers, fXf, and please stay tuned!
PS to those who ask "should we be launching spacecraft in the middle of a pandemic", I say "yes"