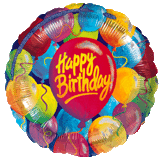 It's May 6, which means my daughter Megan has successfully completed another trip around the sun.
Happy Birthday, Megan!
She's now eight - I can't believe, it, eight! - going on about eighteen. If you saw the note about her book drive you know she's already directing traffic here on Earth. I predict when I fly to Titan, she'll come with me. In fact, she'll probably own the corporation which makes travel to Saturn possible. Anyway for now I hope you have a great day, Meg!