Archive: March 20, 2015
| | |
| --- | --- |
| Iditarod day twelve: DeeDee in Nome! | |
I'm delighted to report that early this morning DeeDee Jonrowe finished her thirtieth #Iditarod, pulling into Nome in 31st place at 5:10AM, after ten days on the trail. This wasn't her fastest or her highest place, but she finished with 15 dogs, the largest team still running, and she finished! As noted earlier she suffered from severe frostbite earlier in the race, during those cold early days along the Yukon (-40F!), and despite being among the leaders into Huslia, the halfway point, was never able to recover. Congratulations to her for persevering and finishing, wow.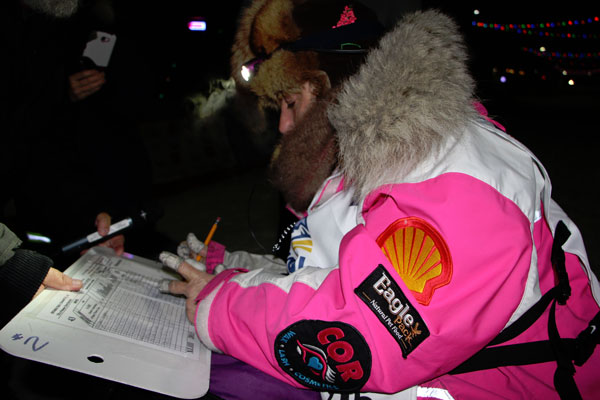 DeeDee signs the finishing register
(note her fingers!)
Speaking of persevering and finishing, I highly recommend Beyond Ophir, a book by longtime Iditarod musher Jim Lanier, which I've been reading as a delightful companion to the 2015 Iditarod. It chronicles his first Iditarod, way back in 1979, and is a wonderful collection of stories of a life well led in the wilds of Alaska. Jim is a retired pathologist (!), and this year at age 74 was the oldest musher in the race. I was sorry to see he scratched yesterday in Unalakleet, due to "musher illness".
And so ends the 2015 Iditarod (for me at least, there are over 30 mushers still "out there", and the Red Lantern Cindy Abbott has only just checked into Unk). Each year at the end of the race I have this sad feeling of leaving a strange and cool little world and returning to "the real world", until next year. Onward!
Oh, and some final pictures...: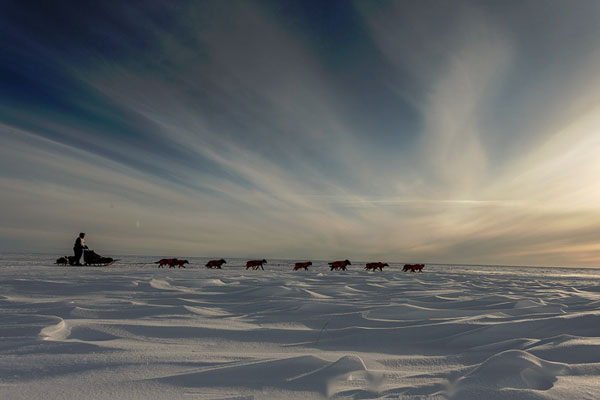 Ken Anderson in the Nome stretch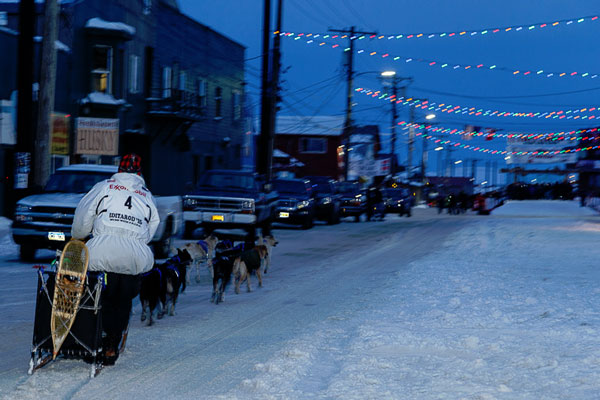 Martin Buser mushes down Front Street toward the burled arch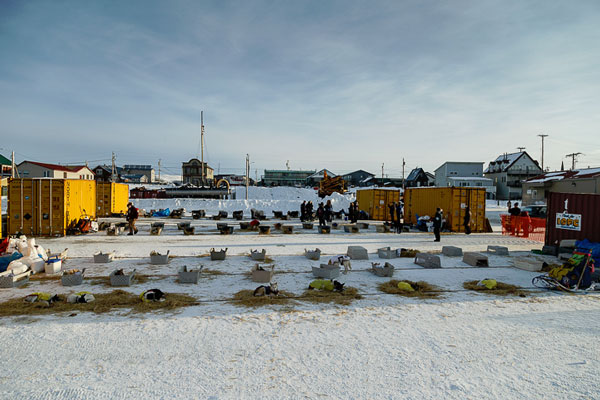 dog tired after 1,000+ miles ... the Nome dogyard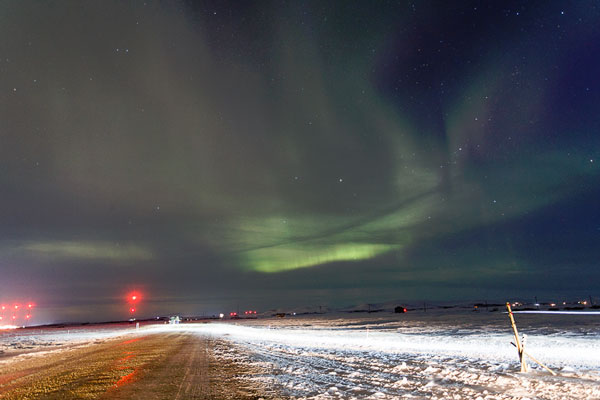 Northern Lights over Nome --- WOW
Onward ... until nextyear!
Archive: March 23, 2014
Archive: March 27, 2013
Archive: March 27, 2012
Archive: March 27, 2011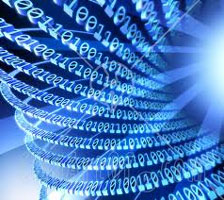 Whew, a long weekend in which I worked most of it in the land of 1s and 0s, productively, heads down on an interesting project. What could be better than that... throw in some decent movies (The American was great!) and some nice dinners, some good wine, and especially some interesting conversations with my daughters, and it couldn't have been much better.
I have rediscovered two things; first, break big projects into little ones, and make steady progress, and second, listen to [the right] music for inspiration. Wonderful :)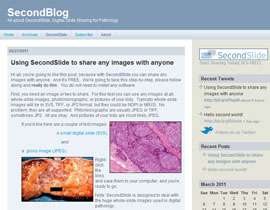 So ... I setup a new blog, SecondBlog, for Aperio's awesome SecondSlide service, along with a Twitter stream and a Facebook page. And I linked it to Aperio's main blog The Daily Scan, which also has a Twitter stream and a Facebook page. That was all pretty cool...
If you're an admin for Facebook pages, check out RSS Graffiti. The perfect Facebook app for pulling RSS feeds from blogs onto your wall or pages. Just works, no muss, no fuss. And even works around that bogus bug where Facebook links no longer have thumbnails. Yippee.

So I can find it later: Anatomy of a Facebook post.
The piling on continues: iPhone App Store review of Color. "Color is a ground breaking new entry in the new genre of MMPRLMG (multi-player real-live marketing games)." If Color manages to succeed after this sort of start, it will be remarkable. We haven't had a starting line face plant like this for a long time.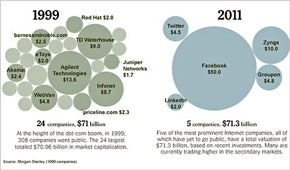 So, are we having a tech bubble? The NYTimes says let's see if it pops... seems to me a bubble is more of an attitude than anything else; the companies with big valuations right now are "real", in the sense that they're profitable, unlike some of the companies back in 1999. LinkedIn is not pets.com.
This is funny: you can tell it's a bubble because startups are raising so much money, they can afford vowels.
Looks like GE might be the company from Atlas Shrugged. Wow. This is some scary reading.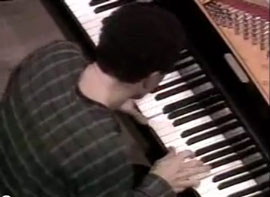 This is awesome: pianist Keith Jarrett, from a 1984 concert in Tokyo. Wow.
Long ago, while working on the outline for Unnatural Selection, I conceived of a chapter called The Piano Player, which would make the point that with worldwide communication at the speed of light everyone competes with the absolute best. 200 years ago you might have been a decent piano player, celebrated as the best in your little town; now, you are compared against Keith Jarrett.
So, is this a moat or a castle? Google teams with Mastercard and Citigroup for NFC payments. I think they think it's a moat, but they're going to lose to people who treat it as their castle. Payments are tricky, and you need customer service and sophisticated fraud analysis to win.
It has been two weeks since my sad / happy / weird day. Things are still a strange combination of sad and happy and weird. Onward!
Archive: March 20, 2010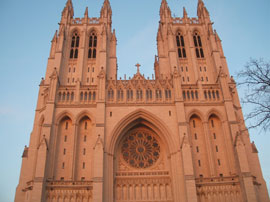 Greetings blog public, this is coming to you from Washington DC, where I find myself after a busy week and a flight out yesterday. I am in town for a DICOM Working Group 26 meeting and the U.S. and Canadian Association of Pathologists annual conference. It will be quite a week.
So I'm looking out my hotel window, and atop a nearby hill I see this beautiful cathedral. So I walked over. And there it was, the National Cathedral, in all its glory, looking for all the world like an old European church from the 17th century. Who knew? Anyway it was cool.

And now, a filter pass!
Health Care reform passes, but at what cost? "This bill is unlikely to achieve most of the objectives that have been set out for it. In the end, then, we're left with a highly expensive, fiscally dangerous expansion of health insurance that locks even more people into a broken system. That's an achievement, all right, but not a particularly good one." What we have here is insurance reform, and although it is badly needed, this bill is badly done.
Victor Davis Hanson says we've crossed the Rubicon. I'm afraid he's right...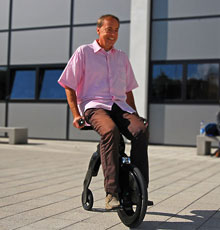 The Yike Bike, a strange new bike designed to be easily collapsed for storage. Huh. It doesn't look like a winner to me, somehow...
NASA Mars Rover Getting Smarter as it Gets Older. "NASA's Mars Exploration Rover Opportunity, now in its seventh year on Mars, has a new capability to make its own choices about whether to make additional observations of rocks that it spots on arrival at a new location. Software uploaded this winter is the latest example of NASA taking advantage of the twin Mars rovers' unanticipated longevity for real Martian test drives of advances made in robotic autonomy for future missions." Wow, seven years. And the original mission lifetime was 90 days!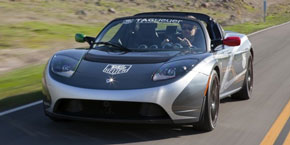 Yes, of course there is a Tag Heuer version of the Tesla Roadster. And yes, of course it looks cool; dare I say, this is the best treatment I've seen... vastly better than that weird orange that Tesla seem to like, even with the carbon fiber accents...
John Battelle on the iPad media frenzy, and specifically Wired's 'iPad demo': "What I find interesting is the media's response to the iPad (and I include tech blogs in the category of "media"). Overwhelmingly, the media wanted to believe that a hip magazine like Wired (caveat, I was a co-founder) would, natch, have the hippest iPad demo, a demo that, natch, would prove the viability of ... the media's own threatened business model! The truth, however, is a bit more complicated." Indeed.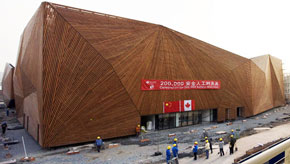 So this is cool: the wooden Canada Pavilion at the 2010 World Expo in Shanghai was designed by the Cirque du Soleil! How cool is that?
The perfect rule for texting etiquette. Ask permission if you would also ask permission to visit the bathroom. One on one or small group, yes, big group, no. I love it.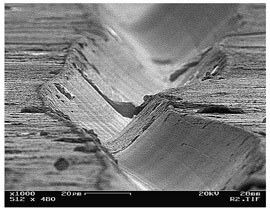 Feeling groovy; here's a cool electronic microscope picture of a record's groove. Be sure to check out the comments, too; I love that someone thinks they've detected Misty Mountain Hop!
Here's a question: Is Facebook better than sex? Here's an answer: No. I think people use Facebook largely because of sex, however.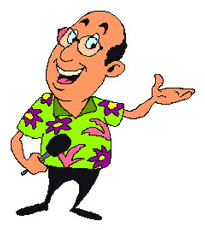 Marc Cantor: the history of Avatars. How cool; I *totally* remember mediaband.com back in the day, with the Marc Cantor theme song and his cool little avatar... if I close my eyes and concentrate, I can hear the theme song too...
From Google: Now it's easy to switch from Microsoft Exchange to Google Apps. "Google Apps Migration for Microsoft® Exchange is a new server-side tool that migrates your company's email, calendar and contact data from Microsoft Exchange to Google Apps." Wow. If I was gutsier or my company was smaller, I would try this. If.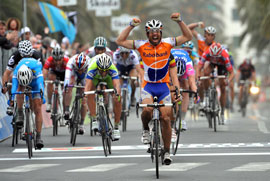 Congratulations to Oscar Friere for winning Milan - San Remo. Good for him, he still has it, and good for Rabobank, who were due for a victory. 298km by the way, a war of attrition.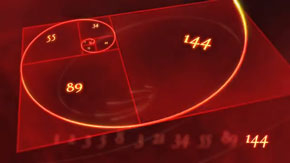 This is beautiful: Nature by Numbers. Absolutely, you *must* watch it, and you will thank me.
Looks like Michael Lewis has created another megahit: The Big Short. An expose of the current "financial crisis", in the same vein as his awesome Liar's Poker; Cory Doctorow loved it. Not out for the Kindle yet however... So I have to wait!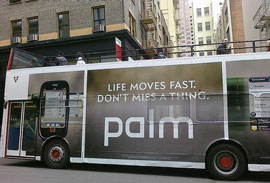 Jean-Louis Gassée: Who will buy Palm? "If you're in a hurry: no one." Man, this is too really too bad. But I cannot disagree. Still, I can love my Pre! [ via Daring Fireball; John Gruber comments "from a man who knows what it's like" (because of Be) ]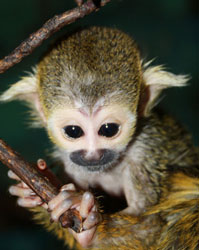 ZooBorn of the week: a baby squirrel monkey.
Wrapping up (yawn); this is so true...
Some days you make the coffee, and some days, the coffee makes you :)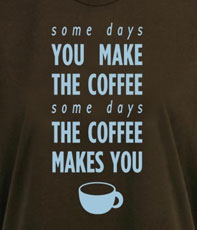 | | |
| --- | --- |
| self aggrandizement (NY 3/15/10) | |
Archive: March 27, 2009
| | |
| --- | --- |
| The Joy of Craftsmanship, II | |
If you've been reading for a while - well, a long while :) - you might remember The Joy of Craftsmanship, a post about my local bike shop and my favorite mechanic. Well today he did it again, and so today I am posting about him again :)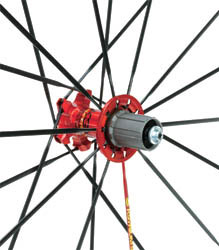 Ever since my bike has been "back" - ever since my weird disaster recovery - it's made a funny sound, kind of a tinkling sound, like there was a playing card clothespinned to twang against my spokes. (Remember that? Nah, I don't either. But I've read about it.) So I checked and there were no playing cards, and no loose spokes, and nothing loose at all. It was a mystery. I knew it wasn't the frame itself; frames creak sometimes, but they don't twang.
So today I took my bike in to have it checked out. Turns out it was simple, my mechanic knew immediately. Squirt a little oil on the spokes, right where they connect to the back axle, and poof, the noise was gone... Delightful.
He checked out all my cables and tweaked the derailleur just a little, and so now I am ready for my double tomorrow. Yay!
Yeah, I watched 'em all (and amazingly called quite a few of 'em right, except for UCLA's trail which of course I called completely and utterly wrong.):
Connecticut(1) outlasted Purdue(5) - 72-60. An ugly first half, both teams looked rocky, but Connecticut pulled it together and cruised in the second... We'll say FS=10:00*, realistically...
Pitt(1) clawed back and beat Xavier(4) - 60-55. A neck and neck battle; Xavier looked good in the first half, but Pitt's caught back up and their quality told down the stretch and right at the end. An entertaining game, if not well played; the Xavier upset potential kept my interest. FS=00:04!
Missouri(3) rather easily handled Memphis(2) - 102-91. The battle of the Tigers :) Wild scoring on both ends, a pro score in college time, with no overtime. Pretty entertaining game. FS=03:00 because Memphis made a late comeback.
Villanova(3) "upsets" Duke(2) - 44-55. I had Villanova in this one, and I'm rooting for them to go all the way (since they made my team UCLA look silly). A defensive struggle and not a great game; Villanova steadily ground out the win. FS=04:30.
Louisville(1) blew out Arizona(12) - 103-64. And so Cinderella goes home, the game wasn't even that close. I'm going to say FS=20:00, but really it was over before halftime. My friends who have chosen Louisville to go all the way have chosen wisely...
Oklahoma(2) over Syracuse(3) - 84-71. A rather routine demolition, Oklahoma looked awfully good. FS=15:00.
Michigan State(2) in a nail biter over (3)Kansas - 67-62. The best game of the round, well played and hard fought, it came down to free throws at the end... FS=00:15.
North Carolina(1) rolled (4)Gonzaga - 98-77. Carolina took the early lead, led at the half, and steamrolled away in the second half... FS=10:00.
* A reminder: FS means "fridge score", the time at which the game is no longer in doubt.
Not the greatest collection of games, somehow. I did enjoy the end of Pitt against Xavier, despite the fact that Xavier lost, and Michigan State over Kansas was a good one. So we have all four #1s left, and they all look pretty good. At this point I'm going to pick Louisville over Oklahoma in the final. But we're only halfway, we have three rounds left... stay tuned!
Archive: March 27, 2008
Hi blogreaders, how are y'all? I've been busier than a cat in a litter box, coding. Good stuff, cleaning up lots of little odds and ends. (And ranting internally about style and documentation.) Meanwhile Spring has sprung, the weather here in SoCal is fantastic. Oh, and I'm ramping up preparing for the Solvang Double this Saturday; doing some tough climbs and [slightly] longer distances.
And in the parallel universe of the blogosphere it's all happening...
Krauthammer: McCain Has 'Hidden Agenda' To 'Kill The United Nations'. What's funny is that this is reported as if it would hurt McCain - I don't know if we really wants to kill the U.N. - I suspect he will ignore it, however - but this can only get him more support, right? (P.S. Bring back John Bolton!)
Geert Wilders' film, Fitna is now online. So be it. Whether you agree or disagree with the content, you have to agree that airing it publicly is a good thing. It is disgusting to see the Dutch government scrambling to criticize the publishing of the film, in a transparent attempt to appease those who disagree with it.
This is amazing: a 37-year old gas fire: Darwaz, aka the door in hell. "Darwaz - mysterious and strange place in Turkmenistan. Imagine range of desert sands and suddenly among the crater from which flames erupts." Our world is stranger than you think, even if you know that about it...
I don't know if you've been following the incredible mess which the America's Cup has become - really I couldn't blame you if you haven't, I mean who cares - but Mascalzone Latino syndicate head Vincenzo Onorato has a nice piece on How to save the America's Cup. It needs something; as it is right now all the racing is taking place in court. What a terrible tragedy to squander the momentum of last summer's races which were the best ever...
Every once in a while you read a headline that isn't intended to be funny, but... and so it is with Paris Hilton Says She's a Role Model for Young Girls. LOL :)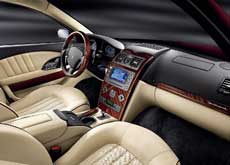 Over at TTAC Jonny Lieberman asks Which Car Do You Want To Be Buried In? "My point? Interiors matter. In fact, some are so good that I want to spend eternity in them. But which one? ... Bury me in the Maserati Quattroporte Executive GT. You?" Yeah well you know what I think - but I'm hoping to put it off for a while :)
Tim Bray on Better feed reading. "The key insight is that I just had to make up my mind and sort the feeds into two buckets, one for the can't-afford-to-miss stuff, the other for everything else." I do exactly the same; I have an "everyday" group I read, well, every day, and a "whenever" group I read when I can, and delete when I can't. My OPML is published, by the way, in case you care :)
I love this post from Maciej Stachowiak: Scences from the Acid test. Whether you care about browser development or not, or web standards or not, you will find this interesting for the tone of pleasure and respect. This is how the process should work.
BTW I have downloaded Safari 3.1 and played with it a little, but haven't seen anything there so far to convince me to switch from Firefox. It is nice to be able to test Mac compatibility under Windows :)
Bertalan Meskó has added a spiffy search engine to his ScienceRoll site: check out ScienceRollSearch.com. This is a really fantastic tool. You can search ClinicalTrials, DrugInfo, eMedicine, Medscape, PubMed Central, WebMD, etc. - all at once, or selectively.
Naturally to test it out I did a search for "Aperio", and found a lot of papers where people have used Aperio equipment for digital pathology! That is so cool.
Archive: March 27, 2007
Archive: March 27, 2006
Archive: March 27, 2005
Archive: March 27, 2004
I made a few changes to the site today; I moved "Blog Roulette" into the navigation bar, added "Greatest Hits", and removed "Sites" from my blogroll. A few other invisible changes behind the scenes, too. As always, please let me know if you notice anything amiss...
The controversy about same-sex marriages took another weird turn, as Benton County, Oregon, has stopped issuing marriage licenses altogether. I am not making this up, I'm not that clever. [ via Citizen Smash, who is that clever... ]
The 2004 Wired Rave Awards have been announced. Big winners: Peter Jackson (Lord of the Rings), Steve Jobs (iTunes music store), David Byrne (Powerpoint art!), and Brahm Cohen (Bittorrent). Hard to argue with any of them, eh?

Frequent visitors will know that I like SpaceX and follow them closely. I had missed their December update, which is pretty cool - they formally unveiled the Falcon rocket by parking it outside the FAA headquarters in Washington. Patti Grace Smith, head of the FAA space division said, "Those of us who live and work in Washington know how difficult it is to find a good parking space. So I must say you've done quite well here." Anyway read it all, it is very interesting. This truly is rocket science.
Oh, and the January update is out as well: "We are now entering the final stretch before launch. A lot of work still remains, but the bulk of the development on engines, structures, avionics & guidance, regulatory matters and the mobile launch system is done. There could still be some hidden issues that show up only at the last minute, but, notwithstanding a major setback, we are on track for a maiden launch around the middle of this year." They have already booked a full schedule of 2005 launches as well.
In other space news, Wired reports Probe Flotilla to Scour Planets. "During the next decade, space agencies in the United States, Europe and Japan plan to send no fewer than nine unmanned vehicles to planets, comets and asteroids near and far in an attempt to answer as many questions as possible about the nature of the universe. An additional seven spacecraft have already reached their destinations or are on the way." This nice survey describes each of the missions and links their websites. Excellent.
Doc Searles discusses The Cluetrain Manifesto and the generally cluelessness of Journalism (capital J) regarding online publishing, especially blogs. "They crush statues with every sentence they write."
Andrew Gumet unearths Lessons from the 60s, particularly the importance of conceptual integrity when building software. I totally agree with this. Open source doesn't imply anarchy; look at Linux, which has been directed by a small committee of people who shared a vision.

Ottmar Liebert has traded his Audi TT for a Toyota Prius, and loves it. It has even made him nicer :)
He also pointed out this Lexus, a "luxury hybrid SUV". 36mpg in the city!

And not least, he's considering this adapter to interface your iPod to your car stereo. Very cool, now I can finally replace the cassette adapter.
Finally, I doubt this actually happened, but it is funny nonetheless: [ via acidman ]
Senator Hillary Clinton, at a party, walked up to Governor Arnold Schwarzenegger and told him, "If you were my husband I would poison your drink."

Schwarzenegger replied, "If you were my wife I would drink it."
Archive: March 27, 2003
So - I need new tires on my car. It is eleven years old, and this will be my 11th set of tires. (Yeah, I get about 15,000 miles on a set. Yuk.) Each year I faithfully buy a new set from Michelin... but not this year. I'm going with Pirelli. No need to send money to the frogs, eh?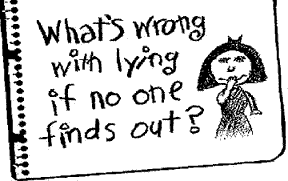 People lie a lot. Human communication is mostly an attempt to influence other humans, and lying is a good way to do it - if you don't get caught. There seems to be an ethic that "if you can't prove I'm lying, then I'm not lying". Check out the news and see if you don't agree. Or do what I did today, and spend a couple of hours in a deli, listening to conversations. Today's top lie: "I'm not in it for the money". More on this to come...
France continues to dig themselves a hole. The International Herald Tribune notes France Will Have to Pay a Price. (IHT is based in Paris.)
I'm thinking there should be a semi-organized boycott against French and German companies doing business in the U.S. I know a lot of people are like me and are informally doing it, but perhaps a more formal boycott would be helpful. Many people probably don't even realize that Chrysler is a German company, for instance (they're owned by Daimler Benz, the same company which makes Mercedes - and Rolls Royce!). Non-obvious French companies include: RCA, BIC, Motown Records, MP3.com, Red Roof Inns, Smart & Final, Sparkletts, Universal Studios.
Heck, I even stopped buying Peet's French Roast. It's good most of the time, but it just wasn't there for me when I really needed it. I switched to Italian...
Hans Blix is retiring. Not too surprising, he was under a lot of pressure. Many people blame him for "the failure of inspections", but they should be blaming Saddam (for not disarming) and Chirac (for setting unreasonable expectations). More about this here.
You know how people are asking "Where is Saddam?" Well, I have a question. "Where is Osama?" If he were around, you'd think he would publish one of his little videos condemning U.S. aggression and calling on Islam to defeat the infidels. Maybe Osama and Saddam are together?
Wondering why Iraqis are not welcoming their "liberation" more enthusiastically? Read Kanan Makiya's war diary.
Despite a good start and a promising name, IraqWar.info is just not delivering. They're Command Post wannabes. Off the blogroll!
Did you like the Onion before they stopped being satirical? Then see the Lemon. Sample headline: 'Fox News condemned for "Flagrant centrist bias"'.
C|Net has an interview with Bill Gurley. He used to be so smart and cool and interesting. Now he's blathering about Business Process Management - read this for buzzword overload. The content/word ratio approaches zero.
Are you a Windows XP "power user"? Do you play with Power Toys? Some of them are, uh, quite powerful :)
Did you watch NCAA basketball today? Two good games (1, 2) and two blowouts (1, 2). Arizona really looks unstoppable to me.
Here's some interesting perspective on the current state of the music business, from Pamela Horovitz, president of NARM (the people who sell music). She seems much more balanced and realistic than Hilary Rosen and the RIAA. Meanwhile there's another entry in the online music subscription race...
Here's the perfect search engine if you're surfing with a mirror. Some programmer obviously has way too much free time.
Finally - you have to be a nerd to appreciate this - check out Interconnected's suggestion for hacking London traffic.
Home
Archive
'14 '13 '12
'11 '10 '09
'08 '07 '06
'05 '04 '03
flight
About Me
W=UH
Email
RSS OPML

Greatest Hits
Correlation vs. Causality
The Tyranny of Email
Unnatural Selection
Lying
Aperio's Mission = Automating Pathology
On Blame
Try, or Try Not
Books and Wine
Emergent Properties
God and Beauty
Moving Mount Fuji The Nest Rock 'n Roll
IQ and Populations
Are You a Bright?
Adding Value
Confidence
The Joy of Craftsmanship
The Emperor's New Code
Toy Story
The Return of the King
Religion vs IQ
In the Wet
the big day
solving bongard problems
visiting Titan
unintelligent design
the nuclear option
estimating in meatspace
second gear
On the Persistence of Bad Design...
Texas chili cookoff
almost famous design and stochastic debugging
may I take your order?
universal healthcare
entertainment
triple double
New Yorker covers
Death Rider! (da da dum)
how did I get here (Mt.Whitney)?
the Law of Significance
Holiday Inn
Daniel Jacoby's photographs
the first bird
Gödel Escher Bach: Birthday Cantatatata
Father's Day (in pictures)
your cat for my car
Jobsnotes of note
world population map
no joy in Baker
vote smart
exact nonsense
introducing eyesFinder
resolved
to space
notebooks
where are the desktop apps?