Archive: May 28, 2020
So ... the big SpaceX launch was -> <- all set to launch yesterday but at the last moment was delayed by weather, to next Sat 5/30 (mark your calendars). This picture shows the situation: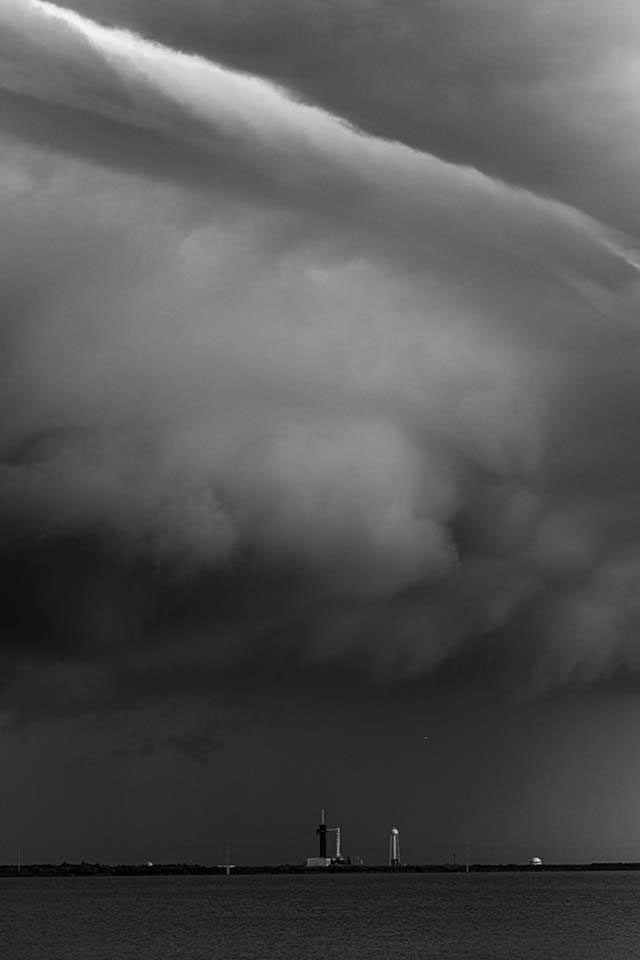 Wow.
Archive: May 28, 2019
Archive: May 28, 2018
Archive: May 28, 2017
Archive: May 28, 2016
Archive: May 26, 2015
Back at work after a loong pleasant weekend "off"; checking in with colleagues, partners, customers, and of course coding. And making a filter pass!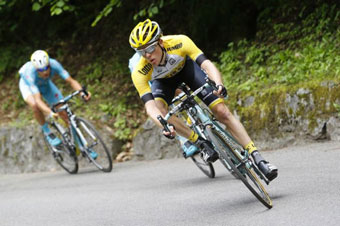 I haven't blogged about the Giro d'Italia this year, but I am watching it, and it has been tremendous fun. Even the "flat" stages have had surprised on GC, with crashes and such, and several breakaways have defied the odds and succeeded. Can't wait to see today's killer stage up the Mortirolo, a legendary climb considered by Lance Armstrong to be the toughest climb he'd ever ridden. (Did he ever ride the Angliru? Must check.) Anyway I'm rooting for Steven Kruiswijk, the young Dutchman, who has been impressive as one of the only riders who can stay with Alberto Contador in the big mountains.
Great advice for graduates, from Ted Nugent:
Life is not fair. Get used to it.
Social justice is a commie scam. Read the drivel of Saul Alinsky and fight it with all you've got.
Nobody owes you jacksquat. You will either earn your own way, or feel like a helpless leech. There is no middle ground.
Economic equality is for sheep. If you really believe we are all equal in our capabilities you will go nowhere.
(I can't help it, reading this, I could hear those amazing opening chords of Stranglehold playing... :)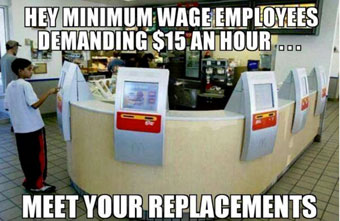 Law of unintended consequences hits liberals again. Sigh. I must write more about this whole minimum wage thing; the entire concept is flawed, and backfires immediately.
Related: Minimum wage hikes hit San Francisco comic book store. "I'm hearing from a lot of customers, 'I voted for that, and I didn't realize it would affect you.'" I have to say these people are too dumb to vote.
Agree entirely: Glenn Reynolds comments on the Irish vote to legalize gay marriage: "It's much better to see change happen this way than by judicial fiat."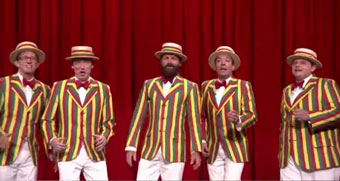 Sting joins Jimmy Fallon to sing Roxanne in a barbershop quintet. Hehe... Excellent.
I have to say, Fallon has been great as the Tonight Show's new host. His sense of playfulness and energy has revitalized the entire concept of a late night "talk" show.
Good news: Bats' white-nose syndrome may be cured. Horrible disease obliterating the bat population, fought with bacteria. Amazing.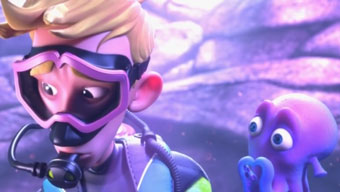 Today's best animation (and it's great): Taking the Plunge. This student project feels as polished as a feature movie from Pixar.
How to mine Bitcoin with a 55-year-old mainframe. A great description of what "mining" means in the context of Bitcoin. I do think the challenge for Bitcoin is going to come from distributed swarms of mobile phones, not ancient mainframes :)
Okay, now to settle down and watch the queen stage of the Giro. Please pass the popcorn!
Archive: May 27, 2014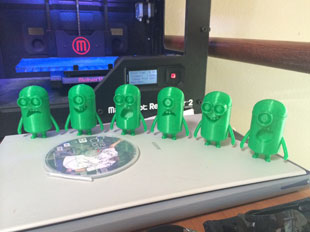 My goodness; nearly two weeks since my last filter pass. Let's get on with it then, shall we?
Why should read The Circle, even if you don't buy it. I'm reading it, and while it is interesting, yeah, I don't buy it. It's tough to like a book which has such a strong point of view, especially when none of the characters are likeable. I'm struggling on...
Meanwhile, I enjoyed Hatching Twitter tremendously. What a story; four co-founders, all of whom contributed and none of whom are still involved in the day-to-day workings of the company. Such politics, such intrigue, and yet the company survived and indeed prospered. One gets the impression it all worked out because of the strength of the product, and the essential simplicity of the business model.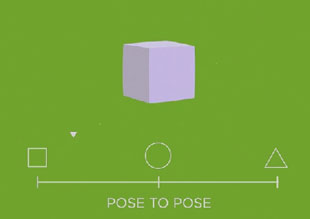 On the illusion of life; "The 12 basic principles of animation were developed by the 'old men' of Walt Disney Studios." Excellent.
Wow: Image is everything: Snapchat tops WhatsApp as biggest US messaging app by volume. It certainly could do with image search :)
Apropos: Facebook goes after Snapchat, again. "If you guys were the inventors of Snapchat, you'd have invented Snapchat." Hehe.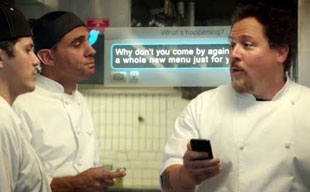 Reminds me to mention: great movie I've seen recently: Chef. In which a chef's son uses social networking to wildly publicize his father's food truck. There's a lot more to it than that ... watch it!
Marketing by Beats by Dre. "It's easy to see why Apple might want to buy them." Nope, I don't get it. I don't see the fit, and moreover, if this was real, I wouldn't expect to see so much information leak ahead of time. I believe there were discussions, but will be surprised if they actually lead to a deal.
Awesome: The Greatest Show Off Earth. Indeed it is.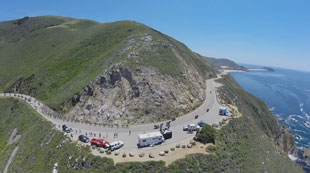 This is so cool: Stunning quadcopter coverage from Big Sur at Amgen Tour. You can see where this kind of thing is going to become much more common, and soon we'll see sporting events from every conceivable angle.
Meanwhile I have to say, the video coverage of this event was awful. The frame rate stuttered constantly, and the compression artifacts were ridiculous. Embarrassing, really; when life cycle racing coverage in Europe is so excellent.
Agree entirely: Stop forcing people to wear bike helmets. The nanny state is unnecessary and unwanted.
Speaking of which: Why global warming alarmism isn't science. "Global warming alarmism fails the test of science. The alarmists' models generate one false prediction after another." Note, this doesn't not mean global warming isn't occurring, only that we do not have models which correctly predict it.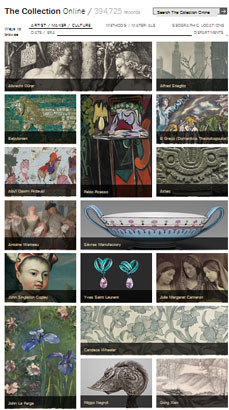 Excellent: Met puts huge image trove online. (You can browse it here...) There is going to be more and more of this, and it will be an incredible resource for widespread image search.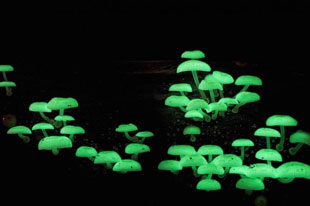 Absolutely beautiful: Stunning photos reveal the enchanting world of fungi.
Dave Winer: In news, the front page is the first problem. "When Twitter started owning the news cycle, that's what they call in business a "competitive threat." You can choose to respond or not respond. But if you don't respond, you pretty much always lose." Yep.
On the future of Metafilter. Google are the gatekeeper for traffic on the web, no question. What can break their hegemony? (Images?)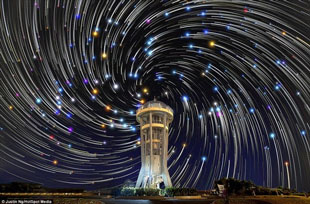 Awesome: Stunning digitally composited star trail photos. Way cool. This could have been done with film, of course, but digital makes this stuff so much easier.
Wrapping up... the proven way to add value: "Do extremely difficult work." Which might be true, and begs the question, "what makes work difficult?" I claim it isn't doing it, it is knowing what to do.
Archive: May 28, 2013
Archive: May 28, 2012
Archive: May 27, 2011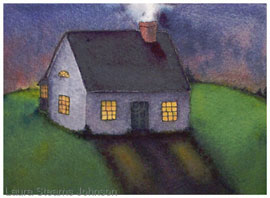 Well I'm back home after a rather thought-provoking offsite; feels like I've been on the road *forever*. Looking forward to a nice evening and then tomorrow I'm riding a tough century, the Heartbreak Hundred. In the meantime I'm thinking ... and blogging.
Wow, happy 20th birthday, Visual Basic. I totally remember VB v1, how revolutionary it was, and how easy it was to create graphical user interfaces (compared to "Petzold" programming in C). Truly a major factor in Microsoft's success.
Of course I must add, about ten years ago they broke it rather badly; VB.NET has never been as easy to use or as cool as VB...
Eight reasons web workers should look forward to Windows 8. Hmmm... are you looking forward to Windows 8? Me neither. Seems likely to be a disaster, like Windows Vista, and it won't be until Windows 9 that they fix it.
Hmmm: iPad causes Windows sales to shrink for the first time ever.

Cringley: What Microsoft should do. Windows 8 is not his answer.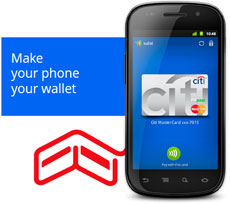 And so Google announces Google Wallet, a way to use your Android Phone as a payment instrument via NFC. I'm trying to decide whether I think this will matter. Somehow it feels like it won't. Maybe it's that Citi logo :) Or more likely, the fact that Google have never succeeded at anything that required customer service.
Excellent detailed description from 2ality.
Did you know? The computer science job market is red hot. Unlike the job market for, say, automotive assemblers. This is what's weird about the economy right now, some parts of it are at a much different temperature than others.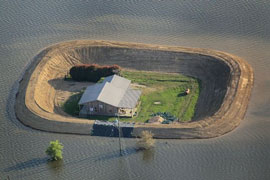 Kind of sad that these are necessary, but kind of amazing that they exist: single home protected levees. Wow.
Your next phone will work better outside - because it will block glare in concert with polarized sunglasses. Great idea, presently, phones suck outside.
Good stuff: six key principles of a successful acquisition:

Keep principal objectives consistent
Understand probability
Option value
Aligning incentives
Buying market leaders
Synergies, synergies, synergies

Cisco seems to understand how to make these work, unlike so many other tech companies. Look at Yahoo for an example of destroying value through acquisition. Even Google doesn't have this nailed.
I couldn't believe when I saw this, but Salon has a celebratory review of Seattle restaurant Canlis, where I've personally dined and enjoyed one of the finest meals ever. Awesome. If you're ever there ... yeah.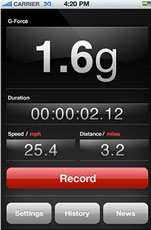 I need this! Porsche iApp measures your vehicle's G-force while accelerating, braking, and cornering. Yes!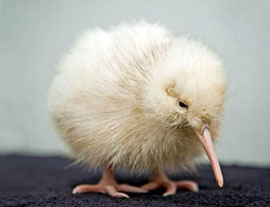 ZooBorn of the week: rare white Kiwi chick. Awww...
Archive: May 23, 2010
| | |
| --- | --- |
| Amgen Tour of California: Stage 8 - Rockstore! | |
Today was the *big* day; 2010 Amgen Tour of California stage 8, a four-lap circuit race right in my hometown, including the fabulous Rockstore climb I'm always telling you about, and the terrifying descent down Decker Canyon. I was there (!), and managed to wangle an invitation into the Amgen VIP compound. It was great.
Setting the stage, going in to this final day Michael Rogers of HTC/Columbia was leading overall, followed by Dave Zabriske of Garmin-Transitions 9s back, and Levi Leipheimer of Team Radio Shack 25s behind in third. BTW those three finished 1-2-3 last year, and they figured to do it again; but in which order? With such a tough finishing stage, anything was possible.
Naturally I took pictures, and naturally I'm going to share them with you. Here we go: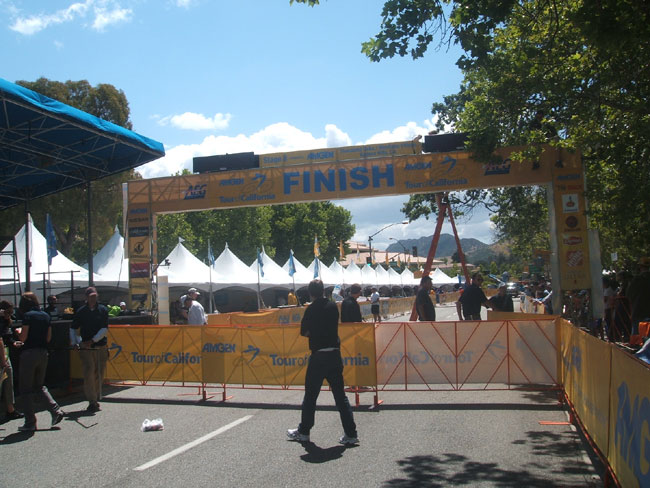 I began at the finish :) in Westlake Village; all calm right now... but later will be a madhouse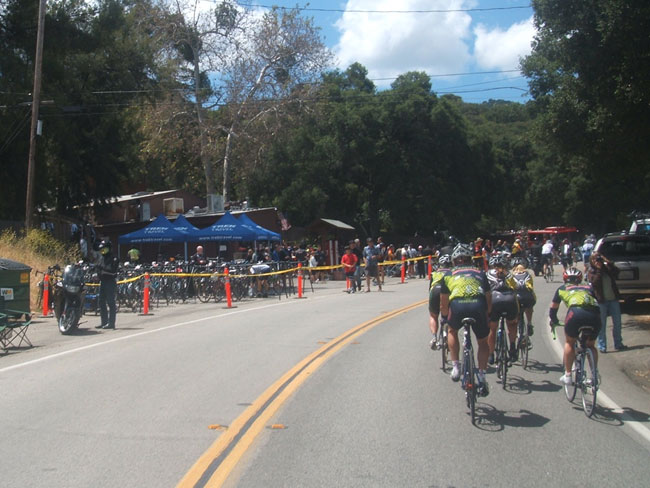 riding up Rockstore, there it is, the Rockstore itself,with a zillion motorcycles parked in front as usual
there was a huge crowd here to drink beer, hang out, and oh yeah watch those cyclist guys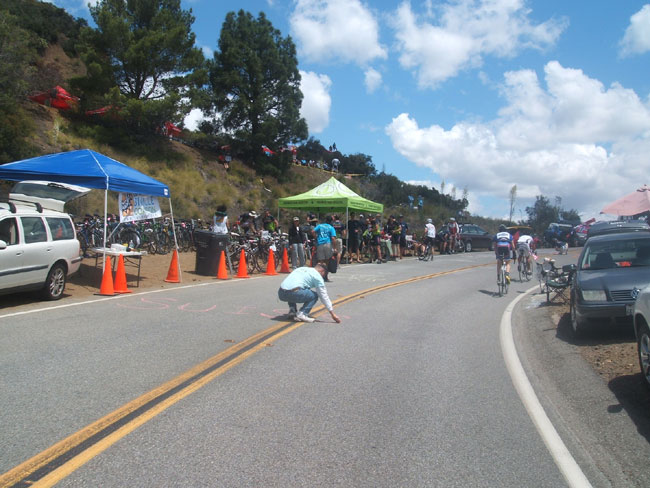 the climb was packed with cars and people and bikes and tents
lots of people chalking the road, too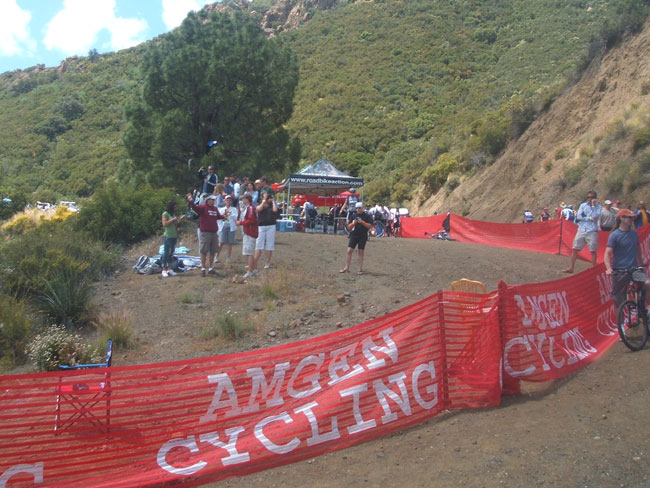 here it is, the Amgen VIP compound, located on that last big turn before the top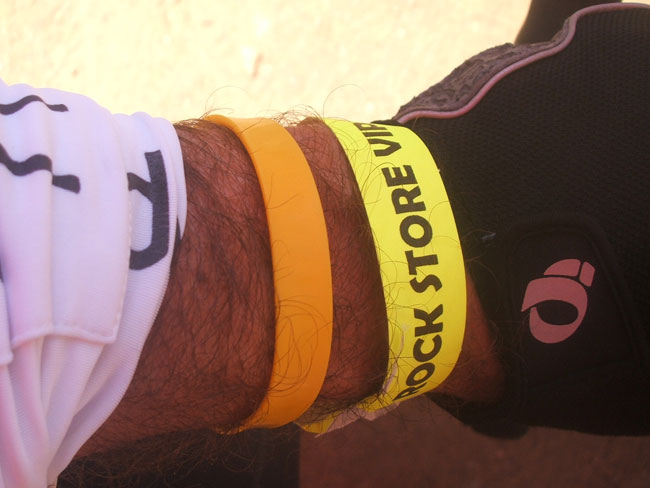 yippee I'm in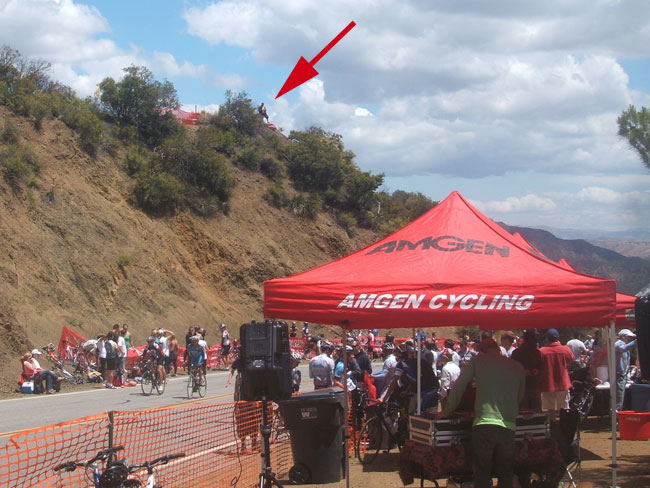 the Amgen area included the peak overlooking the turn - and the whole valley
the red arrow shows where I stationed myself, an awesome spot
note the DJ in the foreground, rocking the Rockstore...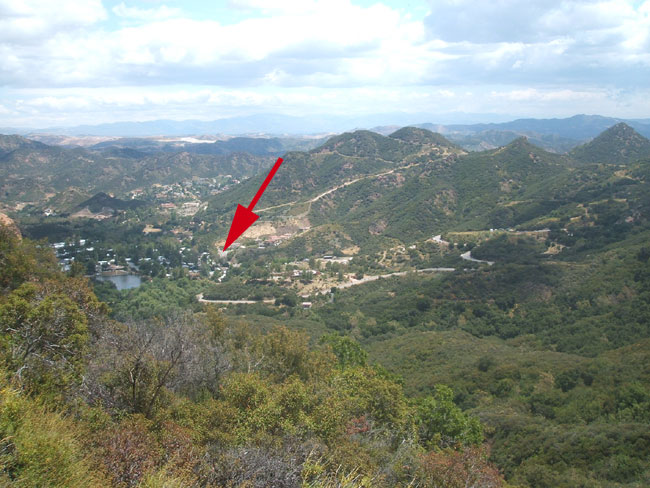 the view of the valley from the peak was unbelievable
the entire climb was visible, it was possible to watch the riders all the way up
the red arrow shows the location of the Rockstore at the base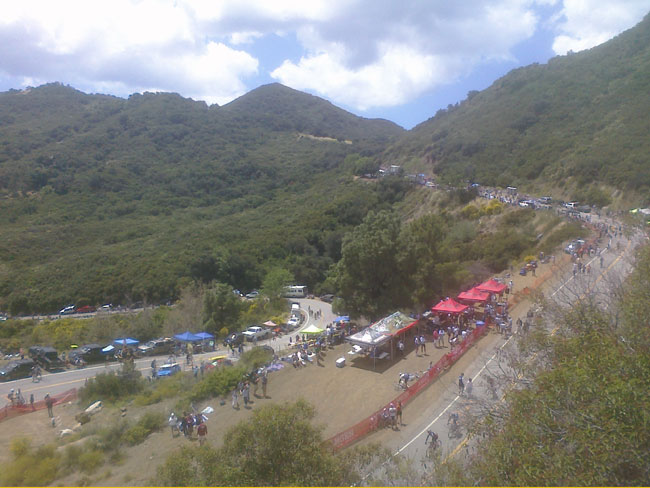 overview of Amgen compound and the final straight of Rockstore up to the KOM point
note the crowds - it was really packed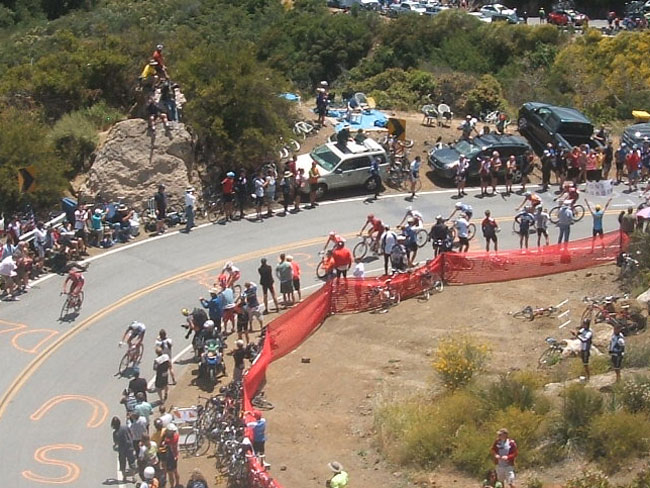 and so the race is on!
on lap two a breakaway of seven riders formed, including George Hincapie
here they have about 2:30 on the peloton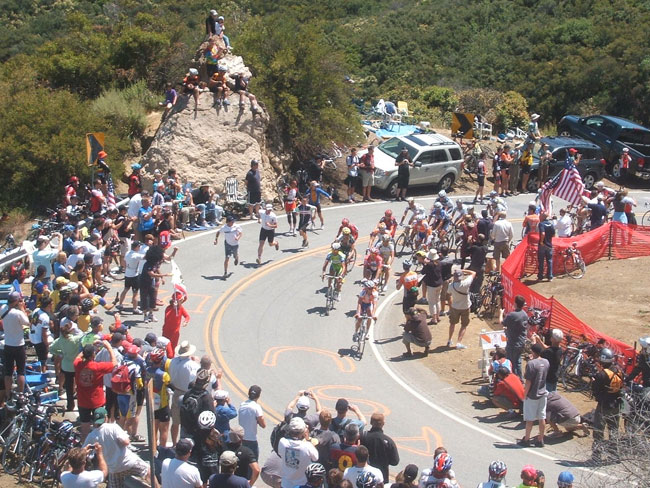 the peloton fragmented behind the break
with the GC men and their domestiques in the chase group
tucked in note Rogers (yellow jersey), Zabriske (orange helmet), and Levi (red and black kit)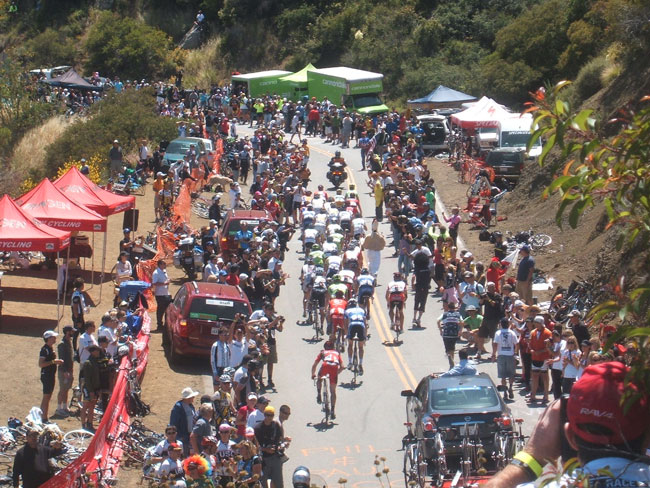 check out the size of the "peloton" after 35 miles of racing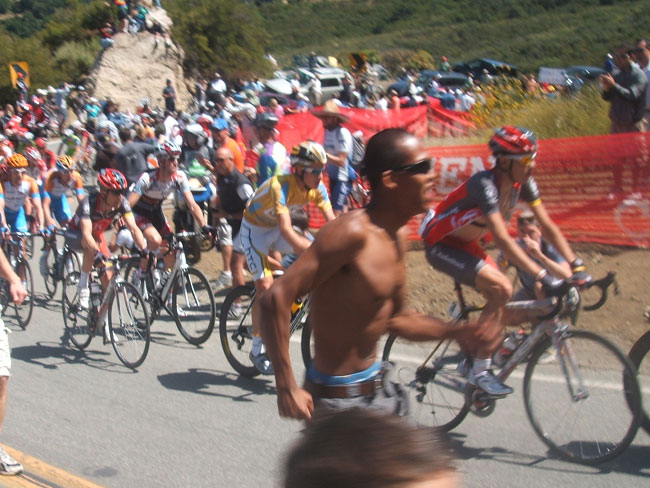 the leaders on lap three
R-to-L: Chris Horner leads Rogers, Rory Sutherland, and Levi, with Zabriske at the far left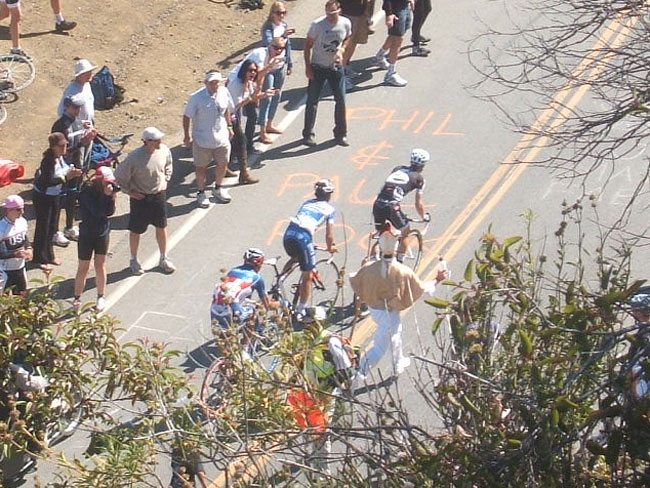 on the final lap the break itself broke; here are leaders Baredo, Pujols, and Hincapie
George was the crowd favorite (of course) and looked great for the win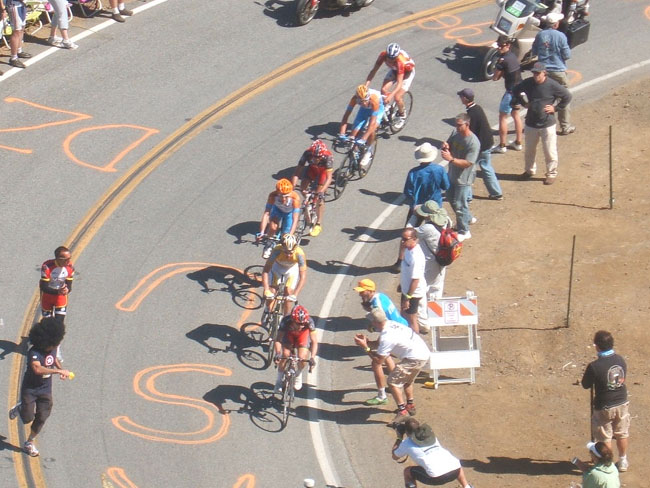 after a series of attacks the GC men pulled out from what was left of the peloton
Levi, Rogers, and Zabriske mark each other, followed by Horner, Ryder Hesjedal, and Thomas Rabou
with no gaps by this point it was evident that Rogers was on his way to the overall win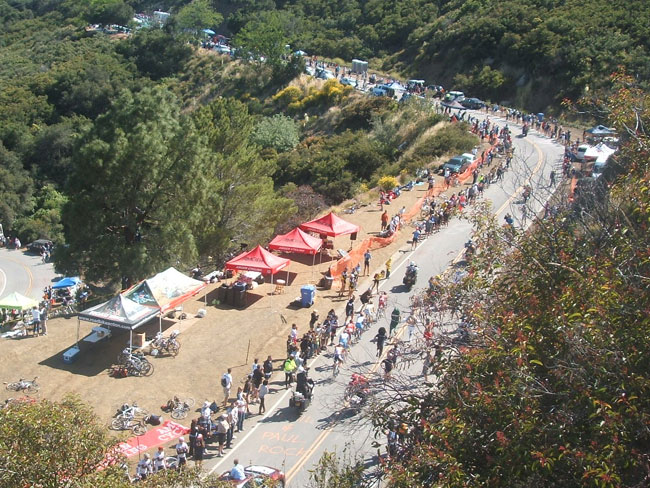 the leaders crest Rockstore on the final lap
what a marvelous sight!
After the peloton passed I rode down Rockstore and cut through Triunfo Canyon to Westlake Village, but instead of heading for the finish line I headed home, so I could watch the whole thing on Versus. Which I did, amazed that only a few minutes ago I had actually been there.
Oh, you want to know what happened? Well, on the Mulholland rollers between Rockstore and Decker Hesjedal attacked, and Horner went with him. They ended up catching the three leaders on the descent, and that group of five sprinted it out to the finish, with Hesjedal edging out George for the win. Congratulations to him but boo; I was really rooting for George to get it. Horner was third.

Must make a point of recognizing Thomas Rabou who won King of the Mountains going away. A promising young rider on Rabobank, he had a horrible accident which took him over a year to recover from, and is now coming back as a member of Team Type 1. He's been living a dream this week.

And in the GC it ended up being a parade; after all that work Rogers, Zabriske, and Levi finished together, and so they ended up on the podium in that order. A great win for Rogers, and poor Dave finishes second in the ATOC for the third time. Maybe next year!
Another fantastic day watching pro cycling... and this time right in my own town, on a climb I ride myself just about every week. I'll never do it again without thinking of today. How did I get here? :)
Wow, quite a weekend, what with Megan's par-tay yesterday and the Amgen Tour stage today. And so whew I get to relax... no wait that's wrong, I get to fly on a red-eye to Philadelphia! I am in fact sitting at LAX at this very moment, waiting for my [late] flight to board. Upon arrival it will be a day of meetings, followed by two days of customer visits, with a late flight back Wednesday and then a trip to Vista on Thursday. I will be one tired puppy. But don't worry, I will blog :)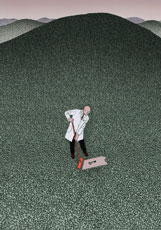 The latest issue of the New Yorker features a fascinating article by Malcolm Gladwell, The Treatment (PDF), about the search for drugs to fight cancer. A must read even if you aren't in the business of building tools for cancer researchers like I am.
Dog bites man story of the day: HP confirms slate to run WebOS. I bet it won't suck, and in fact might give Apple's iPad a run for your money. Of course as with any platform the key will be the availability of content; will there be WebOS Apps? Or perhaps the question should be will there be web apps. You could see a version of Chrome for the WebOS too, including flash...
In this regard, it is interesting to ponder whether the Android platform is fragmenting [already]. What's important here is not bifurcation of versions or features, but whether all versions support the same apps. E.g. Chrome + web = commonality.
More on Apple vs Google, in the wake of the Google I/O announcements: Robert Scoble posts hey Apple, you have mobile competition, and Eric Raymond thinks now's a bad time to be an Apple fanboy. I love this from Scoble: "Hello? This is Scoble. You're not calling me on your iPhone, are you? Why do you say that? Because I can hear you." Ouch. And Eric concludes "Apple has been outflanked by Google's multi-vendor strategy, outsold in new unit sales, and is now outgunned in technology and user-visible features. Again, I was expecting this…but not so soon." In this battle between two successful companies I don't see a loser, and for sure we consumers are the winners!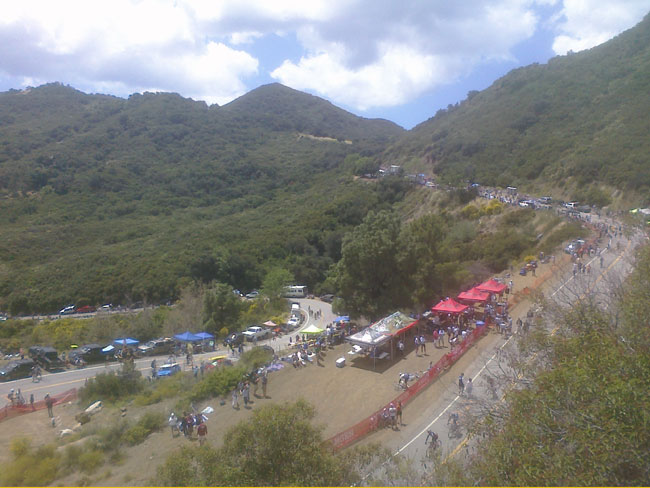 PS to my ATOC stage 8 report, not only did Ryder Hesjedal and Michael Rogers win, but so too did the cities of Agoura Hills, Thousand Oaks, and Westlake Village. There were huge crowds everywhere, and the PR value of all those beautiful aerial helicopter shots is incalculable.
Oh and in the other big cycling race taking place at the moment, Ivan Basso won stage 15 of the Giro! David Arroyo remains the overall leader, as the GC favorites continue to recover time from that amazing break which shuffled the standings. They have a rest day tomorrow but then a week of climbing left.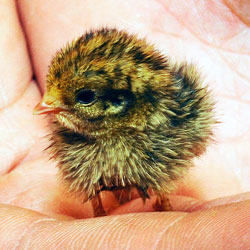 Wrapping up, the ZooBorn of the weekend is this quail chick. Wow. I must tell you I am a sucker for cute chicks :)
Archive: May 28, 2009
My list for the Tillerman, the greatest dinghies of all time (that I have sailed):

505. The greatest doublehanded racing dinghy of all time, indisputably, as well as the prettiest. Not to mention one of the toughest classes. I raced in the 505 Worlds in, um, 1990 (had to think about that), in Kingston Ontario, finished about 50th in a fleet of 100 boats, and rate that one of my best regattas ever (that was back when I could sail).


Laser. The greatest singlehanded racing dinghy of all time, although the Finn would have a case, too. Certainly the most popular; there are Lasers everywhere. I've never had any success racing Lasers, exception in local fleets, the class is just too tough. I've owned three lasers including Locomotive Breath, my current one, which is eight years old; I'm guessing I've had one for over half my life, and hope to keep that going...


C-15. This is my sentimental favorite, as I've owned my current C-15 It's the Water for 30 years, and have won three national championships in it. Of course the C-15 isn't as fast as a lot of other doublehanded boats, but it is built better and they last. (And in enough wind, they do manage to get out of their own way :) Probably the high point of my sailing career was winning the C-15 International Championship in Japan, in 1978. Yeah, I was 19; I peaked early...


Snipe. As the Laser is the most popular singlehander, the Snipe would have to be the most popular doublehander; you can find them all over the world. They are not fast, but they're fun to sail and durable, and they have a feature which has ensured their popularity: they can be sailed by a guy with his girlfriend. I owned a Snipe for about ten years, finally donated it to the Alamitos Bay Yacht Club when garage space became more important to me than sailing :)


Hobie 16. The most popular catamaran of all time, by far; you can find them all over the world on every beach. They're simple and fun and fast, and at one time there was a huge racing fleet which was amazingly competitive (seems to have died out a bit in recent years). I raced them off Malibu, and enjoyed their speed and ease of sailing as much as the competition. They are as happy sitting on a beach as they are in the water.

Assembling this list gave me a strong sense of nostalgia. Nothing is as worthwhile as spending time sailing; my father used to say God did not count time on the water against your allotted days on the Earth. I need to spent more time "out there"... maybe next weekend, with my daughter (the Westlake Cup Regatta, which I first won in a Cyclone at age 17), or a bit later, the High Sierra Regatta, fixture of the C-15 Class calendar, my first "out of town" race when I was a young teen, wide-eyed with wonder at seeing so many boats from so many places, and Huntington Lake is still one of the best places to sail anywhere. Stay tuned!
(...composed on USAir en route to Phoenix from Burbank...)
Yesterday was amazing, in fact it feels like part of today, because I woke up in Vista, spent the day working (productively, yay), had a fantastic dinner with colleagues and friends in Carlsbad (at which, I'll note we sampled a mini-vertical of Duckhorn Three Palms merlots, and concluded once more they are amazing), drove home, slept for three hours, got up and drove to Burbank airport, and here I am... whether this bodes well for my meetings later today remains to be seen :)
Scott "Dilbert" Adams is calling the bottom: "In January I wrote a post about Captain Sullenberger safely landing his plane in the Hudson River. At the end of the post I said it was a sign that the economy had reached bottom and would soon improve, thanks largely to what I predicted would be an upsurge in consumer confidence...". And this appears to be exactly what happened. But as Scott cautions, "Disclaimer: Don't get your financial, legal, or medical advice from cartoonists."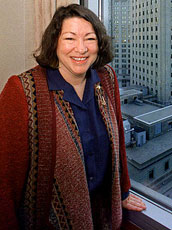 So President Obama has nominated Sonia Sotomayor for Supreme Court Justice, to replace the retiring David Souter. Her proposition: 'I would hope that a wise Latina woman with the richness of her experiences would more often than not reach a better conclusion than a white male'. Ugh.
From the department of unintended consequences: "Bond investors literally can't afford to lend to unionized companies because it's clear that current power in Washington will take the unions' side, despite past bankruptcy law precedents that favor senior creditors. That means Washington's actions in pushing for these bankruptcy verdicts to come out in favor of the unions will probably hurt unionized companies in the long run." Repeat after me: governments should not be involved in markets...
President Obama's response to North Korea's apparently successful test of a nuclear weapon: "'Let's be clear: we are not taking adverbs off the table,' Mr. Obama said. 'If the need arises, we will use them forcefully, aggressively, swiftly, overwhelmingly and commandingly'." As Powerline notes, no verbs in prospect.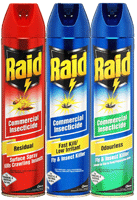 Jeff Atwood tells us everything you wanted to know about RAID, and more... I've become a convert to RAID, slowly; in the bad old days it seemed like the arrays' unreliability was worse than their drives', but these days that's no longer true and using RAID on servers seems almost required.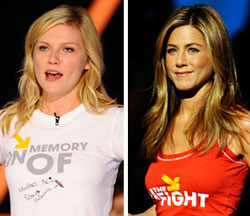 Now you can [apparently] Stand Up to Cancer, with Twitter... possibly the best use of Twitter that has yet been found, although it cannot transmit pictures of Jennifer Aniston :)
FierceBiotech reports Cougar trial sees big response to prostate cancer drug. "Researchers say that Cougar's lead drug candidate--abiraterone acetate--produced positive data in a small clinical study on prostate tumors. Abiraterone is designed to stop the body from producing a hormone tumor cells thrive on. Imaging scans of the 54 patients in the study demonstrated that nine of 24 subjects demonstrated a decrease in tumor size." Excellent!
Cult of Mac reports iPhone under fire: "For the first time since the announcement of the original iPhone, there are legitimate competitors all around, many of them even approaching Apple's thinking in creating a holistic ecosystem of supporting software, third-party development and services. There are three big threats to the rise of the iPhone right now: Palm Pre, mass availability of Android, and the Zune HD platform". The iPhone will do just fine, competition is good.
Meanwhile TechCrunch thinks the Palm Pre will fail: "I'm afraid to report that after all the magic, all the tears, all the joy the Palm Pre will be just another phone. It won't save Palm, it won't change paradigms, and it won't send the iPhone hegemony crashing to its knees." We'll keep think link around and check back in a couple of months :) My own view is that the Pre will succeed, and it has saved Palm already, although I agree it won't dent the iPhone hegemony.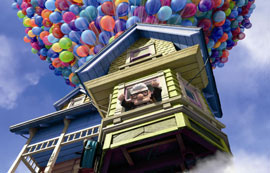 CNet: How technology lifts Pixar's 'Up'. It looks really good, wow, how can they have done it again? Can't wait to see it; opens Friday... BTW the Disney acquisition of Pixar looks like it worked, huh?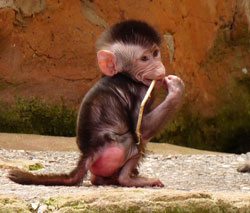 ZooBorn of the day: a baby Baboon. Looks like more trouble than a barrel of monkeys, doesn't he?
Archive: May 28, 2008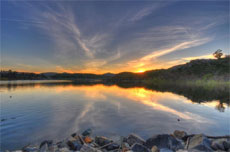 Just got home from a nice day in Vista... a really nice day. Started with a great productive discussion about how we can reorganize our development team slightly to get people working on the same project to be part of the same team; something I'm passionate about (product-centric organization beats functional organization every time). Next up was a walkthrough / demo of Aperio's new Genie product, an amazing-almost-like-magic image pattern recognition tool. The team has really done a great job on this, it was exciting to see it all come together. After lunch I had some great blocking-and-tackling meetings with people. And then - a wonderful bike ride on the Del Dios Highway east of the office (which passes by beautiful Lake Hodges, pictured at right), and a nice steak dinner with my friend and colleague Nick. And on the way home - a great Rolling Stones -fest; I love the 'Stones, but don't usually listen to just them, so this was cool...
Meanwhile, here's what's happening in the real world...
Gerard Vanderleun ponders the Pacifascists Among Us... Truly, you cannot refuse to fight. It is all very well to say "make peace, not war", but that's unilateral; what do you do when "they" want to make war, not peace? Something for the Obamaphiles to consider...
Megan's Dear Soldier letter, which I left up over Memorial Weekend, attracted some nice emails; thank you! I realize the readers of my blog are a self-selected group which probably thinks more like me than the average person (understatement alert!) but even so, the feelings and thoughts you express are heartwarming and reassuring. We aren't all idiots - or Pacifascists...
Still loving my Centro. Each day brings a new discovery of something which is slightly better than my Treo 650... today, I realized the phone charges directly off USB, without being plugged into a wall. This means I no longer have to carry a phone brick in my laptop case, just a USB cable. Yay.
My Centro-love lives in the shadow of everyone's iPhone-love. Don't get me wrong, I like iPhones, but I would not trade straight up for my Centro. The lack of a real keyboard is a deal killer. Still the iPhone is amazingly loved; take for example this post on Engadget, wherein the possible icon for a 3D iPhone (as-yet-to-be-announced) is discussed. You know people love your product when they are eagerly searching tea leaves for the next version's features!
Brad Feld asks What Do You Suck At? An important question to answer... I remember being interviewed about ten years ago, a CEO asked me what I thought was the most important thing for a CEO to be good at. Scanning my mental list of good CEOs, I couldn't think of any one thing, so I blurted out "not being good at everything". We both laughed, and in the ensuing discussion agreed that nobody is good at everything, so knowing what you're not good at – and hence organizing so you don't do what you're not good at – is the most important thing…
Headline of the day: Space Station Toilets Poop Out, from Slashdot. :)
Archive: May 17, 2007
| | |
| --- | --- |
| entrepreneurs inside the machine | |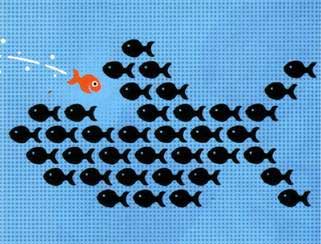 Fortune discusses Entrepreneurs Inside the Machine, regarding integrating acquired entrepreneurs into a big company.
I find this to be an important issue, as a shareholder as well as an entrepreneur. In the early days the value of a company like Aperio lies largely in its people. Over time the value becomes institutionalized, and moves into the customers, the market approach, the brand, the products, etc. (Not that people don't remain important, but they become relatively less important.) If an acquiring company plans to realize the maximum value from an acquisition, they must either provide a good home to those people, or wait until the value has shifted away from the people. Or both.
From my personal experience Intuit bought its billpay business (which was a separate company) too soon, the key people left, and the value was not fully realized. Digital Insight went public, experienced turnover without losing value (over a period of years), and was then ultimately acquired by Intuit, long after the value had moved. PayPal went public, experienced a great deal of turnover and lost some value (over a period of a year), and was then ultimately acquired by eBay. The value to eBay has been immense, but there was an even larger and more valuable business inside PayPal which wasn't fully realized. At one time we legitimately spoke of forming a rival to Wells Fargo and Citibank, now that seems silly. (Many of the PayPal people who left went on to start other successful businesses, YouTube being the highest profile example. Maybe someday Aperio will be another :)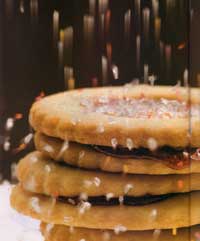 I'd like to refer you to The Bakeoff, an amazing article that I recommend to everyone. Really excellent, really thought-provoking.
This was published in the New Yorker a couple of years ago, and I can't find it anywhere online so I've scanned it.
The article is superficially about the quest for a healthier cookie. At a level down it is actually as much about software development – or innovation in general – as it is about baking; Joel Spolsky is quoted, as is Linus Torvalds, and the philosophy of "open source" is examined, and "extreme programming" is debunked. Jon Udell posted a nice overview if you're too busy to read it all, but the writing is excellent so I recommend you do when you can. The author is Malcolm Gladwell (of The Tipping Point and Blink), and he nails it.
P.S. This is an example of the kind of thing you can't find anywhere else. I can't stand the New Yorker's politics, or the way they seem to sneer at anyone not in New York, but the magazine is invaluable as a bulletin board for this sort of stuff.
Barry Bonds is back in the news as he nears Hank Aaron's record of 755 lifetime home runs. Which recalls this fantastic New Yorker cover, from April 3, 2006: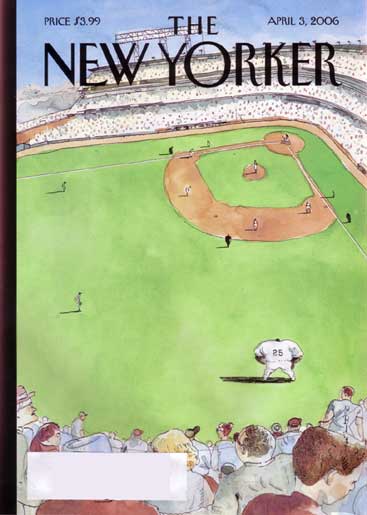 (click to make even bigger :)
Big news - I love it!
Archive: May 28, 2006
Archive: May 28, 2005
This is going to be a long post. I can tell. I have all these thoughts, jumbled together, and it is going to take a lot of words to get it all out. Sorry.
The subject is Windows. I am a student of Windows; I have used it since Windows 2.0, and I have programmed for it since Charles Petzold first made writing SDK programs doable (shortly after Windows 2.0). I remember Windows 386 (do you?), and Windows 3.0, and 3.1, and 3.11, and 95, and 95b, and 98, and 98SP. And ME. I remember NT 3.1 (do you?), and NT 4, and Windows 2000. Now we have XP and 2003. All through this evolution, Windows has solved three main problems, or should I say, has provided to software developers the means to create solutions for three main problems. First, it enables development of reasonable and consistent graphical user interfaces. Second, it enables multiple large programs to be run concurrently. And third, it enables machines to be networked together. Everything else - device management, multimedia, security, etc. - is peripheral. (That ought to get me some email!)
So how well does Windows solve these three problems? Well, it does a great job with GUIs. Mac aficionados may beg to differ, but on balance, Windows has succeeded because it provides a nice GUI, and because developers can create reasonable and consistent GUIs. It does a so so job with enabling multiple large programs to be run concurrently. Multitasking is now a solved problem, as is multithreading, but storage management is still klunky and slow. Windows has the worst paging algorithms of any OS in general use. And it does a crummy job with networking. Windows computers can easily join TCP/IP networks, but file sharing is a great mystery, domain management is difficult and idiosyncratic, and providing network services in applications is complicated.
Which brings me to my main point. Microsoft has now spent four years building Longhorn, the "next" version of Windows, and it looks to be spending two more years at least. When Longhorn is released, it will have been at least six years since XP came out. That is a long time in computer years. What will we get? If it were up to me, Microsoft would stick to its knitting, and instead of trying for more and more functionality - which is properly the province of application software anyway - it would fix paging and fix networking. Do the things Windows should do well. I won't get my wish, but that's what I want.
In fact, the whole way Microsoft has approached Longhorn is flawed. In the fall of 2003 I attended the MS Professional Developer's Conference. This was where Longhorn was first unveiled to the public. The conference itself was great, but at that time I opined that "there's a lot less here than it would at first appear". MS appeared to be trying to change everything with the intent of providing a lot of new functionality, but actually it was just making things slower and harder.
What Microsoft should do, instead of this incredible six-years-in-the-making grand new version, is it should release a simple upgrade to XP/2003 which is faster, and which has a few new features. You could call this Shorthorn. Fix paging. It is past time Windows had a decent implementation of virtual storage. Fix networking. It is about time for Windows to have a simple computer-to-computer communication mechanism.
I am the CTO of a company which builds medical imaging software for Pathologists. These applications use a lot of RAM. They would love it if virtual storage actually worked, but in practice as soon as you start paging under Windows, your performance goes out the window. Meanwhile the same applications on a Mac can page easily with only slight degradation in performance, and the degradation occurs gradually. Paging is a solved problem.

Have you ever had two computers sitting next to each other, and tried to transfer files from one to the other over a network? Not easy, is it? How many people have multiple computers in their homes? How many can easily share files, or printers? How many small businesses struggle to setup file and print servers? How many people understand Windows domains, and active directory? You need a PhD just to connect a few computers together. The situation is ridiculous, especially since good solutions have been out there for years.
Imagine you are a developer king, sitting at your desk. You have a state of the art PC and every possible development tool. You have the entire Windows source tree. You can do anything you want, build anything, change anything, fix anything. What would you do to create value for all Windows users? Would you implement some new multimedia features? No. Would you rewrite the presentation layer to use vector graphics? No. Would you implement some new security layer? No. Well, maybe you would, but I wouldn't. Now imagine you made paging twice as fast, and made it degrade gracefully instead of falling off a cliff. That would be cool. It would benefit 100% of all Windows users, and it would be entirely upside, with no incompatibility, nothing to re-learn. Just pure greatness. Now imagine you made networking computers easy. That would be cool. It would benefit nearly 100% of all Windows users, and it would be entirely upside.
That's the technical view, but what about the business view? Well, let's see. For Windows there are two parts to the market, new machines, and upgrades. You get the new machine market automatically; basically everybody who buys a computer buys a copy of Windows. They don't particularly care or even know whether it is Windows XP or LH or SH or whatever. (Corporate IT departments do know and care, but they still take what you give them.) What about the upgrade market? We have these millions of computers out there. If you release Longhorn, with lots of spiffy new features but which makes everyone's machine slower, will they buy it? I don't think so. They might have to buy a new computer just to run it. They might be afraid of the incompatibilities. If you think this wouldn't happen, check how many people are still running Windows 2000. On the other hand, if you release Shorthorn, with fewer spiffy new features but which makes everyone's machine faster, will they buy it? Of course. They won't have to buy a new computer, and they won't have to worry about incompatibilities. If you think this wouldn't happen, check what happens in the Mac market. Everyone upgrades from Jaguar to Panther to Tiger, because each release is faster, and they are all compatible. Sure there are cool new features, but that's secondary.
The fact that each new release of Windows is slower than the previous one has opened the door for Linux, too. The usual story behind any Linux box is that it's an old computer which couldn't run the latest version of Windows, so it was loaded with Debian and now runs just fine as a webserver or mail server or file server or whatever. For example, this website is running on a seven-year-old Pentium 2 @ 233MHz, on Red Hat; no way I could do that with XP or 2000.
I would bag 50% of the code created for Longhorn. Just trash it. Make Shorthorn a smaller release, with fewer new features, with some key performance enhancements, and get it out there. Release the spiffy new features as add-ons, when they're ready.
If you think Avalon is cool (the new vector-based presentation layer), great, release it. If you think XAML is cool (the new non-procedural XML-based presentation description technology), great, release it. If you think WinFS is cool (the new file system technology incorporating a metadata database), great, release it. If you think Indigo is cool (the new web services -based communication technology), great, release it. Just make these things optional, please!
Actually there are signs Microsoft is doing this; they've already tossed the WinFS bags from the balloon, and now we see that Longhorn won't be written in C# after all. I think they discovered that GUIs are fine in .NET, but low level drivers are not. There is a performance price to be paid, and the cost is too high.
Please, don't get me started on .NET. Just don't, okay? It doesn't make any sense. Why create a virtual machine when you only run on one machine architecture anyway? Just to copy Java? Just to make things slower? I don't get it. So don't get me started.
As enlightened users, we should do all we can to accelerate this trend. Post to your blog. Write to your local Microsoft blogger. You know there is panic in the halls at Redmond. They did not plan to spend six years building a new OS, just so they could cut everything back. They do not want Longhorn to be a disaster. If we all - and I mean all - encourage Microsoft to release Shorthorn instead, maybe they'll do it. They can claim the change in strategy is because they're listening to their users, and it will be true.
Archive: May 20, 2004
The other day I posted an RSS cookbook, hoping to entice those of you who haven't yet discovered how cool RSS readers are to do so. Well I figured out a way to make it even simpler, so if you haven't already, please check it out - again. This will be worth it, I promise.
Busy day, for me, for the world, and for the blogosphere...
The frustration Democrats have with the electorate is understandable; even after all the "bad news" from Iraq, cheered on by big media, Bush remains ahead in the polls. Command Post notes Kerry is now trying to make the price of gas an issue. That's a good tactic for him, but realistically there's little the President can do about them. The world is running out of gas, and prices will continue to reflect supply and demand.
John Robb quotes the WSJ: "If current oil prices are sustained, the estimated losses at the airlines is expected to top $5B this year." So be it.
Not shocking, but too bad; China Shelves Plan for Astronauts on Moon. "China plans to build its own manned space station by around 2020 but has shelved plans to put a man on the moon for financial reasons." So be it.
AlwaysOn: Video Gets Personal. "Analysts generally seem to agree that the 'Tivo-ing' of America opens up new markets for on-demand Internet-based video content." Yep.
So today I get an email from Vonage, offering to change my plan from $30/month to $25/month. What! No strings attached. Excellent. They also introduced a new $15/month plan which offers limited calling. If you're still using analog phone lines, you are overpaying for phone service.
P.S. They're offering a $40 referral fee; if you sign up and let me refer you, I'll split it with you :)
Steve Sailer points out Mind - The Adaptive Gap, from the Scientist. A nice review of the current state of evolutionary psychology. "As a field, evolutionary psychology (EP) has the difficult, and some say untenable, mission of discerning whether complex human qualities--everything from sexual attraction to language--are adaptations honed through natural selection or just nonadaptive byproducts of a uniquely human collection of cognitive systems." Great stuff.
The Heisenberg Penguins: The Scientist reports on a study which found penguins with flipper bands are late to breed and less successful at it. (Sounds like a job for RFID.)

If you're a regular reader you know I like modern architecture, and especially Rem Koolhaas. Check out these pictures of new Seattle public library. Wow. That's art. (I love the floor of babble - what a great idea.) Oh, and here are some QTVRs of the interior. [ via Cult of Mac ]
Want to run Mac OS X on your PC under Windows? (Slowly?) The check out PearPC. Here's a report from a guy who got it running.... The use case for this is weak, but I love it!

Remember the old Mac SE? I do, in fact I still have one (named Hen3ry). Check this out - Oliver Soehlke & Lukas Pajonczek have created a web-based simulation (in German, no less)! More proof that some people have too much free time. I must say, it is cool.
It was pretty cool having the OS X screen shot (above, right) and the OS 7 screen shot (above, left) sitting side-by-side in Photoshop. You've come a long way, baby :)
The Atlantic considers Broken Windows, from 1982. This seminal work strongly influenced William Bratton, who first as New York Transportation police chief and then New York city police chief had unusual success by focusing on "broken windows" (literally and figuratively). He was impressively successful at reducing graffiti and crime in New York, and subsequently wrote a book ("Turnaround") and then became L.A.'s police chief (!). So far he's receiving high marks with his efforts here.
Ongoing application of this theory may explain Why Is There a Plunge in Crime?
The Sun reports Star Wars Episode III will be called Birth of the Empire. So be it. "The highlight of the space epic will be a thrilling lightsabre clash between Obi-Wan Kenobi (Ewan McGregor) and Anakin Skywalker (Hayden Christensen) while surfing on lava." Cool. In the wake of Episode II my expectations have been lowered to the point where I'll probably like this one.
MSNBC has a running commentary on "how Episode III can be saved". I'm sure George Lucas appreciates the help (but probably not the suggestion that somebody else direct), but as the creator of what is arguably the most successful movie series in history, I doubt he really needs it.
Tuck Andress on learning to play guitar: It's the Guitar's Fault. [ via Ottmar Liebert ]
Soon it may be illegal to drive while distracted in L.A. What! "Drivers distracted by eating, talking to pets or combing their hair could face new fines under a bill that passed the state Senate." These guys have too much free time. Are they kidding? What if you're driving and a pretty girl catches your eye, does that count? [ via Blogging L.A. ]
My friend Cynthia told me about this the other day, and I didn't believe her: Born a Boy, Raised a Girl, Became a Man. "Dr. John Money, who had authored 40 books on human sexuality, had radical advice. He believed that the gender of a person depends on how a child is raised rather than genetics." This guy was a doctor? Sigh.
Oh, but four trans-gender people are graduating from the LAPD police acadamy. I am not making this up. (I couldn't, I'm not that creative :)
Microsoft.com: The four-letter word that can get people excited. Hint: It starts with a B. [ via Scoble ]
Bill Gates gets blogs and RSS, too.
The RSS bandwagon keeps rolling, Time and ESPN. As Dave Winer says, big bing!
Want to get your feed wet with RSS? Check out my RSS cookbook...
Archive: May 28, 2003
An old post I finally made time to read: Tim Bray ponders The Death of Scholarship. Tim makes the point that Googling for something gives you a million links to a millions sources, very few of which are authoritative or represent "scholarly work". As compared to searching an encyclopedia or dictionary, where 100% of the entries have been reviewed and proofed. While this is an interesting point, I daresay scholarship is a gradient rather than a black-and-white distinction. Very often "reviewed and proofed" was probably one expert's opinion reviewed by another expert, which is pretty close to what you get on the 'net. At least if someone posts something on a blog which is wrong, they'll get flamed, but if there's an error in a published encyclopedia it will be there forever. Interesting and thought provoking...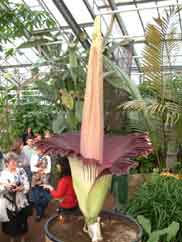 The world record for the largest flower has been broken. This baby is nine feet tall. Oh, and it smells like rotting flesh, hence the plant's nickname "the corpse flower".
Marc Cantor: Trinity hacks into the power grid:
All was going well, until Trinity needed to do some hacking," Fyodor wrote to CNET News.com in an e-mail interview. "This always ruins movies for me, as they almost always pass off ridiculous 3D animated eye-candy scenes as hacking. But then Trinity pulled out my Nmap program and did it right! I was so shocked that I almost did the 'r00t dance' right there in the theater!"
Google has announced they're sponsoring the U.S. Puzzle Championship, "a national online competition to identify America's most logical minds". They also include a few puzzles of their own - check it out. (Shades of Moving Mount Fuji...)
At the suggestion of Andrew Anker, chief blogger of VentureBlog, I'm reading Moneyball - a book by Michael Lewis about how the Oakland A's have rethought baseball and become successful despite having 1/4 the budget of the New York Yankees. This is a great book. Even if you don't like baseball you'll enjoy it for the people and the concepts, and if you're a baseball fan you should Amazon it immediately.
Dave Winer is running a survey: Will blogs wipe out professional journalists? Er, no. He did the same survey a year ago.
Financial Times: The Real Fallout from China's Chernobyl.
Wired: Feds Race to Make SARS Vaccine.
Caerdroia is my favorite new blog from the Carnival; the selected post discusses IP. "You see, 'intellectual property' doesn't exist: it's propaganda." Yep.
Silflay Hraka ponders: Why did the chicken cross the road?
Finally, we bring you today's latest fad: Dinner in the Dark. Not dark as in romantic, dark as in night-vision goggles. I am not making this up.
Home
Archive
this date in:
flight
About Me
W=UH
Email
RSS OPML

Greatest Hits
Correlation vs. Causality
The Tyranny of Email
Unnatural Selection
Lying
Aperio's Mission = Automating Pathology
On Blame
Try, or Try Not
Books and Wine
Emergent Properties
God and Beauty
Moving Mount Fuji The Nest Rock 'n Roll
IQ and Populations
Are You a Bright?
Adding Value
Confidence
The Joy of Craftsmanship
The Emperor's New Code
Toy Story
The Return of the King
Religion vs IQ
In the Wet
solving bongard problems
visiting Titan
unintelligent design
the nuclear option
estimating in meatspace
second gear
On the Persistence of Bad Design...
Texas chili cookoff
almost famous design and stochastic debugging
may I take your order?
universal healthcare
entertainment
triple double
New Yorker covers
Death Rider! (da da dum)
how did I get here (Mt.Whitney)?
the Law of Significance
Holiday Inn
Daniel Jacoby's photographs
the first bird
Gödel Escher Bach: Birthday Cantatatata
Father's Day (in pictures)
your cat for my car
Jobsnotes of note
world population map
no joy in Baker
vote smart
exact nonsense
introducing eyesFinder
resolved
to space
notebooks
where are the desktop apps?
still the first bird
patience
progress ratches
2020 explained