Archive: February 25, 2015
Still coding away, in between doing higher level stuff like giving demos and presenting to potential investors :) And still blogging...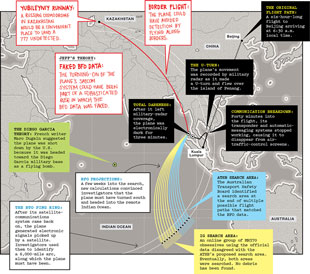 How crazy am I to think that I know where that Malaysia Airplanes plane is? Well... nobody else seems to have a good idea, either. Jeff Wise thinks it is in Kazakhstan. Could be...
Guy Kawasaki: Hindsights. Good observations, if not groundbreaking; I like #5, "Learn to like yourself and change yourself until you can like yourself." Happiness comes from liking yourself :)
Dave Winer: comments on the Node Foundation. I've coded for a long time now without paying serious attention to Node, which is an environment to write server-side applications in JavaScript, but it definitely has a lot of fans.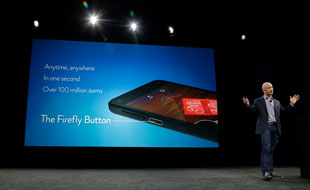 Interesting: Amazon's product-finding Firefly lands on Fire HD tablets. When Amazon first announced Firefly along with the Fire Phone, I thought it would have significant impact on visual search applications, but it turns out Firefly is less about raw visual search and more about barcode reading and optical character recognition. Still Amazon is not known for giving up; they will keep making it better and better and more useful to consumers.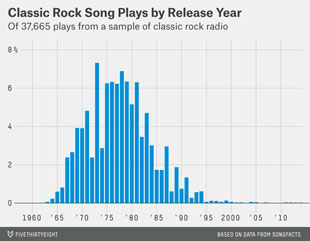 Asking the important questions: Which rock is classic? I'm tempted to say "you know it when you hear it", but this is a more quantitative analysis. It does seem to have more to do with how it sounds than with when it was released. Just the other day I was surprised to realize Guns N' Roses "Welcome to the Jungle" dated back to 1987; when it was released, it wasn't classic, but it sure is now. What of today's music will be considered "classic" in the future?
Archive: March 2, 2014
| | |
| --- | --- |
| Iditarod day one - and they're off! | |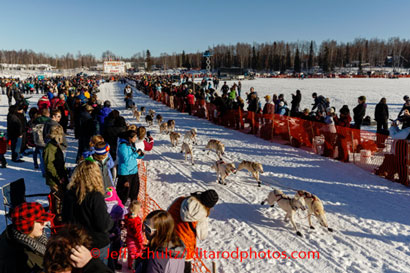 And they're off! Today was the "restart" of the 2014 Iditarod, in Willow, Alaska, wherein the real race across Alaska begins. The weather is cold but clear, raising the possibility of icy conditions on the hard and rocky trail which hasn't seen nearly enough snow.
As always at this stage of the race there is much discussion between mushers about "strategy"; how hard to run your team early, when to rest, and when to take the mandatory 24-hour break and 8-hour break. The book move is to go relatively easy until Takotna, which is nominally the halfway point, take a 24-hour break there, then go hard the rest of the way, taking an 8-hour break somewhere along the Yukon river. But some are saying with these hard conditions a faster early push may pay dividends.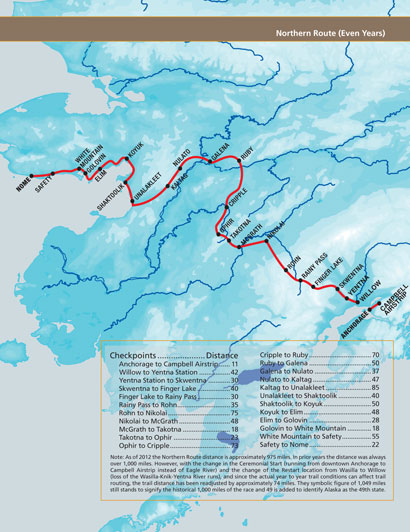 Another interesting subject for discussion is that some mushers are using sleds with a "caboose", a dog cabin at the back which can hold one or two dogs which are not running. Each team starts with 16 dogs, and there is a lot of strategy about when to "drop" dogs (they are left in the care of vets at checkpoints). When a dog gets tired or just isn't feeling it they might get dropped, but with a caboose they can be carried along for a while before rejoining the team to run with it. This sounds like a good innovation. Another factor is that near the end of the race a larger team takes longer to feed and water. Sometimes having just eight fresh and eager dogs for the final sprint is the way to go.
(The map at right shows the Northern Route, used in even years; please click to enbiggen)
Stay tuned... (and Go DeeDee!)
(All Iditarod 2014 posts)
Archive: March 2, 2013
Archive: March 2, 2012
Archive: March 2, 2011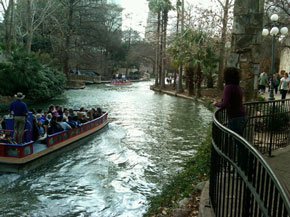 Whew, what a week, and it's only Wednesday! I woke up this morning in San Antonio early, worked out, had a nice breakfast with a friend, spent the day at the USCAP conference, hung out at the Riverwalk, flew back to LAX, and here I am home, blogging...
[ BTW, please see my report on the USCAP conference on my Aperio blog, if you're interested... ]
... and today Steve Jobs himself announced the iPad 2. I was *so* happy to see that he is okay and stil himself, Jobsnoting new product, but he was almost as thin as the new iPad, sigh. We'll see over time whether this is worthy of adding to my my Jobsnotes of note; I think the iPad 2 is an incremental improvement, but still noteworthy :)
The original iPad? Well, 15M units in 9 months, and nearly $10B in revenue; the most successful consumer product ever launched. What more can we say? It is clearly "the computer for the rest of us", where "us" does not include you and me. In ten years we will barely remember the days of "computers" and "operating systems"; this is clearly the future.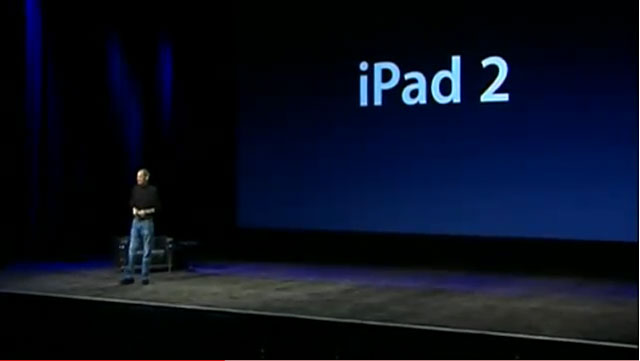 You will be able to read the enhancements for yourself; thinner, faster, inclusion of forward and backward cameras, and operating system improvements. All incremental improvements, adding to an already amazing franchise. I must tell you at the USCAP conference our fledgling support for viewing digital slides on an iPad (via a pure AJAX viewing solution) was a hit of the show. (If you have an iPad, visit the Juan Rosai Collection at http://rosaicollection.org/ to see it for yourself :)
Cheers, and onward! (yawn) ZZZzzz...
Archive: March 1, 2010
March, whew. And I am back in Vista, for the week, double whew. Living in a hotel room and eating out constantly is definitely taking a toll. After this week I have less need to be in the office, but will be spending time on the road elsewhere... so be it.
Among the positives of being on the road, I've discovered I really like elliptical trainers. Might have to get one for home (if I'm ever there long enough to use it :) And while working on elliptical trainers, have rediscovered how much I hate dislike CNN. They don't even pretend it's actual news anymore, it is like some weird reality show.
Will Obama still be blaming Bush in 2012? Yes.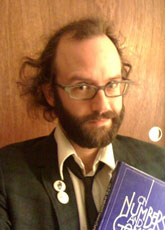 Technoccult: The philosophy of punk rock mathematics. "The point of punk ... was that ANYone could get the experience of being in a band, of performing in front of peers, of expressing yourself, without there being a prerequisite to participate. This blew my mind, and it was that conversation that turned me from a nascent douchebag into a self-aware poser."

There's a new Tivo in town, the Series 4 aka XL. I'm not clear on the advantages over the Series 3, maybe 1080p output? I continue to love my Series 3 a lot, but not sure what else I would want... maybe a 3rd tuner? Or more disk space!
Archive: March 2, 2009
| | |
| --- | --- |
| big boys don't... (New Yorker 3/2/09) | |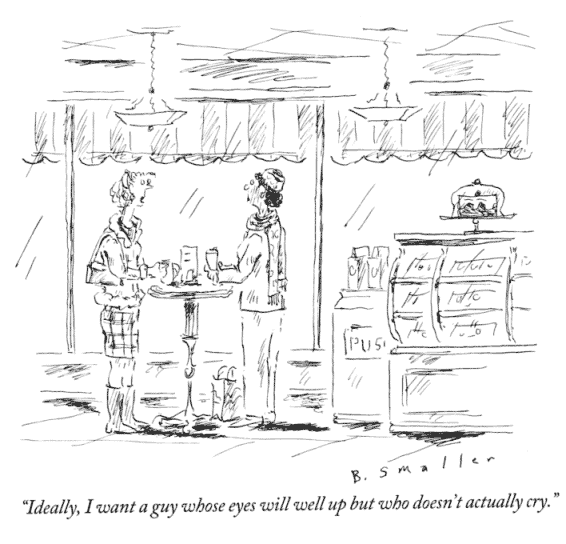 (hits the nail on the head, doesn't it!)
A roller coaster day... it began early, as I was up late, and then headed down immediately as I discovered a unplanned IT fire. I also experienced a cold shower of reality reading the Monday morning news... but later I had a couple of nice conversations with friends, which pulled me up, and rediscovered for the nth time how much better I feel working to music (Journey, if you must know, remember them?). So the equation for the day is: friends + music = happyer.
A year ago I posted this rather nice think piece: entertainment: "Why would people labor so hard to entertain each other, instead of working on something 'useful'?" Weird, eh? Must be making each other happyer :)
Warren Buffet has posted his annual letter to shareholders. 2008 was Berkshire Hathaway's worst year ever, so the letter contains some nice humility. It isn't optimistic either. They lost $11.5B, which makes me feel better by comparison...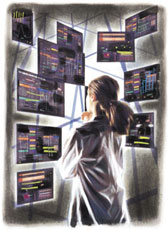 The NYTimes discusses How to make electronic medical records a reality. "Washington is about to embark on an ambitious government-guided effort to jump-start a market - in electronic health records... In its economic recovery package, the Obama administration plans to spend $19 billion to accelerate the use of computerized medical records in doctors' offices. Medical experts agree that electronic patient records, when used wisely, can help curb costs and improve care." And as I never tire of pointing out, electronic medical records require digital pathology to incorporate the vital pathology information for a case.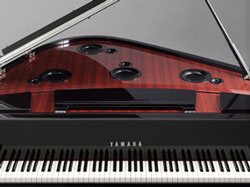 Who knew? The Economist reports a digital piano good enough for Carnegie Hall may have arrived. So be it.
Today's fish story: Nokia phone still works after a week inside a fish. This one is hard to believe.
Archive: March 2, 2008
I've been meaning to post this for a while... The New Yorker published a great article in their Annals of Medicine called The Checklist, by Atul Gawande. The article describes how an emergency room physician named Peter Pronovost created simple checklists for routine emergency room procedues, and how use of these checklists has has a dramatic reduction in unforced errors.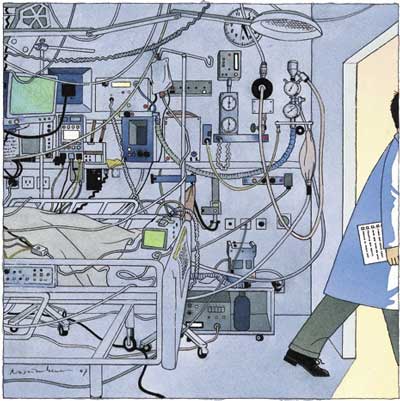 "If a new drug were as effective at saving lives as Peter Pronovost's checklist, there would be a nationwide marketing campaign urging doctors to use it."
It makes me wonder about the value of checklists in Pathology. Many labs use checklists, either formally or informally, and there are some "standard" checklists in existence, such as the one found in the College of American Pathologists' Breast Cancer Protocol.
Aperio is in the process of running several clinical trials comparing digital pathology to conventional microscopy, for particular diagnosis situations (tissue type, preparation, etc.). As part of these studies, it is necessary to devise a way of recording a diagnosis, in such a way that it can be objectively compared. After reading The Checklist, it occured to me that perhaps the very act of recording the diagnois, by means of a checklist, might make the diagnosis itself more consistent and accurate.
... Posted after spending the entire day skiing at Loveland Pass, Colorado. A day well spent 8) ...
<musing>
So I'm thinking about entertainment.
I confess to be confused about computer gaming. Some of the best and hardest computer development is behind modern games. I just read about some guys who created a Playstation emulator for the iPhone. Think about how hard this was, it is unbelievable. First of all the iPhone isn't an open platform, you have to hack into it just to get stuff to run. Beyond that, the form factor and user interface are far different from a Playstation, to say nothing of the available computer resources like the CPU and video system. This was an almost magic endeavor. And to what purpose? Running games written for one platform on another. The end result is "mere" entertainment.
At some level entertainment is a useless enterprise, no matter how great the entertainment, it is transient, no useful work is performed. In many different areas of human endeavor the highest calling is entertainment. Pretty much all art falls into this category; some of the most valuable individual works by humans are visual art, "mere" entertainment. Novels command more attention and prestige than nonfiction works, yet they serve mostly and merely to entertain us, whereas nonfiction educates us. (Although I grant novels often educate, and stimulate thinking and introspection.)
Visual arts are entertainment. Movies and television shows are entertainment, along the lines of novels. Movies are considered more prestigious by far than documentaries; the most successful "documentaries" are really thinly disguised movies. Yet all movies do is entertain, while documentaries communicate facts. Interesting. (Movies can educate, and stimulate thinking etc. just like novels - but their value is not associated with this; it is purely associated with their value as entertainment.) Movie stars are among our society's highest earners, and command significant prestige, fame, and recognition for their entertainment. Often this just boils down to, we like looking at them.
Music is entertainment. Musicians earn a lot, and command a lot of prestige, fame, and recognition, yet in the end they are only entertainers; no net work is created. Their "works" can be recorded for posterity and played back infinitely, but ultimately they do not in and of themselves accomplish anything tangible except entertainment. (They do inspire and motivate us, and stimulate thinking, but the worth of a musical work is tied solely to its entertainment value.) Musical performances are among the largest and most sought after gatherings of people, all to be entertained.
All sports are just entertainment. Our present-day sports stars earn more money and command more prestige, fame, and recognition than leaders in any other field, yet all they do is entertain us. (Although I grant, they can inspire and motivate us, too.) At some level a star quarterback contributes far less to society than a star scientist. Sporting events are the largest and most sought after gatherings of people of all, and they exist solely to entertain. Consider the relative audience shares and levels of interest for the Super Bowl and a public debate among scientists [or for that matter, politicians].
Weird.
And consider the things we spend money on… consider the gifts we gave each other this past Holiday Season. Are they for entertainment? As I look around my house, my most expensive and treasured items serve only to entertain. As I think about presents I gave, many of them are to entertain their recipients, and others are to enable their recipients to provide entertainment. (Does wine count as entertainment or is it useful? :)
Finally consider the most precious resource any of us have – time. How much of it do we spend entertaining ourselves, as opposed to doing useful work? And how much of our useful work is creating entertainment for others?
I'm not sure I have a point. I was just struck that the whole concept of "entertainment" is fascinating. Why would people labor so hard to entertain each other, instead of working on something "useful"? The answer is – people will pay more for entertainment than for things that are useful. So why is that? It seems misdirected, doesn't it? And massively inefficient. We should all be spending all our time doing useful work!
</musing>
Archive: March 2, 2007
Archive: March 1, 2006
From my friend Diane Simons:
---
A young woman was about to finish her first year of college. Like many others her age, she considered herself to be a liberal Democrat, and was in favor of the redistribution of wealth.
She was deeply ashamed that her father was a staunch Republican, a feeling she openly expressed. Based on the lectures that she had participated in, and the occasional chat with a professor, she felt that her father had for years harbored an evil, selfish desire to keep what he thought should be his.
One day she was challenging her father on his opposition to higher taxes on the rich and the addition of more government welfare programs. The self-professed objectivity proclaimed by her professors had to be the truth and she indicated so to her father. He responded by asking how she was doing in school. Taken aback, she answered rather haughtily that she had a 4.0 GPA, and let him know that it was tough to maintain, insisting that she was taking a difficult course load and was constantly studying, which left her no time to go out and party. She didn't have time for a boyfriend, and didn't really have many college friends because she spent all her time studying.
Her father listened and then asked, "How is you friend Audrey doing?" She replied, "Audrey is barely getting by. All she takes are easy classes, she never studies, and she barely has a 2.0 GPA. She is so popular on campus, college for her is a blast. She's always invited to parties, and lots of times she doesn't even show up for classes because she's too hung over."
Her father asked his daughter, "Why don't you go to the Dean's office and ask him to deduct a 1.0 off your GPA and give it to your friend who only has a 2.0. That way you will both have a 3.0 GPA and certainly that would be a fair and equal distribution of GPA."
The daughter, visibly shocked by her father's suggestion, angrily fired back, "That wouldn't be fair! I have worked really hard for my grades! I've invested a lot of time, and a lot of hard work! Audrey has done next to nothing toward her degree. She played while I worked my tail off!"
The father said, "Welcome to the Republican Party".
---
Perfect.
Of course, Audrey was a minority, it wasn't her fault that she played all day and got poor grades, it was discrimination and cultural bias. So the GPA system was "rebalanced" such that Audrey got a 4.0.
P.S. The average GPA at Harvard is now 3.5. No wonder Larry Summers quit.
Tonight is going to be serious. I'm in a feisty mood. Sure there were some Apple announcements today, but there's other stuff happening too. The Ole filter makes a pass...
Can I just say, once again, publicly, how great Charles Johnson's Little Green Footballs is? Okay; it's great. I link it pretty often, but I read it every day. This is important stuff, real stuff. Check it out. Subscribe to it.
I read Daily Kos, too, I don't just read what I agree with. To me the difference in tone, the difference in logic, the difference in maturity is obvious. Your mileage may vary, but if you aren't getting news from sites like these, you aren't getting news. TV "news" is entertainment, not news. And Newspapers are going the same way, unfortunately.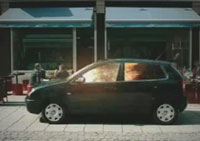 I received this video from my colleague Mark Wrenn, entitled "German engineering vs. Arab technology". I have no idea if it is a real VW ad - I hope so, but I doubt it - but it sure is food for thought. When did it become commonplace that people would blow themselves up to make a point? Weird.
Scott Adams on Strange Laws. "There are a lot of laws that don't make sense to me. For example, if I were king, I'd make attempted suicide punishable by death. That's a win-win scenario." Scott is like George Carlin.
Douglas Murray: We Should Fear Holland's Silence. [ via Instapundit ] Indeed.
Gerard Vanderleun: Saddam Lied on Tape. Somewhat less reported in the MSM than Dick Cheney's hunting accident, but somewhat more important, don't you think?
Eric Raymond: Media Analysts Sound Pessimistic as Iraq Civil War Fails to Materialize. "Media analysts sounded an increasingly gloomy note today following news that a full-scale outbreak of civil war in Iraq had been averted. 'The prospects for regime change in Washington seem increasingly remote,' said one senior White House reporter who spoke on condition of anonymity." Zing.
David B on GNXP: The Evolution of Cooperation. "The existence of cooperation is one of the major problems in human evolution. Among non-human animals, cooperation is rare except among individuals who are closely related. Among humans, in contrast, it is common. The problem is to explain this in view of the temptation to 'defect' from cooperation, obtaining its benefits without its costs." I think the key to this is the evolution of intelligence, which is one reason why Unnatural Selection is such a problem. (And if you doubt this is really happening, you don't read LGF or Daily Kos.)
Bill Taylor about Paul English, writing in the NYTimes: Your call should be important to us, but it's not. I worked with Paul at Intuit, he's a smart guy. His effort Get Human is important. "This month, Mr. English transformed his righteous indignation into a full-blown crusade. He started Get Human, which he calls a grass-roots movement to 'change the face of customer service.' The accompanying Web site sets out principles for the right ways for companies to interact with customers, encourages visitors to rate their experiences, and publishes many more secret codes unearthed by members of the movement. As of last week, the ever-expanding cheat sheet offered cut-through-the-automation tips for nearly 400 companies." I'm a big believer in this; everyone at Aperio has heard me express many times that when people call us, they should immediately be able to talk to a live person.
Ann Coulter previews the Oscars. [ via Powerline ] "I shall grant my awards based on the same criteria Hollywood studio executives now use to green-light movies: political correctness. Also, judging by most of the nominees this year, the awards committee prefers movies that are wildly unpopular with audiences." It would be funnier if it wasn't so true.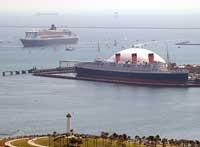 Cybele on blogging.la: The Meeting of the Marys. "At Noon today, Long Beach received a royal visitor, the Queen Mary 2, here to greet the city's own royal resident, the R.M.S. Queen Mary." Great photo...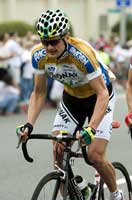 Congratulations to Floyd Landis, who won the inaugural Tour of California (together with his team, Phonak). By all accounts the race was a huge success. "The week of racing couldn't have ended better for AEG Sports, the sports marketing company that owns and operates the tour. With estimates of over 100,000 spectators in attendance in Redondo Beach, AEG estimates that over one million fans lined the roads of California to experience the event." Wow. I watched the stages on ESPN2, and the crowds looked like European crowds, with people ten deep all along the course. Bike racing hits the big time in the U.S. - finally.
This was also an interesting preview of some of the big American names in cycling; in addition to Landis, George Hincapie and Levi Leipheimer also won stages. With Lance Armstrong retired it is going to be a wide-open season of bike racing this year, with Americans among the top contenders.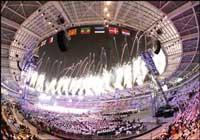 So, what did you think of the Olympics? Good? Bad? Indifferent? I liked them. A lot. A lot more than I thought I would. As CNN reports Olympics ends in a Circus, as they should - it is after all entertainment. But it is unstaged entertainment; sports are the ultimate reality show. The uncertainty and finality are what makes it great. I'm looking forward to Vancouver 2010 already.
Isn't Sam Sullivan awesome? The mayor of Vancouver, he's been a quadriplegic since breaking his neck skiing when he was 19. What an inspiring guy.
Dave Winer reruns an Ole and Lena joke. I don't know Lena. Do I?
The Hubble telescope recently captured the highest resolution view of a spiral galaxy, Messier 101. So you know what that means; yep, I downloaded it and posted it for interactive viewing: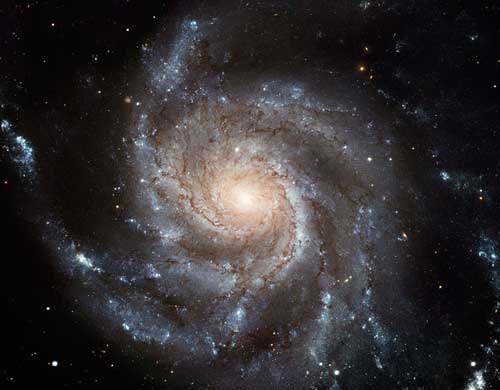 (After clicking, hit F11 to maximize your browser's window.)
Stunning, isn't it? Galactic art.
Archive: March 1, 2005
I woke up this morning and thought, wow, March, crap. Why crap? I don't know, it can't really be March already, can it? I mean, the year just started...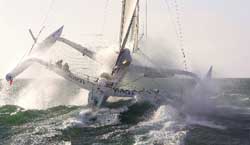 So, do you know Ellen MacArthur? I didn't think so. She's kind of a secret here in the U.S., but she recently did something pretty amazing; she sailed singlehanded around the world, and broke the record for doing so. It took her 71 days. Now sailing singlehanded means you basically have to be paying attention all the time, there isn't much time for sleeping or eating or anything, no matter how good your equipment. And she was sailing a trimaran, they're fast, but they tip over. So this was 71 days of paying attention. Pretty amazing. The picture was taken during a doublehanded race she competed in during 2003, and it captures the flavor of what it is like to sail one of these things. Anyway my hat's off to her. [ This article captures the essence of her accomplishment, which has been much more celebrated in Europe than America. ]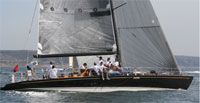 In other sailing news, I came across this article about Ragtime, one of the greatest racing yachts of all time. I had the pleasure of sailing on her several times, and man is this a fast boat. She was built specifically as a "sled", a boat which is fast downwind for competing in the Transpac race from Los Angeles to Honolulu, but she ended up being just fast period and graceful under all conditions. Basically just a 62-foot dinghy.
John H. Marburger III, director of the White House's Office of Science and Technology Policy, stated point blank "Intelligent Design is not a scientific theory." He got that right. [ via Panda's Thumb ]
FuturePundit wonders Do Hydroelectric Dams Cause Global Warming? I've often wondering the same thing; one of the knocks on nuclear power has always been the excess heat they generate which has to be siphoned off into the environment. But dams generate more heat and far more environmental disruption, of course. I'm still waiting for greens to get on the right side of the nuclear power debate...

Halley notes the Toyota Prius was one of the celebrities at the Acadamy Awards. In this as in many things, Ottmar Liebert was leading the way :)
Saturn has three new moons. Or at least, we've discovered three more. One of them, "Polydeuces", is a so-called Trojan moon - it is twinned with a larger moon (Dione) in orbit around Saturn. Dione already has another Trojan moon called Helene. Quite the planetary ecosystem out there, and I can't wait to visit :)

If you have some free time, you may enjoy this game.
Pretty cool, but by all means turn off the piano.
[ via Tom Coates ]
Bigwig made me smile; his daughter Ngnat read her first book. Yippee.
Archive: March 2, 2004
Archive: March 2, 2003
Gene Expression links this article about how bad things are in Argentina. Razib just totally nails it with the quotes he pulled out - please read them. Unnatural Selection is alive and well. In case I didn't mention it before, this phenomenon where the human race is becoming less intelligent is much worse in the third world than the first...
The "human shields" are leaving Iraq because it has become, er, too dangerous. Huh?
Scoble thinks Bill Gates should give away Lindows with each copy of Longhorn (Microsoft's successor to Windows XP). Well, that's certainly thinking outside the box, Howard!
Guess what? There is now a SpongeBob Squarepants Barbie. I am not making this up.
| | |
| --- | --- |
| Correlation vs. Causality | |
Just wanted to do a quick rant on the difference between correlation and causality. This difference is important in many things, including studies of people. The Age published an article that Obese Men Eat Up Their IQ Points. This article was written in London for an Australian audience, but describes a study performed at the University of Boston. Before we look at this article, let's talk about some basics.
Correlation is the mathematical relationship between two things which are measured. It is given as a value between 0 and 1. A correlation of 0 means the two things are unrelated; given the first value, there is no way to predict the second. A correlation of 1 means the two things are completely related, the first thing always predicts the second. As an example, let's say you measure the heights and weights of a group of people. These have a high correlation, somewhere around .8; height is a good predictor of weight, and vice-versa. Now say you took the same group and measured eye color. There is a low correlation between eye color and height, pretty close to 0. They are basically independent, knowing one doesn't tell you anything about the other.
Causality is also a relationship between two things, but it is not mathematical, it is physical (or philosophical). Something causes something else if there is a chain of events between the first thing and the second thing, each of which causes the next thing in the chain to happen. Causality involves time; the first thing happens, and then later the second thing happens as a result. We say the first thing is the cause, and the second thing is the effect. Note that unlike correlation, the relationship is unsymmetrical.
People get these two relationships mixed up, and it causes incorrect conclusions to be drawn. For example, we noted a high correlation between height and weight. Does this mean height causes weight? Of course not. On the other hand, there is a high correlation between smoking and getting lung cancer. Does this mean smoking causes lung cancer? NO! It turns out smoking does cause lung cancer, but you couldn't draw that conclusion purely from the fact that they have a high correlation.
Now let's take a look at this article. Consider the final paragraph:
"When given cognitive function tests involving logic, verbal fluency and recall, obese men achieved scores as much as 23 per cent below those of non-obese men, even after taking into account factors such as educational level, occupation and blood pressure."
So, there is a high correlation between cognitive function and obesity. Does this allow us to conclude obesity causes low cognitive function? NO! How about in the other direction, can we conclude that low cognitive function causes obesity? NO again! Either could be true, but neither follows logically. The headline is clearly false.
There is another problem in the article. It uses words like decline and reduce, which imply a change in the measured cognitive function in the same individuals. But the study doesn't appear to have measured the same people over time, it appears to have measured different people at the same time. This is a really serious logic error. In fact, most studies have found that people's IQs don't really change from about age 5 onward. Given that, you could actually conclude a reverse causality, perhaps the headline should have read "Less Intelligent Men at Risk of Obesity".
Home
Archive
'14 '13 '12
'11 '10 '09
'08 '07 '06
'05 '04 '03
flight
About Me
W=UH
Email
RSS OPML

Greatest Hits
Correlation vs. Causality
The Tyranny of Email
Unnatural Selection
Lying
Aperio's Mission = Automating Pathology
On Blame
Try, or Try Not
Books and Wine
Emergent Properties
God and Beauty
Moving Mount Fuji The Nest Rock 'n Roll
IQ and Populations
Are You a Bright?
Adding Value
Confidence
The Joy of Craftsmanship
The Emperor's New Code
Toy Story
The Return of the King
Religion vs IQ
In the Wet
the big day
solving bongard problems
visiting Titan
unintelligent design
the nuclear option
estimating in meatspace
second gear
On the Persistence of Bad Design...
Texas chili cookoff
almost famous design and stochastic debugging
may I take your order?
universal healthcare
entertainment
triple double
New Yorker covers
Death Rider! (da da dum)
how did I get here (Mt.Whitney)?
the Law of Significance
Holiday Inn
Daniel Jacoby's photographs
the first bird
Gödel Escher Bach: Birthday Cantatatata
Father's Day (in pictures)
your cat for my car
Jobsnotes of note
world population map
no joy in Baker
vote smart
exact nonsense
introducing eyesFinder
resolved
to space
notebooks
where are the desktop apps?