| | |
| --- | --- |
| Iditarod day 9 - PM - final push into Nome to crown the King | |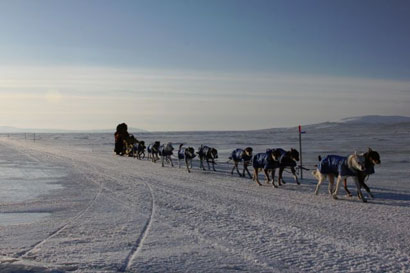 The leading teams are in the final stretch of the 2014 Iditarod, heading for Nome. Jeff King has widened his lead over Aliy Zirkle a bit - it is now 9 miles, with about 50 left to go - and they look to finish one two. Jeff has already won this race four times and will join a select group of five-time winners (nobody has won six). And Aliy is going to finish second for the third straight year, behind a different team each time. That's got to be tough.
Reminds me of listening to DeeDee Jonrowe speak, a few years ago; someone asked her "what does it take to win the Iditarod" and she said "if I knew that I wouldn't have finished second twice" :)
Dallas Seavey is running a solid third but although he's closing on Zirkle he still needs 13 miles, and it doesn't look like he'll catch her. Shown at left are the three leading teams, resting in White Mountain, King, Zirkle, and Seavey. In fourth is Dallas' father Mitch, the defending champion (Dallas won the previous year in 2012); that's Mitch's team above right, on the way into White Mountain.
A recent post by experienced musher and blogger Sebastian Schneulle about the final stretch from Golovin to White Mountain is a great overview of the conditions, and is accompanied by great pictures of the leading teams. Sebastian has been following the race all week via snowmachine, leapfrogging the leaders, and he's given us all great insight. Knowing the intricacies of what it takes to get a team of sled dogs through 1,000 miles of back country makes the accomplishment seem all the more impressive. Here's his latest: Safety update.
Here's the current GPS tracker map, showing King (#17), Zirkle (#10), and Seavey (#14) all heading to Safety, the last checkpoint, and then on to Nome: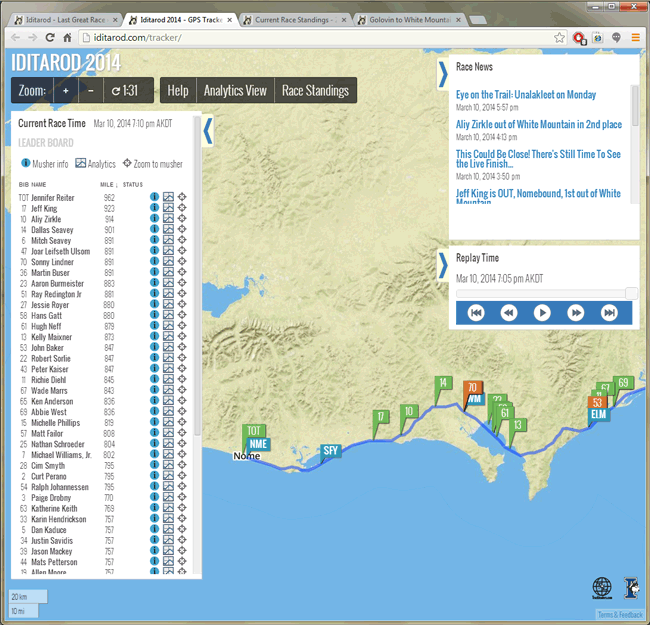 It looks like the race will finish right around midnight tonight, and the King will be crowned :) I'll check back in with a final post just after... onward!
(All Iditarod 2014 posts)
| | |
| --- | --- |
| Iditarod day 9 - AM - King into White Mountain, heading for Nome | |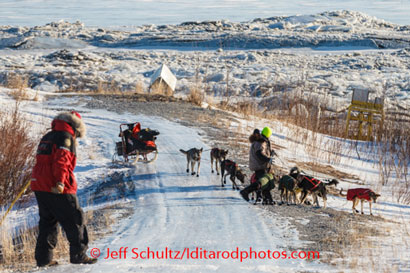 Day nine of the 2014 Iditarod, and it looks to be the finishing day as 5-10 leaders are on pace to smash John Baker's 2011 record by nearly eight hours. Jeff King pulled into the White Mountain checkpoint at 7:00AM this morning, starting his mandatory eight-hour layover. When he pulls out at 3:00PM this afternoon he'll have 77 miles until Nome, and that should take him less than nine hours, so he's likely going to finish *today*. Wow. Aliy Zirkle came into White Mountain an hour behind, and unless she can find some new speed in the final stretch she's going to finish second for the third year in a row.
That's Aliy Zirkle (red) and Jeff King (green) leaving Elim together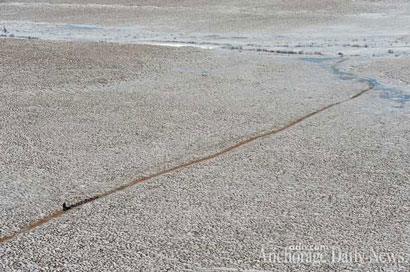 Meanwhile Dallas Seavey has found a new gear and is charging, but it might be too little too late. He's now just three hours behind, but he's running out of track. His father Mitch Seavey is also closing, now in fourth, with Martin Buser and Sonny Lindner fading. That whole group are ahead of Baker's record pace, which shows how the conditions have been bad but fast.
Left: frozen tundra, cold and hard and dirty
Here's the GPS tracker's view this morning: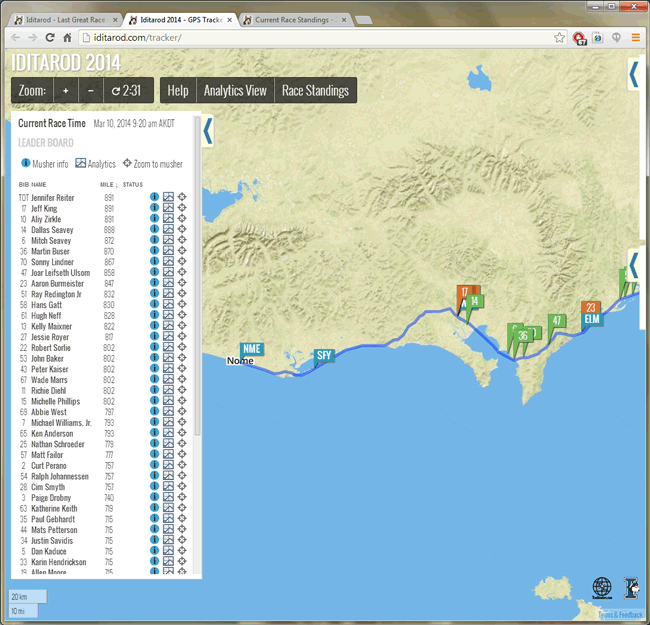 King and Zirkle are both stopped in White Mountain (orange #17), with the checkpoint of Safety and the finish line in Nome left to go. Dallas Seavey (#14) is almost there too, but it will be first in first out with an eight-hour break for all teams. Still mushing from Elim to White Mountain are Mitch Seavey (#6), Martin Buser (#36), and Sonny Lindner (#70), with Joar Leifseth Ulsom charging into that pack (#47). Onward to Nome!
(All Iditarod 2014 posts)
| | |
| --- | --- |
| working from home (NY 3/3/14) | |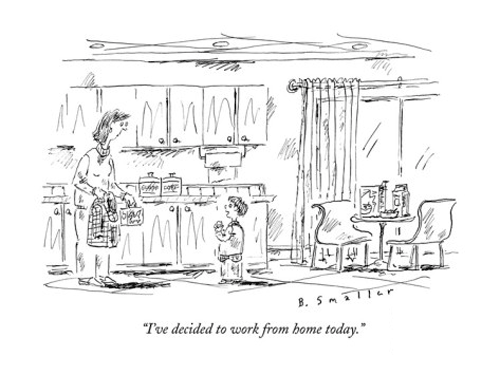 ( me too :)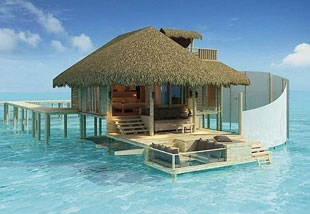 The Ole Filter makes a pass, after a quiet weekend of coding...
(Lamu Island looks like a nice place for coding, too :)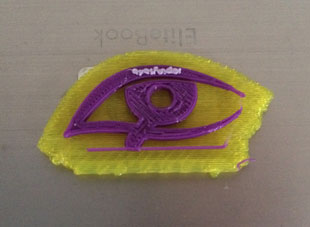 I've been experimenting with updating the firmware on my MakerBot Replicator 2, to make it easier (and more accurate) to change filament mid-print (and thereby change color). There isn't a lot of documentation so it isn't easy, but it's possible, and that's what makes this so cool.
The print at left is tiny - about 20mm x 10mm - and has exact color changes on layer transitions. Progress...

Open source pioneer Eric Raymond contemplates the myth of the fall. "A lot of younger hackers have a simplified and somewhat mythologized view of how our culture evolved, one which tends to back-project today's conditions onto the past... In particular, many of us never knew – or are in the process of forgetting – how dependent we used to be on proprietary software." Indeed.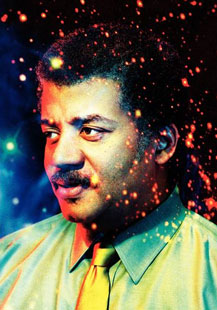 So have you / are you planning to watch Cosmos? I'm not a TV watcher - at all - but I was intrigued by this series after reading a glowing New Yorker article about Neil deGrasse Tyson, the new emcee. I like that they're continuing in the spirit of the old series a la Carl Sagan, but at the same time doing things in an updated way. Sounds like they're off to a good start: I wish them well; there are so few channels to expose the man on the street to the majesty of science.
BTW it sucks that President Obama had to get into this act. Just because Tyson is black, I suppose. Blech.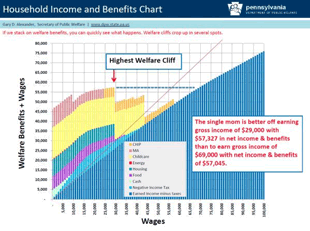 Here's something Obama could worry about: the Demise of the American Dream. Check out that "welfare cliff"; a single Mom is better off earning $29,000 than $69,000. And you and I pay the difference.
Related: James Suroweiki examines the Mobility Myth. People incentivized by their government not to work harder are not going to be upwardly mobile. Another unintended consequence of bad policy.
Where Apple design is headed in 2014. "iOS 7 is a series of solvable problems. The things you could label as deficiencies are mostly a result of that swinging pendulum - an overcorrection of skeuomorphism." I agree but I wish the pendulum would swing back as soon as possible.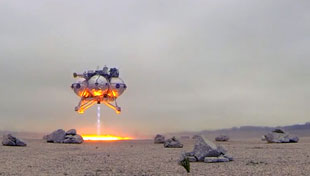 This is not a frame from a science fiction movie. "It's an actual image from the successful Morpheus vehicle test completed today at the Kennedy Space Center's Shuttle Landing Facility." Awesome! Check out the video at the link, too...
| | |
| --- | --- |
| Iditarod day 8 - PM - Jeff King takes the lead in Kayuk | |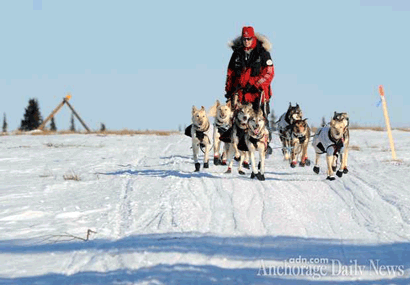 A long cold windy day, with the lead mushers and their teams crossing an unusually barren and snow-free Norton Sound (the race route is actually 12 miles longer because it runs further inland than unusual, to avoid ice fissures). Jeff King caught Aliy Zirkle at the Kayuk checkpoint, and now the two of them are off to Elim, with King slightly ahead. Just behind are Martin Buser, Dallas Seavey, and Sonny Lindner, all resting in Kayuk, and Mitch Seavey and Aaron Burmeister are about to join them. Dallas has put in some terrific runs, gaining nearly 10 hours on the leaders since Kaltag. The experienced musher/bloggers at Iditarod.com are thinking his team might have the chops to win.
Here's the current position, with Elim (ELM) to the West, where the teams are headed, and Kayuk (KYK) to the NorthEast. You can see there's quite a spread now, the big selection has been made. Zirkle (#10) and King (under #10) in the lead, and the others close behind resting at the Kaltag checkpoint: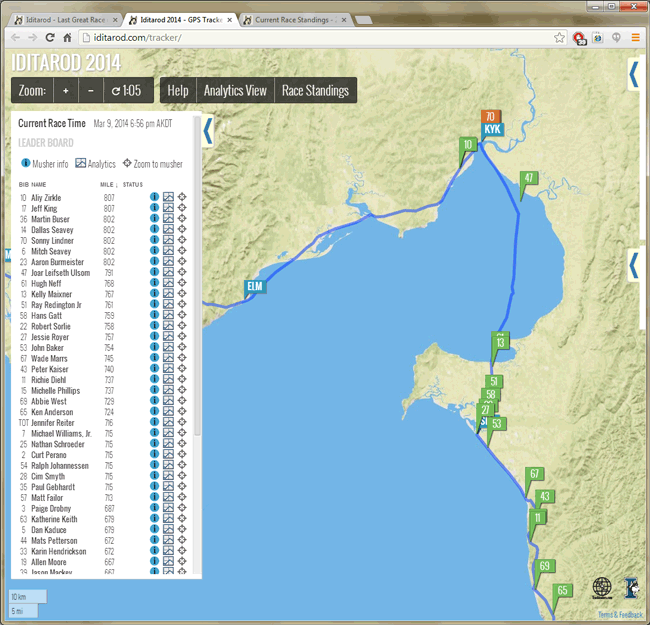 The so-called "heat of the afternoon" never materialized, and it is likely that the leading teams will press on through Elim on to White Mountain, where they must take a mandatory 8-hour break. After that it is 80 miles to Nome. Most years the first into White Mountain is the first into Nome, but this year there are so many contenders so close together that the final stretch may well decide the whole race. Onward!
(All Iditarod 2014 posts)
| | |
| --- | --- |
| Iditarod day 8 - AM - Zirkle, King, Buser, Lindner, and the Seaveys | |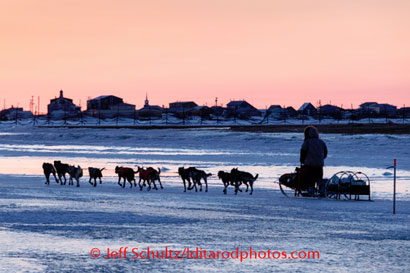 Good morning Iditarodians (or is it Iditarotarians?) - and it is a *late* morning, with daylight savings time. Yawn. While we were sleeping and springing our clocks forward, the leaders in the 2014 Iditarod race were mushing across Norton Sound from Unalakleet to Skatoolnik.
First out of Ska was Aliy Zirkle, still in the lead, but now Jeff King has moved up to second, passing Martin Buser, with Sonny Lindner still up there. (That's King's team pulling into Skatoolnik, at right.) And now both Dallas and Mitch Seavey, son and father, champions in 2012 and 2013, have moved up into the mix. Last night I thought there were five teams left who could win, now I'd have to say there are seven, as Aaron Burmeister is up there too.
Here's the position, with Skatoolnik hidden under the orange #70 tag (Sonny Lindner, not yet moving) and Koyuk at the top of the Norton Sound, now solidly iced in; #10 is Zirkle, #17 King, and #36 Buser.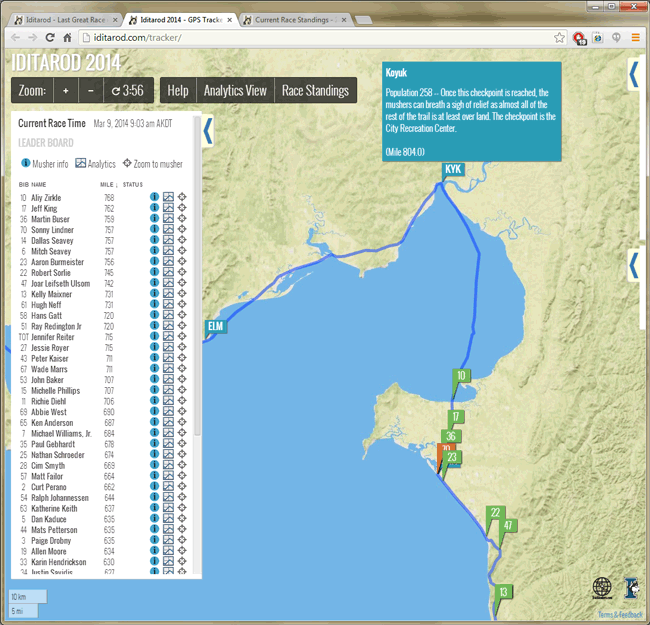 The racing is incredibly close; Zirkle has only 6 miles on King, and 9 on Buser. The top seven are within 12 miles of each other. Ultimately this isn't going to be decided by who moves faster across the ice on Norton Sound, it will be the fatigue of the teams and how much rest they'll need when they reach Koyuk. From there it is still over 150 miles to Nome. Most likely the teams will rest for a while in the heat of the afternoon, then take off late afternoon for a final push to White Mountain, where they have to take an 8-hour rest.
Onward to Nome!
(All Iditarod 2014 posts)
| | |
| --- | --- |
| Iditarod day 7 - PM - Leaders off across Norton Sound | |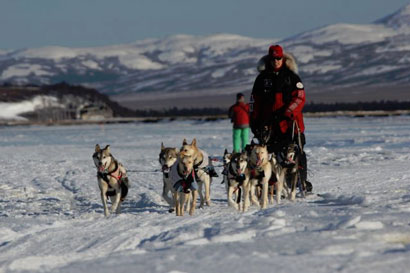 The 2014 Iditarod continues its record-breaking fast pace over hardpack and dirt, as the leaders are now through Unalakleet and off across Norton Sound to Shaktoolik. Each team rested for a while in the heat of the afternoon, and of course there's some strategy involved; leave earlier and save time or leave later and go faster. Aliy Zirkle was the first to go, with Martin Buser 52 minutes behind, and Sonny Lindner 1:20 behind. Jeff King took off fourth, trailing by 2:50, and Aaron Burmeister fifth, needing 3:40. Those are the teams that can win, with about 300 miles to go.
At right, Aliy Zirkle and team (11 dogs)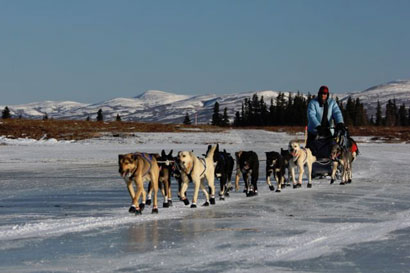 A lot will depend on the how rested each team are after their long trek between Kaltag and Unalakleet. Interesting that the lead group includes Martin Buser ("rest early"), Aliy Zirkle ("rest middle"), and Sonny Lindner and Jeff King ("rest late"), and that after seven days they are all within a few hours of each other. There's a lot of racing left and it will be a close finish.
At Left, Martin Buser and team (14 dogs)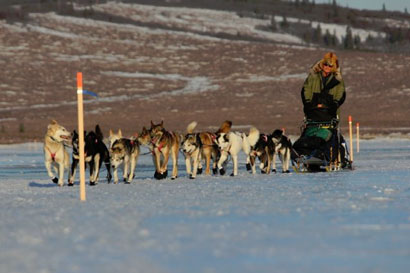 Veteran musher Sebastian Schnulle isn't racing this year, he's blogging while leapfrogging the leaders via snowmobile, and he's been posting some great reports. Here's his view on the trail to Shaktoolik. "The trail into Shaktoolik is challenging. Leaving Unalakleet there is very little snow, sometimes none, sometimes a ribbon of ice." Whew.
At right, Sonny Lindner and team (14 dogs)
Onward across Norton Sound!
(All Iditarod 2014 posts)
| | |
| --- | --- |
| Iditarod day 7 - AM - Aliy takes the lead | |
Good morning all; while you were sleeping Aliy Zirkle has taken the lead in the 2014 Iditarod, mushing past Martin Buser while he rested in Kaltag. They are now headed toward Unalakleet, and as you can see below it is a close race.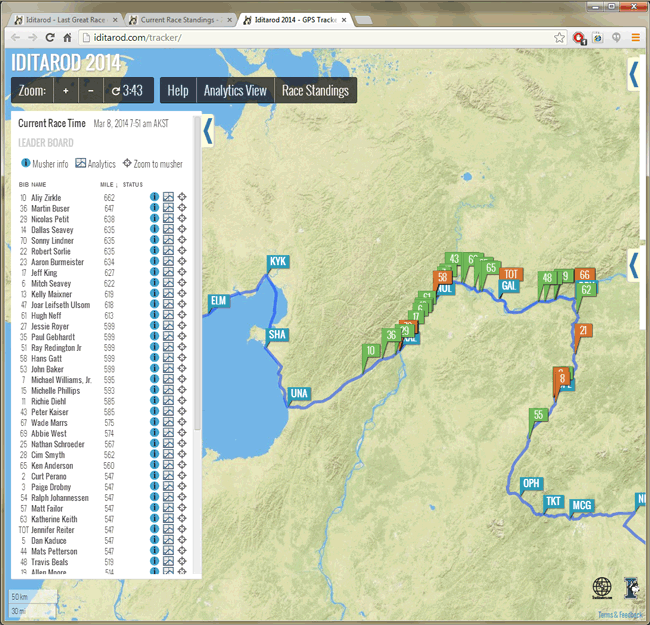 To orient you, the teams are headed West (<-) toward Norton Sound on the Bering Sea; the finishing town of Nome is behind the leaderboard at the upper left. The blue labels are checkpoints; UNA = Unalakleet, KAL = Kaltag, and NUL = Nulato. #10 is Aliy Zirkle, now in the lead, followed by #36 Martin Buser, #29 Nicholas Petit (!), and #14 Dallas Seavey. A team's tag turns Orange when they are not moving; resting in a checkpoint.
I've been following the Iditarod for several years now and I must tell you, this is the most exciting race I've seen. There are ten teams within a few hours of each other with 300 miles to go. Onward!
(All Iditarod 2014 posts)
Re-watched Silver Linings Playbook tonight. Great movie. A nice way to end what was otherwise a disappointing and unproductive day...
Pictured: Scorpion Weed. Grows in the desert once every few years. Smells terrible and causes skin rash, but looks beautiful :)
Reading "the news", I'm struck by how much news has morphed into opinions about the news. It's no longer considered wrong for writers, editors, and especially headline writers to slant stories. They've always done it, but now they're doing it without guilt or restraint. Meh.
It's hard work filtering the news, I tell you, it's hard work :)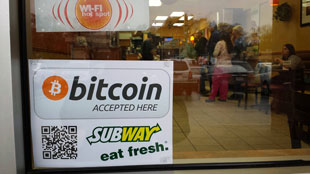 Pass the popcorn: Dorian (Satori) Nakamoto chased by reporters, denies founding Bitcoin. And "real" Satori Nakamoto claims he is not Dorian Nakamoto. Yay. Meanwhile, from the Bitcoin Foundation: Bitcoin has no leader, is decentralized by design. Who would have thought a new currency would make such great theater? (Okay, Neal Stephenson did :)
BTW must say, Newsweek's return to prominence based on this scoop is typical, right? They didn't get their facts right, but they made "news".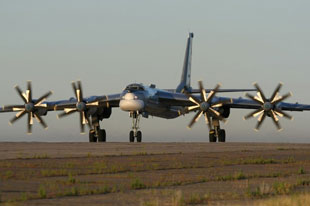 Never mind personal drones: For sale on eBay: one lightly used Soviet "bear" bomber. Wonder if the seller would accept Bitcoin?
Must try this: the Google Glass App that tells you how others are feeling. Based on realtime analysis of a video stream. Hmmm.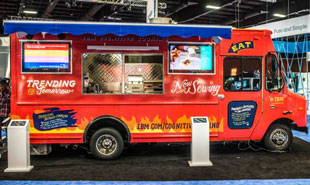 Chef Watson prepares food at SXSW. Awesome. I don't know what real-world applications IBM has wound for Watson, but as a PR generator it is unsurpassed. Wonder what's next?
If this is real, I want one: Two college students invented an adapter that allows 3D printers to print in full color. A 3D printer like my MakerBot 2 prints pre-colored plastic filament; the idea is that the plastic is colored in realtime, just before it is fed into the printer. By appropriately compensating for the distance between the coloring device and the printhead, you could print anything in full color. Wow.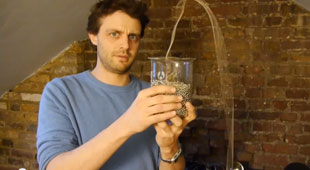 This is wild: the magical chain fountain. One of those things where you understand the physics but you still can't believe it ... like sailboats and airplanes. I love that it can even be done with spaghetti :)
| | |
| --- | --- |
| Iditarod day 6 - onward to Unalakleet | |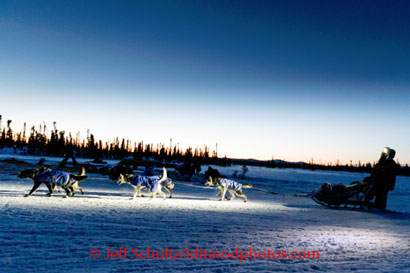 Today the leaders in the 2014 Iditarod mushed along the Yukon in -20F weather, slight wind but otherwise "nice". Each team's strategy has played out, and now the pack are all together for the final third of the race and the push into Nome.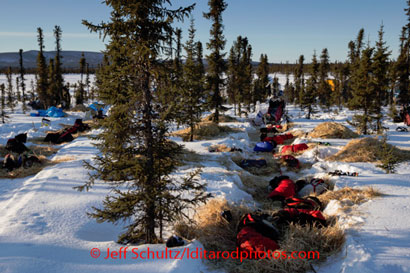 Martin Buser and Aliy Zirkle are running one two, in the small checkpoint city of Nulato, with Kaltag to go and then Unalakleet at the Bering Sea. They're closely followed by Nicolas Petit (where did he come from?) and Jeff King.
I'm thinking Buser will lead for a while, but Zirkle is going to pass him. And then the question will be, can she hold on or will she win her first Iditarod (after having finished second in each of the past two years!)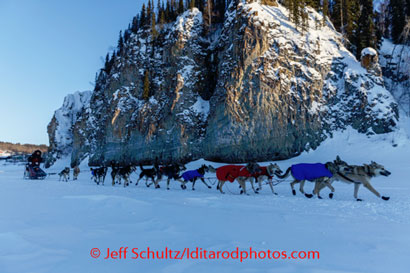 A whole host of challengers is not far behind, including Mitch and Dallas Seavey, Sonny Lindner, Aaron Burmeister, and Robert Sorlie. Any one of those teams could win. It now comes down to exhaustion and patience. There is still a long way to go...
Onward to Unalakleet!
(All Iditarod 2014 posts)
| | |
| --- | --- |
| Iditarod day 5 - to the Yukon, Jack! | |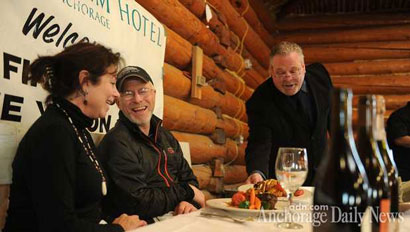 The 2014 Iditarod moves into the halfway point, with the leaders all having "taken their 24s" and moving to the Yukon River. Every musher is required to take another 8-hour stop along the Yukon somewhere, in a checkpoint, so that vets can examine their team closely.
The current leader on the trail is Jeff King, closely followed by Sonny Lindner; they are both camped out in Ruby, taking their 24-hour break there. (That's Jeff at right, celebrating the nice dinner he received for being the first musher to the Yukon.) These are ones using the "rest late" strategy.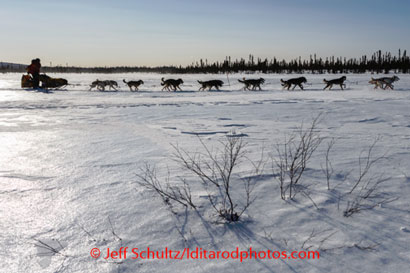 But the real leader is Martin Buser, who is heading into Ruby with a full head of steam, having taken his 24 long ago. He's using the "rest early" strategy. And a few hours behind Martin are a whole host of other competitors, led by Aliy Zirkle and Robert Sorlie, who have also taken their 24s back in Takotna (the "rest middle" strategy). And don't forget Mitch and Dallas Seavey, father and son champions in 2012 and 2013, close behind. That's Mitch and team at left.
Some of these mushers will take their "8" in Ruby, others in Galena a bit further down the Yukon, and others yet in Nulato. Most observers think Buser will take his 8 in Ruby, and Zirkle in Galena; King and Lindner, having just completed their 24s, will probably take their 8 as far down the river as possible, probably in Kaltag. Sorlie is an unknown and he isn't saying, even in his native Norwegian.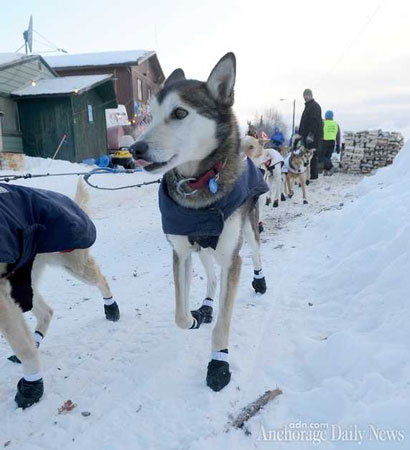 Right now it is possible to see things a bit more clearly head-to-head. Buser could win if his team holds up; he has the lead, but history shows that a lot of ground can be lost in the second half if your team gets tired. Zirkle and Sorlie are proven favorites, as are King and Lindner. And Aaron Burmeister could get into the mix also; he's up there right now, but hasn't yet done his 24. It's all about the dogs! (That's Allen Moore's team of puppies at right, he's Aliy Zircle's husband.)
Onward down the Yukon!
(All Iditarod 2014 posts)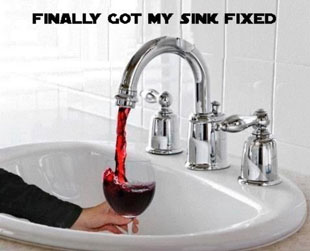 (Yawn) Whew a long day, starting with a breakfast presentation to investors and finishing with a nice Chardonnay, with a four-hour meeting about JSON APIs in between. Meanwhile, it's all happening...
So, who is the reclusive billionaire creator of Bitcoin? Turns out he's apparently been found, his name *is* Satoshi Nakamoto, and he's not a billionaire, except perhaps "on paper". Excellent.
Meanwhile, Ars Technica have created Arscoin, their own custom cybercurrency, and the Winklevii have paid for a trip into space using Bitcoin. Is this a great time to be alive, or what?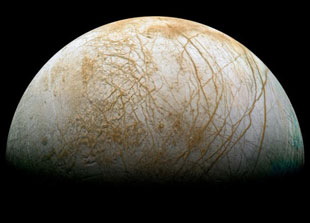 NASA says it wants to go to Jupiter's crazy moon, Europa. No word yet on whether you can hitch a ride if you pay in Bitcoin, but nothing would surprise me anymore :)
Don't you love Salon? Just kidding. Over the years they've gone from being an interesting source of liberal points of view to a sad shadow of their former selves. I find the difference is that now their writers are ill-informed and stupid, where before they were just ... wrong :)
Speaking of wrong: Los Angeles becomes the latest city to ban e-cigarettes. Seriously? I live in a nanny state, and I don't like it.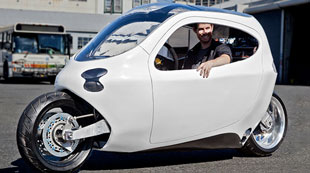 From GigaOm: Lit Motors is awesome, but let's be realistic. In which a new entrant in the electric vehicle market is celebrated and counted out all at the same time. Obviously there's a steep ramp to success and many have failed, but let's root for them and not predestine their failure. They will have to raise a little more than $1M to succeed, however...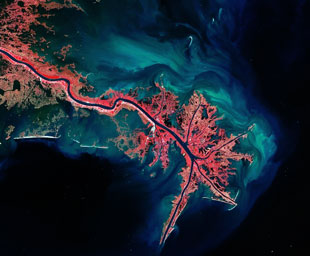 Inhabitat: Mind-blowing photographs of Earth taken from space. Way cool.
| | |
| --- | --- |
| Iditarod day 4 - leaders race while resters rest | |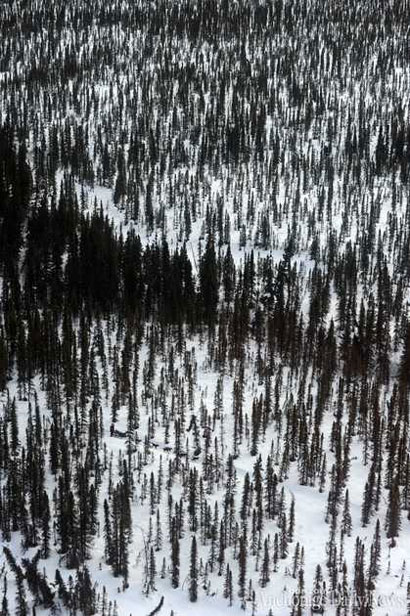 Day four of the Iditarod ... and it's getting hard to follow the leaders.
There's a pack of leaders heading out of Ohfir, led by Jeff King and Sonny Lindner (at 64, the oldest musher in the face), and another pack of would-be leaders resting in Takotna, including favorites Aliy Zirkle and Robert Sorlie. And then there's Martin Buser, who is way behind on the trail but moving again out of Rohn after having taken his 24-hour break already. On paper he's now the one to beat, as he'll keep moving while the others rest, but only time will tell whether he'll be caught back before the finish by fresher teams.
Tomorrow will be interesting, as the teams in Takotna hit the trail again, and we can start to see how much fresher / faster they are than Buser, who will be ahead of them. And the day after we'll see the same with Jeff King and Sonny Lindner. At that point everyone will have taken their break, and it will be head-to-head racing... except for the 8-hour break everyone has to take along the Yukon River :)
(All Iditarod 2014 posts)
| | |
| --- | --- |
| Iditarod day 3 - three ways to win | |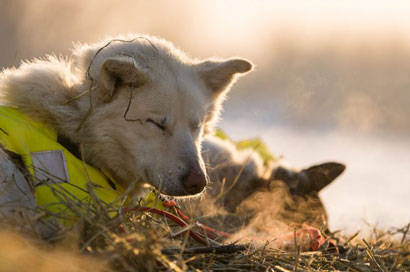 Day three of the 2014 Iditarod is in the books, and three clear strategies have emerged among the race leaders striving to get their dog teams to Nome, first. Remember that each team must take a 24-hour break somewhere along the trail, and an 8-hour break. (There is a forced 8-hour break for everyone in the town of White Mountain at the end, 80 miles from Nome.)
Strategy 1: rest early. (Nikolai) This is the course chosen by Martin Buser; blast off out of Willow, run full speed over the Alaska range, and then rest. Most of the race will pass you, but then you can blast off again and pass them back.
Buser tried this last year, but he got bogged down breaking trail in rough conditions. (The first musher through an area is said to "break" the trail, and it often requires finding it, and finding the best way through it, which takes extra time.)
Strategy 2: rest middle. (Takotna or Ohfir) This is the book move, and the course taken by favorites Aliy Zirkle, Robert Sorlie, and Dallas and Mitch Seavey. You save strength, rest your team while you can, and then take the long rest roughly halfway to Nome. Then you press on at a faster pace and hope your team outperforms the others.
The people with the strongest teams seem to be taking this approach. No tricks, no going too fast or too long. But it also means they could be vulnerable to a different strategy in the hard and fast (and dry and icy) conditions this year.
Strategy 3: rest late. (Cripple) This it a bit unconventional but it has been tried; run as long as you can as steadily as you can, keep moving while others are resting, and then finally rest when you must. Favorites Sonny Lindner, Aaron Burmeister, and Jeff King are all taking this approach.
Observers have noted that run times this year have been fast, even with the tough conditions, making the rest late approach less risky. Of course these teams might not have enough left at the end, and be vulnerable in the long smooth stretches after the Yukon River.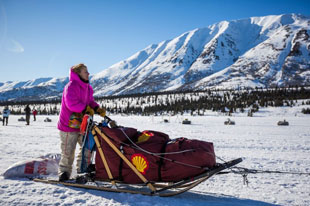 Finally and sadly, our favorite DeeDee Jonrowe has scratched, after a tough run down into Rohn from Rainy Pass. DeeDee lost her team three times in the Dalzell Gorge, and needed help retrieving them. So far twenty mushers have scratched, a record for this point in the race and testament to the tough conditions this year due to lack of snow.
(All Iditarod 2014 posts)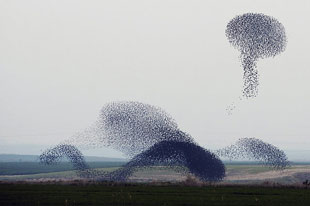 The Ole filter makes a pass...
A Collection of Murmurations of Starlings, via Kottke. Wow.
Equations are art in a mathematicians brain. Really! (Maybe they look like Murmurations :)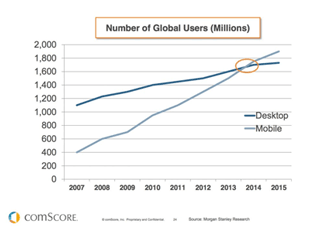 Benedict Evans on WhatsApp and $19B, and really on mobile vs desktop. Key observation: the winner-take-all lock in of social on the desktop hasn't yet extended to mobile.
Speaking of WhatsApp, people are trying to figure out what happened there. Of course, it's a one-time event, and hard to replicate. But I don't think the founders thought "we should create something with a big network effect, so we can make lots of money". Instead they were focused on creating something useful for lots of people, and it happened to be something with a network effect, so they happened to make a lot of money.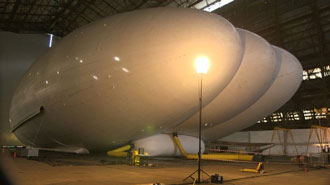 Here we have the strange thing that is the longest aircraft in the world. It's an airship, of course, and amazingly it is based at Cardington in the UK, where the famous R101 was built. The article is misinformed because it refers to the R101 as "ill-fated" and twice as long as this machine. It is of course referring to the R100, which did indeed crash in France; that crash killed interest in the R101, which flew successfully to Canada and had a lot of promise as a cross-continental means of transportation in that pre-jet era. Anyway I wish the makers of the Airlander well!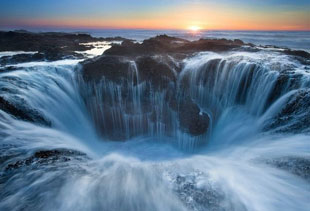 Thor's Well, at Cape Perpetua, in Oregon. Awesome!
Posts in the last month:
| | |
| --- | --- |
| 03/10/14 08:04 PM - | Iditarod day 9 - PM - final push into Nome to crown the King |
| 03/10/14 10:04 AM - | Iditarod day 9 - AM - King into White Mountain, heading for Nome |
| 03/09/14 10:57 PM - | |
| 03/09/14 10:34 PM - | |
| 03/09/14 07:48 PM - | |
| 03/09/14 09:57 AM - | Iditarod day 8 - AM - Zirkle, King, Buser, Lindner, and the Seaveys |
| 03/08/14 11:51 PM - | |
| 03/08/14 08:52 AM - | |
| 03/07/14 11:02 PM - | |
| 03/07/14 10:32 PM - | |
| 03/06/14 10:44 PM - | |
| 03/05/14 11:08 PM - | |
| 03/05/14 10:45 PM - | |
| 03/04/14 11:15 PM - | |
| 03/04/14 10:57 PM - | |
| 03/04/14 10:48 PM - | |
| 03/04/14 12:26 AM - | |
| 03/03/14 11:46 AM - | |
| 03/02/14 11:44 PM - | |
| 03/01/14 11:48 PM - | |
| 03/01/14 11:40 PM - | |
| 03/01/14 11:03 PM - | |
| 02/28/14 11:49 PM - | |
| 02/28/14 11:24 PM - | |
| 02/28/14 10:51 PM - | |
| 02/27/14 11:24 PM - | |
| 02/27/14 11:13 PM - | |
| 02/27/14 11:10 PM - | |
| 02/26/14 10:47 PM - | |
| 02/26/14 10:31 PM - | |
| 02/25/14 10:54 PM - | |
| 02/25/14 10:46 PM - | |
| 02/24/14 10:18 PM - | |
| 02/24/14 10:05 PM - | |
| 02/23/14 11:30 PM - | |
| 02/22/14 10:16 PM - | |
| 02/20/14 09:58 PM - | |
| 02/19/14 11:01 AM - | |
| 02/18/14 10:00 PM - | |
| 02/18/14 09:13 PM - | |
| 02/17/14 10:56 PM - | |
| 02/15/14 10:29 PM - | |
| 02/13/14 10:12 PM - | |
| 02/13/14 10:03 PM - | |
| 02/11/14 10:36 PM - | |
| 02/11/14 10:22 PM - | |
| 02/09/14 11:30 PM - | |
| 02/09/14 11:09 PM - | |
| 02/08/14 11:54 PM - | |
| 02/08/14 10:14 PM - | |
For older posts please visit the archive.
Home
Archive
'13 '12 '11
'10 '09 '08
'07 '06 '05
'04 '03 all
About Me
W=UH
Email
RSS OPML

Greatest Hits
Correlation vs. Causality
The Tyranny of Email
Unnatural Selection
Lying
Aperio's Mission = Automating Pathology
On Blame
Try, or Try Not
Books and Wine
Emergent Properties
God and Beauty
Moving Mount Fuji The Nest Rock 'n Roll
IQ and Populations
Are You a Bright?
Adding Value
Confidence
The Joy of Craftsmanship
The Emperor's New Code
Toy Story
The Return of the King
Religion vs IQ
In the Wet
the big day
solving bongard problems
visiting Titan
unintelligent design
Shorthorn
the nuclear option
second gear
On the Persistence of Bad Design...
Texas chili cookoff
the inflection point
almost famous design and stochastic debugging
may I take your order?
paper art
triple double
New Yorker covers
Death Rider! (da da dum)
how did I get here (Mt.Whitney)?
the Law of Significance
Holiday Inn
Daniel Jacoby's photographs
in praise of paddle shifting
the first bird
Gödel Escher Bach: Birthday Cantatatata
shining a light
Father's Day (in pictures)
your cat for my car
discovering the third quadrant
Jobsnotes of note
world population map
no joy in Baker
introducing eyesFinder