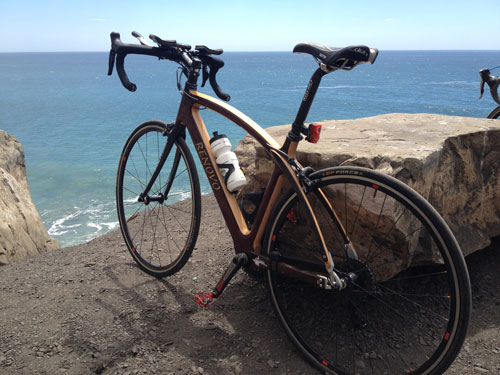 From: Ole Eichhorn
Sent: Tuesday, Sept 24, 2012 6:20 PM
To: Ken Wheeler*; Nick Wood
Subject: One year! - lovin' it!
Greetings Ken and Nick –
It has now been a year since I took delivery of my spiffy Renovo R4, and I wanted to write you a love letter about it. I knew I would like this bike, but it has exceeded my high expectations in every way.
I've put about 6,000 miles on it in the past year, including the Furnace Creek 508 [right after I took delivery last year] and the Hoodoo 500 [about a month ago], and it is so darn comfortable on long rides I don't know how I ever rode without it. It climbs great – people are always amazed at how light it is (I have really light custom wheels, and the Di2 groupo is light too of course) – but what is amazing is the rock solid way it just motors along in the flats. It is so smooth. For an old guy like me it is perfect.
And oh yeah, it is beautiful! Everywhere I go people admire it. At the Hoodoo 500 start the announcer made a particular point of calling me to the front so he could show everyone "the first wooden bike we've ever had in the race". That was pretty cool. Riding it around is like dating a supermodel, it sure gets positive attention.
Oh and by the way the Di2 has worked great … I was worried about the wiring and the battery in the seat post and all that, but the bottom line is I haven't had any trouble with it. The battery lasts forever and it is pretty much worry free.
Anyway I just wanted to report in and tell you how much I've enjoyed my Renovo. If you ever need a testimonial from a customer, please let me know :)
Cheers
* Ken Wheeler is the founder and owner of Renovo Bicycles, Nick Wood is the guy who built my bike (and yeah, that really is his name :)